Baz Luhrmann's Elvis Biopic Has Five Actors In The Running To Lead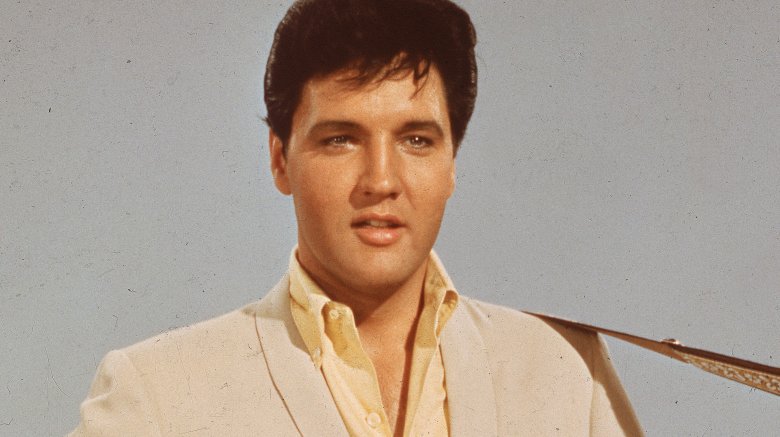 Hulton Archive/Getty Images
You know what they say: it's good to be king. Sitting on the throne won't be easy, though, as five actors are gunning for the title of the King of Rock and Roll in Baz Luhrmann's forthcoming biopic. 
According to The Hollywood Reporter, the production is eyeing Ansel Elgort, Aaron Taylor-Johnson, Austin Butler, Miles Teller, and Harry Styles to portray Elvis Presley. 
All five men have reportedly tested for the role, with Teller having shown Luhrmann his take on Elvis as early as last week. 
No one star is leading the pack of contenders, and all have their individual advantages, which makes selecting the right man a mean feat for Luhrmann and his filmmaking team. 
Elgort has proven his acting abilities with features like The Fault in Our Stars and Edgar Wright's music-heavy action flick Baby Driver. The 25-year-old star is on the precipice of his biggest role yet: Tony in Steven Spielberg's West Side Story remake. There's certainly something unique about Elgort, who has a passionate following we're sure would love to see him swing his hips as Elvis. 
As for Taylor-Johnson, he too has a large fan backing thanks to his appearances in Kick-Ass and Avengers: Age of Ultron. The actor, who is attached to the Kingsman prequel movie The King's Man, has more credits on his filmography than does Elgort, and has experience in various different genres. Evoking the King of Rock and Roll for a biopic? Should be easy-peasy for Taylor-Johnson — he's even got the same blue eyes that Elvis did. 
Butler is a pretty wild choice to play Elvis, though we can see how the Shannara Chronicles star sort of resembles the late crooner with his dyed black hair and baby blues. Though most of his acting experience has been on television, Butler is breaking through in the film world more and more lately, having taken a turn in The Dead Don't Die and landed a role in Quentin Tarantino's much-anticipated Once Upon a Time in Hollywood. That Butler isn't the obvious pick to portray Mr. Presley could be exactly the reason why Luhrmann might pick him for the part. 
Like Butler, Teller does look quite similar to Elvis Presley, but his acting credits are what put him a cut above the rest. Teller had his big break with 2014's Whiplash, Damien Chazelle's Academy Award-winning drama in which he played jazz drumming student Andrew Neiman, and has gone on to land role after role in interesting features. What makes Teller an even stronger choice for Lurhmann's new film is that he's already led a biopic before: Teller played real-life boxer Vinny Pazienza in 2016's Bleed for This.
Last but definitely not least is Styles, who has something no other contender for the Elvis Presley biopic has: a music career, which is super important when it comes to playing an actual musician. Styles got his start in the currently-on-hiatus pop boy band One Direction, which disbanded in 2016. In the years since, Styles has gone solo, releasing a debut album to incredible critical response. The time away from One Direction also steered Styles straight onto the silver screen, landing his first-ever film role in Christopher Nolan's acclaimed war drama Dunkirk. Many openly doubted Styles' ability to act prior to the launch of Dunkirk, but wound up eating their words when the English actor delivered a stellar performance that CNN's Sandra Gonzalez said would give him a "running start" at a legitimate career in film. His music career combined with his apparently natural acting chops make Styles one to beat for Luhrmann's upcoming biopic. 
Whomever gets the part will join Tom Hanks, who portrays Elvis' manager Col. Tom Parker. The film, which doesn't yet have a title, will focus on "the late entertainer's rise and zenith, with a major aspect being his relationship with Parker."
It won't be long before we find out who will play Elvis Presley in Luhrmann's flick — a casting announcement is expected in just a few weeks.