Game Of Thrones Prequel Logo, Title May Have Been Leaked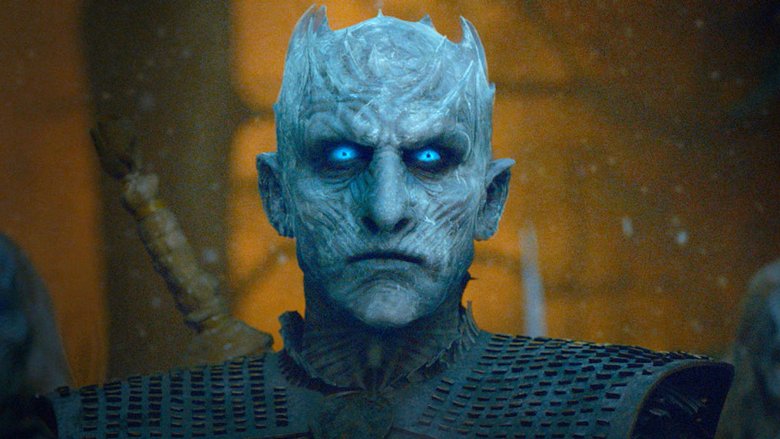 A few secrets from the ancient Seven Kingdoms may have been revealed.
According to the popular Game of Thrones fan site Watchers on the Wall, the logo and title for HBO's upcoming Thrones prequel series was allegedly leaked, thanks to a purported production photo that features the name "Bloodmoon" in a stylized logo.
The photo in question features the word "Bloodmoon" with designs on two of the Os, as well as a spear running between the two words, which could reference some of the ancient tribes of Westeros that might possibly be featured in the show.
This apparent leak differs from what George R.R. Martin, the author of the Song of Ice and Fire series on which Thrones is based, has previously announced; the author seems pretty attached to The Long Night as a possible prequel title, though that, as with Bloodmoon, is still unconfirmed. However, it has previously been reported by other outlets that the working title for the series is, in fact, Bloodmoon – which could refer to any number of things, from dragons to the magic seen from the Red Priests and Priestesses to multiple moons over the land that would become Westeros. 
The series stars Naomi Watts, Miranda Richardson, Josh Whitehouse, and more, and is helmed by showrunners Jane Goldman (X-Men: First Class), Martin himself, and S.J. Clarkson (Marvel's Jessica Jones). It has already begun filming in Northern Ireland, which is where much of the original Thrones production was also based. HBO has been extremely tight-lipped about the series' specific details, keeping much of it under wraps, including the official title.
Watchers on the Wall is typically a fairly reliable source for Thrones information; shortly after snagging production photos of the logo, Watchers snuck some sneaky shots of the production itself, seeing which actors and sets they could spot in Northern Ireland. But again, HBO still hasn't confirmed anything beyond a greenlit pilot and the casting for the Thrones spin-off series, including its release date, but as Watchers on the Wall smartly points out, it seems odd to create a logo for something that isn't the title. 
Even with that being said, this could be a clever ploy on the part of HBO and the showrunners to throw viewers off, continuing Thrones' track record of subverting audience expectations, so it's very likely that GoT fans still have a while to wait before they have more concrete information about this mysterious and exciting new series.