Tom Holland Saves Spider-Man Fan From Swarm Of Aggressive Autograph Seekers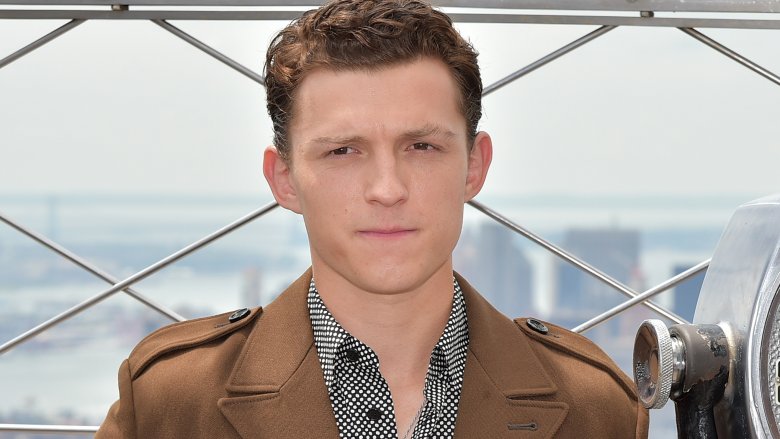 Theo Wargo/Getty Images
Tom Holland: real-life superhero. 
While in New York to promote his upcoming film Spider-Man: Far From Home, in which he stars as the friendly neighborhood hero, Holland faced a crowd of aggressive "graphers" — people who collect autographs from celebrities to make money by selling them online. Holland was exiting a television studio in the Big Apple on Monday, June 24 when a group of autograph seekers gathered around him and asked him to sign photos, posters, and other Spider-Man memorabilia. Things took a terrifying turn when a young woman, who goes by the moniker @NamelessCass on Twitter, nearly suffered a panic attack as the graphers pushed her against a barricade. 
The young woman detailed the incident in a series of tweets, one of which included a video of Holland coming to her aid and telling the crowd that he would "throw [their] s*** on the floor" if they continued to push her. When she said that she was on the verge of a panic attack, Holland told her, "It's okay — I got you, I got you." The Spidey star again asked the group of graphers to "back up" and give the girl room to breathe. 
On Twitter, @NamelessCass explained that her "neck was literally against the barricade with 30 grown men behind [her] pushing" before Holland "reached through the crowd as the barricade was like tipping and snatched the posters," risking his safety to help her. The young woman then shared a photo of posters and pictures scattered on the concrete — a sign that Holland may have genuinely gotten fed up with the graphers and tossed their belongings to the New York streets.
She further said of the situation, "TOM HOLLAND JUST THREATENED GROWN A** MEN THEN THREW THEIR POSTERS BECAUSE I WAS CRUSHED AGAINST THE BARRICADE HE SAID 'IM GONNA THROW YOUR S*** ON THR GROUND IF YOU KEEP PUSHING HER' then came to me and calmed me down and the video HES LITERALLY SO MAD AT GRAPHERS."
According to @NamelessCass, Holland had been politely asking graphers "all day" on Monday to "quit it," but no one listened until things escalated and her well-being was on the line. 
Response to Holland's act of heroism has been... interesting. Some fans beamed with pride over the 23-year-old star living up to his on-screen persona and saving an innocent civilian from trouble, while others have bizarrely taken to attacking @NamelessCass, blaming her for endangering herself, and even saying that she shouldn't complain about almost having a panic attack and strangers shoving her, as other people have experienced much worse. 
One user wrote in response to the video, "im so sorry this happened to you and i hope you are doing okay... thank you, Tom for being protective and recognizing the situation bless your soul."
On the flip side, someone else tweeted, "I'm sorry but your 15 minutes of fame has expired. You are really milking this. Anxiety and panic attack? You['re] a white girl of privilege. Have you ever been homeless? Lived paycheck to paycheck? Been in combat? Survived a mass shooting?" 
Neither Holland nor his representatives have commented on the ordeal, but we think what he did was quite noble. 
See Holland and his Spider-Man franchise co-stars Zendaya, Jacob Batalon, and more up on the big screen when Spider-Man: Far From Home swings into theaters on July 2.