Rosamund Pike To Lead Amazon's The Wheel Of Time Series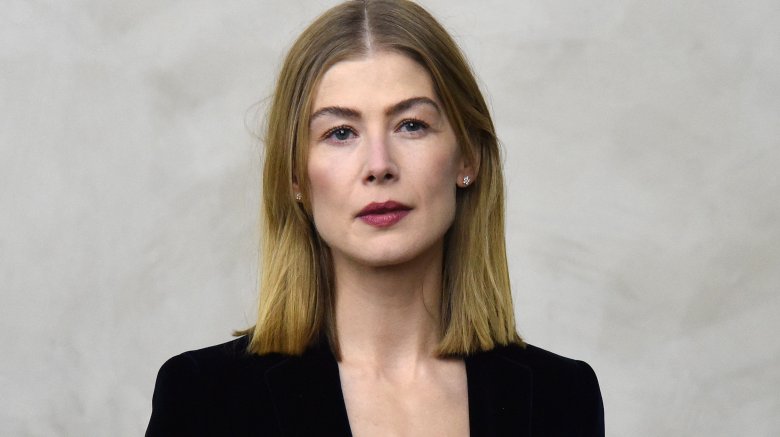 Andreas Solaro/Getty Images
The Wheel of Time has finally begun to turn. 
Rosamund Pike of Gone Girl and A Private War fame is set to lead Amazon Studios and Sony Pictures Television's The Wheel of Time series, an adaptation of Robert Jordan's high fantasy novel collection of the same name. 
This news come to us courtesy of Variety, which detailed that Pike is playing Moiraine Damodred, a scholar and powerful magic user who is part of an organization of women known as the Aes Sedai. The upcoming Wheel of Time series will follow Moiraine on a "dangerous, world-spanning journey with five young men and women, one of whom is prophesied to be the Dragon Reborn, a powerful individual who will either save humanity or destroy it."
Moiraine is an important and well-loved character within the Wheel of Time books, and (not to spoil anything here) her personal narrative is one that stirs up a lot of emotion in fans of the novels. 
Started with the January 1990 publication of the first novel The Eye of the World, the Wheel of Time series takes place in a fantasy world in which only certain women are able to tap into and wield magic. The collection spans 14 novels — subsequently separated into three volumes: The Gathering Storm, Towers of Midnight, and A Memory of Light — and has been praised for its world-building, in-universe system of magic, and cast of characters. Readers have also enjoyed Jordan's employment of European and Asian cultural and philosophical touchstones. 
The Wheel of Time, which has been gestating for the better part of two decades, marks another major project for Pike. She's been on something of a hot streak lately, having delighted as Louise in the bite-sized British comedy series State of the Union and scored a Golden Globe nomination for her performance as Marie Colvin in A Private War. The Wheel of Time series is something fresh for Pike and for fans of the books upon which it is based — and will undoubtedly be better than that long-forgotten-about Wheel of Time pilot that aired on FXX... in the middle of the night one evening in February 2015... with no pre-release marketing. 
We're excited to see Pike work her charms in The Wheel of Time, but we're still waiting to hear when exactly the series will premiere on Amazon. Count on Looper to update you as soon as Amazon announces a release date.