Midsommar Early Reactions Praise Film As Surprisingly Funny, Disturbing Horror Masterpiece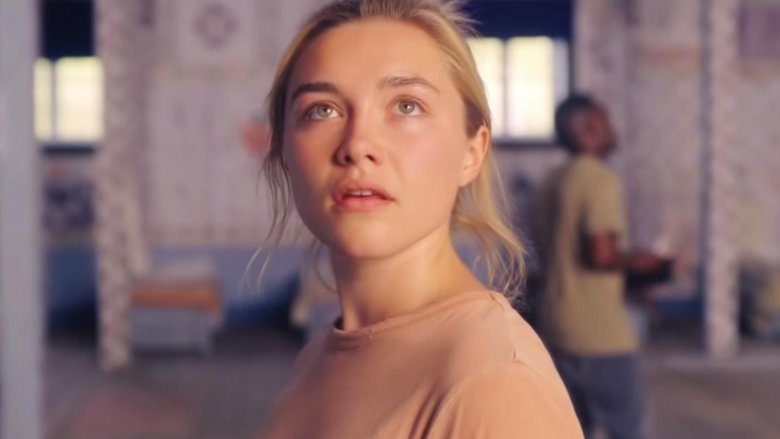 You won't want to miss out on these festivities. 
Hereditary director Ari Aster's sophomore effort Midsommar screened for members of the press on Tuesday night, and their early reactions to the film came rolling out on Wednesday morning. Starring Fighting with My Family actress Florence Pugh as a grief-stricken woman named Dani who vacations to rural Sweden with her boyfriend to attend an idyllic festival that comes once every 90 years, Midsommar has shocked and satisfied in equal measure. Pugh herself teased that the folk horror flick would be a "helluva ride" — and it looks like she was right.
Critics are exalting Midsommar as haunting, bizarre, visually captivating (thanks, pastel color palette and stunning Swedish landscapes!), unexpectedly funny, and a masterpiece that exceeds Aster's feature debut Hereditary in various ways. 
"MIDSOMMAR confirms a major talent who isn't afraid to alienate... most people. A psychotropic plunge into what death might mean, if it means anything. Deeply upsetting and very funny?" Vanity Fair's Richard Lawson tweeted post-screening. He added in a brief review published to Vanity Fair's site, "Midsommar is a shocking piece of filmmaking — unnervingly competent even when the film yaws into silliness, even when it risks tedium."
Bloody Disgusting's Meagan Navarro, who is an avid horror fan, wrote on Twitter, "Going to join the chorus and say I absolutely loved #Midsommar. Ari Aster nails guttural, raw emotion. But this time? So much joy and humor with the f***** up pain. Legit feel good horror for me."
David Ehrlich of IndieWire gave particular praise to the final act of Midsommar, and summed up the film's potential cultural impact in a perfect, bite-sized pull-quote. "MIDSOMMAR will do for Swedish pagan solstice rituals what Psycho did for showers," he tweeted. "In a psychedelic fairy tale about ridding oneself of fear and pain — absolutely delightful from its nightmare of an opening to its floral purge of a finale."
Ehrlich also wrote up a full review of Midsommar for IndieWire, in which he said, "As with Hereditary, the movie arrives at an operatic showdown that brings everyone together for a terrifying denouement, one made all the more upsetting by the jubilance in which it's pronounced. The ensuing depravity gives way to a questionable triumph that seems all but inevitable by the time it arrives. But even then, there's an intimate spookiness to watching the movie arrive at that point, with a reminder that the scariest circumstances are often the ones heading right at us."
Nightmarish Conjurings founder Shannon McGrew was one of many who called Midsommar a "masterpiece" when she tweeted, "I was super nervous going into #MIDSOMMAR because of my deep love for Hereditary, but holy s*** you guys, @MidsommarMovie is a masterpiece."
Jonathan Barkan of Dread Central gave Midsommar a near-perfect score in his review, writing, "This is a dreamlike phantasmagoria that Aster cleverly manipulates, lulling the audience into a hypnotic state that allows the 140-minute runtime to pass by with unfettered ease ... There is a great deal to unpack in Midsommar and I strongly suggest multiple viewings. It will certainly be as divisive as Hereditary but there's no denying that it will be one of the most discussed, dissected, and analyzed films of the year."
The Hollywood Reporter's John DeFore noted that Midsommar is more unnerving than it is flat-out scary, and is a little too self-aware to reach its full potential, but that doesn't mean it isn't worth a watch. He said in his review of the flick, "Photographed with extreme care, the film sometimes wears its ambitions on its sleeve. Dani has a nightmare full of what might be called Kubrickian visions while huddled beneath a blanket whose hexagonal decorations look like a cool-hued homage to the carpet in The Shining. But Midsommar remains too entertained by its exotic rituals to reach the abyss-staring quality of that tale. More unsettling than frightening, it's still a trip worth taking."
Other reactions include the fantastic one from The Atlantic's David Sims, who tweeted, "MIDSOMMAR: a wickedly funny romp with Ugly Americans and Freaky Swedes in the woods, a premium cut of one of my favorite subgenres (daytime horror), and just so confidently made. Ari Aster takes the very idea of a [sophomore] slump and sets it ablaze." 
After bursting onto the scene with a horror film unlike any other, the Hereditary director has a lot to live up to with his second feature. This overwhelmingly positive response seems to prove that Aster has truly outdone himself, and that Midsommar will be a horror film to remember.
Midsommar hits theaters July 3.