Dwayne Johnson Accepts 2019 MTV Movie & TV Awards Generation Award With Rock-Tastic Presentation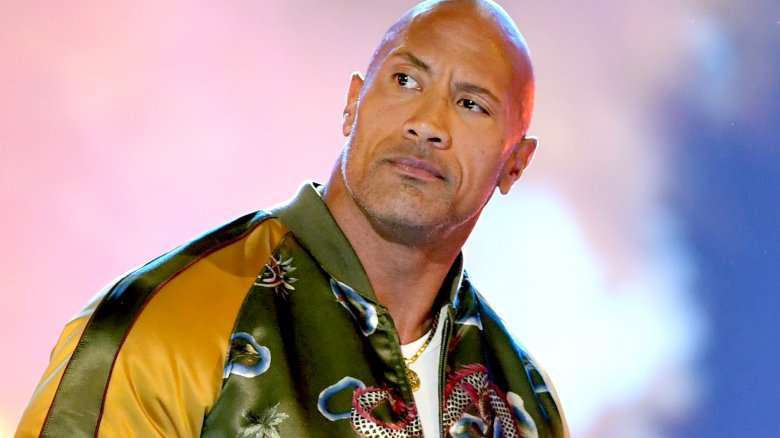 Kevin Winter/Getty Images
Can you smell what the Rock is cooking? Everyone at the 2019 MTV Movie and TV Awards certainly could.
Dwayne Johnson accepted his Generation Award at this year's Movie & TV Awards with plenty of pomp and circumstance, backed up by dancers and Queen's "We Will Rock You" (the perfect song choice) when he stepped out on stage to receive the lifetime achievement honor.
Johnson immediately thanked his choreographers, dancers, and MTV, and started his official speech by thanking his wife and daughters, saying he has a "house full of strong-ass women." He then went on to commend his fans and remind them that the most powerful thing they can be is "themselves" — reminiscing about when he was new to Hollywood and a total outsider, told he needed to be different, drop some weight, and stop calling himself "The Rock." Even though he bought into it for a while, Johnson said he was miserable when he was trying to change himself: "I wasn't going to conform to Hollywood. Hollywood was going to conform to me. So, Hollywood conformed to me and here I am with all of you getting the Generation Award. Holy s***!"
The professional-wrestler-turned-actor then invoked his cultural background as half African-American and half Samoan, offering the audience powerful words of wisdom: "There's another side to being your authentic self, your true self, and that's the side that the magic is on. That's the side that's gold ... You gotta recognize the joy and the responsibility of bringing everybody with you. We bring everybody with us, and you do that by being kind, by being compassionate, by being inclusive, and straight-up just being good to people because that matters."
Johnson finished his speech with his favorite quote that he heard at age 15: "It's nice to be important, but it's more important to be nice."
As the recipient of the Generation Award, Johnson is cementing himself as a true member of Hollywood's A list. As of 2018, he was one of the highest paid actors in the history of Forbes' Celebrity 100 List and has made TIME's list of the most influential people multiple times. There's no question that Johnson will keep making blockbuster films for years to come, and even though he's so far along in his illustrious career, it feels like this award is just the beginning of his next phase.