Zachary Levi Delivers Hilarious, Heartwarming Opening Monologue At 2019 MTV Movie & TV Awards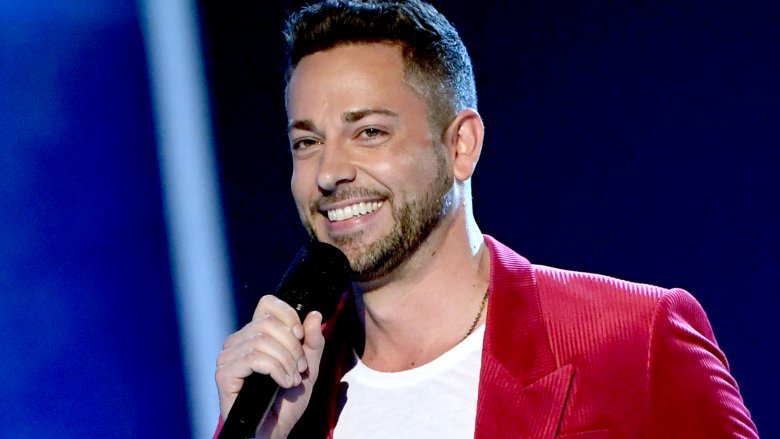 Kevin Winter/Getty Images
Zachary Levi lived up to his onscreen persona and did a superheroic job kicking off the 2019 MTV Movie & TV Awards on Monday, June 17 as its host.
Taking the stage in a cherry-red suit (a bold move, Mr. Levi), the Shazam! star set the mood of the evening by cracking several jokes straight out of the gate. Levi contextualized the ceremony's two-hour runtime in a way teens watching at home could understand ("it's about 500 TikToks," he said); took a shot at the beautiful disaster that was the failed luxury music gathering Fyre Festival; made fun of Aquaman actor Jason Momoa's, er, prominent chest; compared Game of Thrones to RuPaul's Drag Race; and even quipped to Ray J a zinger that only older viewers and diehard Kim Kardashian fans would understand. 
Banter aside, Levi told the audience he had a sincere goal for the night: to have fun and to celebrate what everyone loves about movies and television. It was a touching moment, as was him sharing a snap of his 14-year-old self to remind the audience that entertainers are all big nerds at heart. From rising singer-songwriter-superstar Lizzo to mega-talented actor and filmmaker Kumail Nanjiani to Dwayne "The Rock" Johnson himself, every last person celebrated at the 2019 MTV Movie & TV Awards got to where they are today by holding onto the dreams that others may have thought were silly. Levi wanted to remind us all of that. 
"Deep down, we all still have that kid in us. And there's no reason why that kid can't be a superhero," said Levi. "So if you're like 14-year-old me, and you're sitting at home, watching this thinking that maybe you'll love yourself one day, if you can finally be somewhere here, stop doing that and start loving yourself right there, right now. It'll change your life and that'll change the world, and I guarantee that."
Now, we know superheroes aren't real, but Levi seems as close to a true-blue caped crusader as we'll ever get. Though he's been in the Hollywood biz for the better part of two decades, his star has grown brighter in the time since he was announced as DC's newest onscreen superhero, Shazam. Starring opposite Asher Angel as young Billy Batson, Levi delighted as the spandex-clad, capital-G goofy vigilante who was — just as the actor is in real life — equal parts hilarious and endearing. Hosting the MTV Movie & TV Awards is a big deal for celebs wanting to break through the pivotal market of teens and young adults, and Levi did a pretty fantastic job. We have a feeling many will become Levi fans after this year's ceremony. 
Watch Levi's heartwarming speech (and try not to tear up) below.