Haunting Of Hill House Actress Carla Gugino Could Return For Bly Manor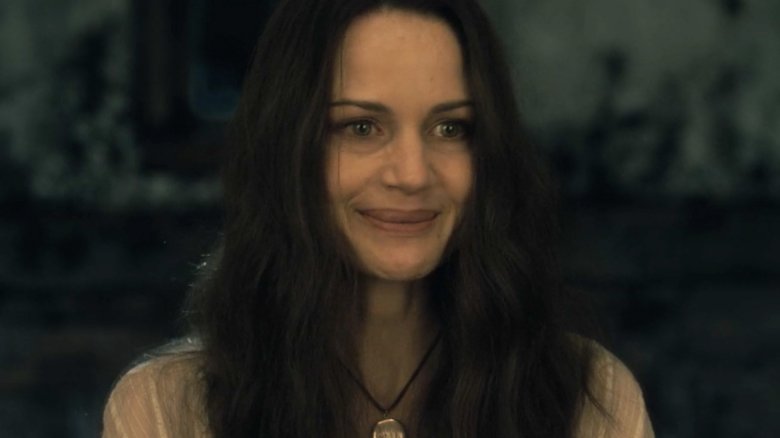 The Haunting of Hill House is telling a different terrifying tale with its second season, but one familiar face might return. 
Actress Carla Gugino, who played Olivia Crain on the acclaimed supernatural horror series, recently revealed to TheWrap that she has spoken to The Haunting of Hill House creator Mike Flanagan about starring on The Haunting of Bly Manor, the second entry into what is now the Haunting anthology. 
Since Gugino's character – spoiler alert — died during The Haunting of Hill House and because Bly Manor adapts a completely separate story for the small screen, viewers shouldn't anticipate the miraculous resurgence of Olivia Crain. However, they can expect the possibility of Gugino playing a totally new character on Bly Manor. 
"I can't say anything definitive at this point, other than Mike and I really love collaborating and working together and any opportunity where a schedule allows for us to do that, we will, and I would be honored to," Gugino said. 
She and Flanagan have been "talking a lot" about her potentially coming back to the blossoming Haunting universe, but a definitive decision hasn't yet been made. Only when the time is right will Gugino return. As she explained, "We'll just see if all schedules allow. All I can say is I'm very excited for season 2 and to see what Mike does."
The Haunting of Bly Manor, which translates author Henry James' 1898 horror novella The Turn of the Screw, should be every bit as chilling as The Haunting of Hill House was regardless of which actors round out its cast. Set in the fictional English country house Bly mansion, The Turn of the Screw features a pair of orphans named Flora and Miles, who are drawn to the "beckoning evil" that haunts the property and wishes to possess the children's minds and capture their souls. It's similar in tone to The Haunting of Hill House: that anthology entry adapted Shirley Jackson's 1959 gothic horror novel of the same name, which focused on the Hill House mansion and the disturbing effects it has on its residents. 
We certainly wouldn't be opposed to Gugino playing a part in The Haunting of Bly Manor, as she turned out an astounding performance on The Haunting of Hill House. But if she and Flanagan can't strike a deal due to scheduling complications, it isn't as though other Hill House stars couldn't circle back for Bly Manor. Kate Siegel, Michael Huisman, or Timothy Hutton returning? Sign us up!