First Look At Disney+ Monsters, Inc. TV Series Is Here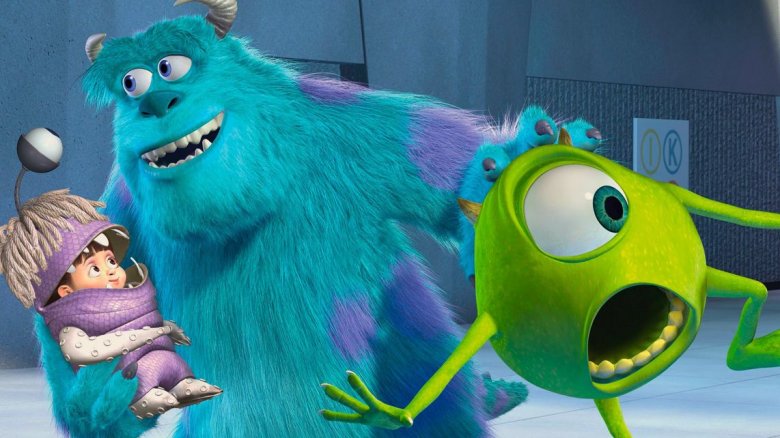 Get your scream canisters ready — we're going back to work. 
The Walt Disney Company unveiled the first image for the upcoming Monsters, Inc. television series Monsters at Work on Tuesday, June 11 during the Annecy International Animated Film Festival in Annecy, France. ComicBook.com shared the snap, while the official Twitter account for Pixar shared the logo for Monsters at Work, set to premiere on Disney's upcoming streaming platform Disney+ in 2020.
By and large, the photo isn't anything too wild and doesn't reveal a whole lot about the plot of Monsters at Work. It shows the one-eyed, green-skinned monster Mike Wazowski (voiced by Billy Crystal) and his furry blue friend James P. "Sulley" Sullivan (John Goodman) standing on either side of a door at the Monsters, Inc., factory — which now collects laughter instead of screams from children to power the city of Monstropolis. Walking in front of the door is an orange creature who wears a hard hat and carries a wrench. This is Tylor Tuskmon (Ben Feldman), a mechanic on the Monsters, Inc. Facilities Team who dreams of working with Mike and Sulley and making humans laugh.
All Disney has said about the Monsters at Work story is that it picks up six months after the events of the original Monsters, Inc. from 2001, and that it will center around Tylor. This first glimpse is quite adorable and certainly whets one's appetite for more Monsters content, despite it being thin on plot specifics. 
It will be interesting to see how Monsters at Work performs on Disney+ given how popular Monsters, Inc. and its 2013 prequel pic Monsters University were. The series has on its roster plenty of sterling stars — including returning actors John Ratzenberger (Yeti), Jennifer Tilly (Celia Mae), and Bob Peterson (Roz) and newcomers like Kelly Marie Tran (Tylor's best friend Val Little), Henry Winkler (Tylor's boss Fritz), and Aisha Tyler (Tylor's mom Millie Tuskmon) — so it certainly isn't lacking in the talent department. So long as the premise is fun and family-friendly (which it seems to be based on the information at hand) and the series stays focused, Monsters at Work should work out wonderfully. 
Disney+ will launch in the U.S. on November 12. Monsters at Work is slated to debut on the platform sometime in 2020.