Frozen 2 Poster Hints At A Misty, Mature Sequel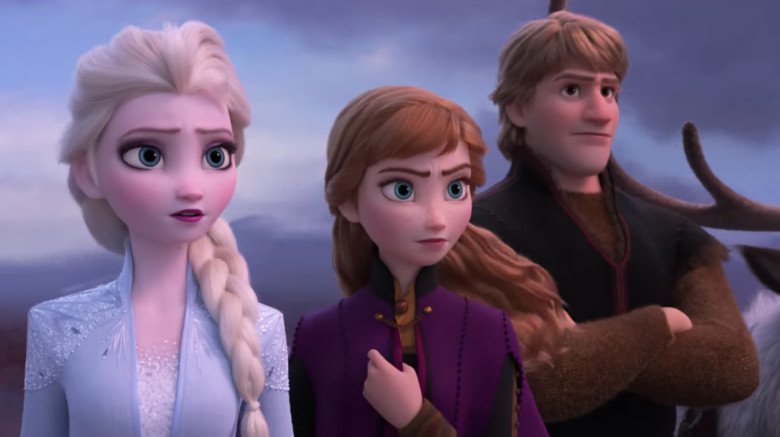 The cold never bothered her, but Elsa has a big storm coming her way.
Disney pulled the curtain back on a brand-new poster for Frozen 2 on Monday, June 10 ahead of the official full-length trailer debut on Tuesday, June 11. 
The one-sheet, uploaded to the Walt Disney Studios Twitter account, shows sisters Elsa (voiced by Idina Menzel) and Anna (Kristen Bell) standing tall and strong in a misty forest. Beneath their feet is a thick blanket of fallen leaves, all the same shade of brick red, that suggests autumn is winding down and winter is coming. Though things won't get Game of Thrones-y in the Frozen sequel (despite the film's premise being similar to one of the series' most popular phrases), Elsa, Anna, and their pals Kristoff (Jonathan Groff), Sven the reindeer, and Olaf (Josh Gad) the sentient snowman will face enormous challenges and nefarious forces when they set out on a "dangerous but remarkable journey."
By the looks of this poster, the sounds of the film's synopsis, and what we saw in the teaser Disney previously released, Frozen 2 is going to be a much more mature movie compared to its predecessor, the 2013 animated feature that turned into a global phenomenon. The supernaturally gifted Elsa is drawn to discover more about her icy abilities, and both she and her sister Anna are intrigued to know the truth about their parents, who died in a shipwreck years before Elsa became queen. Answers to the mysteries surrounding Elsa's powers, her birth, and her family are just outside her reach — but they also threaten the kingdom of Arendelle and its people. Together, the royal sisters and their ragtag team of friends must unravel the secrets while protecting Arendelle. 
Six years have passed since the original film launched in theaters, and yet hype for Frozen 2 is still high. Disney should have little problem raking in beaucoup box office bucks when the follow-up flick hits theaters on November 22. Before then, check back with Looper tomorrow, June 11, to see the first full-length trailer for Frozen 2.