Godzilla: King Of The Monsters Roars To $179 Million Global Debut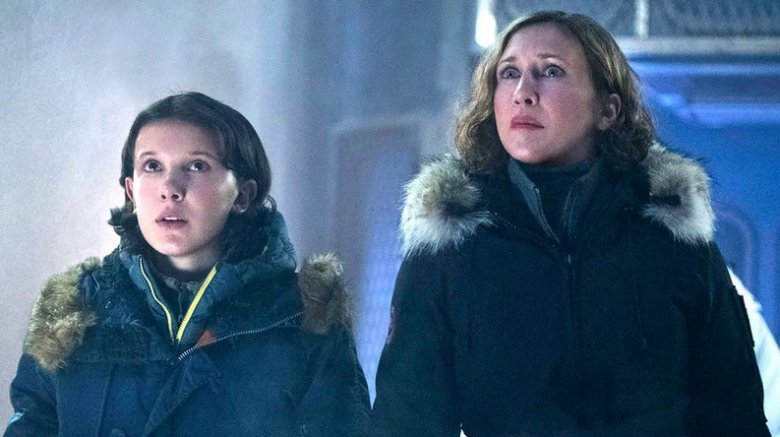 The king of the monsters is officially the king of the box office. 
After opening in theaters on Friday, May 31, Warner Bros. and Legendary Pictures' Godzilla: King of the Monsters raked in $179 million globally in its first three days out. 
Variety had the facts and figures, also noting that $130 million of the film's opening weekend pull came from overseas ticket sales. This means that, unfortunately, King of the Monsters earned only $49 million at the domestic box office when it launched in just over 4,100 theaters. That's quite a soft start for a film of King of the Monsters' stature (it's a continuation of one of the most popular movie monster's mythos, features a cast including Millie Bobby Brown and Vera Farmiga, and is bursting with action), and is disappointing when considering that Warner Bros. and Legendary shelled out a reported $200 million (excluding marketing and distribution costs) to bring it to life.
Comparatively, King of the Monsters came in noticeably lower than its two MonsterVerse predecessors, Godzilla and Kong: Skull Island. The former pulled in $93 million domestically when it premiered in 2014, and the latter took home $61 million stateside across its three-day opening frame in 2017. 
While Godzilla: King of the Monsters may not have knocked it out of the park with stateside audiences, it still managed to win the weekend box office. It easily crushed international competition, as overseas viewers just can't get enough of the titular beast, and beat out several heavy-hitters in the U.S. and Canada. With its $49 million pull, King of the Monsters surpassed Disney's live-action Aladdin ($42.3 million in its second week), Paramount's Elton John biopic Rocketman ($25 million in its first weekend out domestically), and Universal and Blumhouse's horror-thriller Ma ($18.3 million in its opening weekend) domestically. 
Looking ahead, the Michael Dougherty-directed Godzilla: King of the Monsters still stands a chance to earn back its cost of production, though it's looking like it might end up being a bigger hit amongst international fans than it is with domestic viewers. Still, with the school year winding down and summer vacations fast approaching in the U.S. and Canada, more and more theater seats should be filling up — which should result in a higher domestic profit. As Warner Bros. head of domestic distribution Jeff Goldstein stated, "The challenge and goal for us is to make sure the audience broadens out. The movie is dependent on broadening beyond just the fanbase. The good news is kids are out of school starting today and people are on vacation, so you have audiences available seven days a week."