People Are Furious Over This Captain Marvel Deleted Scene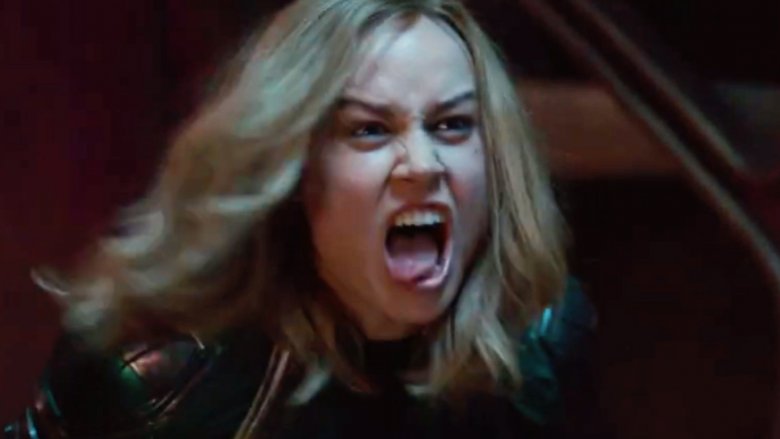 Well, you know what they say: haters gonna hate. 
Ahead of the digital launch of Captain Marvel, the Brie Larson-starring superhero standalone that garnered much backlash in the weeks leading up to its debut earlier this year, Marvel Studios released to the public one of the six deleted scenes included on the film's home entertainment release. The scene in question has many people absolutely furious over its content.
Entitled "What, No Smile?", the deleted scene debuted on the official Twitter account USA Today Life with the caption, "Get an EXCLUSIVE first look at @BrieLarson taking on toxic masculinity (in the form of @RobertKazinsky) in this extended #CaptainMarvel scene." USA Today also reported on the special scene on its website, reporting the clip under the headline, "Watch Brie Larson totally own a dude in this exclusive 'Captain Marvel' video."
It isn't so much a moment completely cut from the movie as it is an extended, alternate take of a scene that already gained a ton of attention when audiences saw Captain Marvel in theaters. The scene comes when the hero, still going by Vers at the time, lands on Earth in the mid-1990s. You'll likely remember how it unfolds in the theatrical cut of Captain Marvel: she's standing outside a strip of stores in a shopping plaza and reading a map of Los Angeles — then she's suddenly throwing barbs at a smarmy local biker, played by Robert Kazinsky. He flirts and pushes her buttons, and when she doesn't respond in the way he hoped, he asks her to smile. 
The alternate version of the scene gives the biker a name — "The Don" — and sees him ask Vers for a smile after he approaches her, calls her darling, and offers her a ride. "How about a smile for me, huh?" he says. "I'm offering to help you. The least you could do is give me a smile." 
Vers responds by asking if he'd like a handshake — and when he agrees, she uses her photon-blasting palms to burn his hand. With the Don incapacitated and kneeling on the ground in pain, Vers makes him a proposition: she'll let him keep his hand if he gives her his leather jacket, helmet, and the keys to his motorcycle. He hands her the keys and she fires back, "What, no smile?"
Though it isn't all that different from the original version of the scene, this cut has some extra flair and even gives a nod to a real-life '90s movie in paralleling the moment in T2: Judgement Day when the T-800 Terminator snatches a motorcyclist's clothes and bike after he puts out a cigar on his chest. 
Unfortunately, not everyone took the scene as lighthearted or a clever reference to an action classic. Many are totally outraged over it. 
Conservative political commentator Ben Shapiro retweeted the deleted Captain Marvel scene with the added commentary, "Man, it is so empowering to watch a woman with superpowers physically hurt and then threaten to break a man's hand — and steal his motorcycle and jacket because he said something rude to her! So empowering! Empowerment!"
After watching the clip, another slammed Captain Marvel as being a stain on the MCU: "A man flirts in a way Brie Larson doesn't like so she steals his jacket, bike and threatens to break his hand with her super powers. Cool. Can't wait for more 'heroes' like this to plague the MCU."
The scene boiled the blood of plenty more Marvel fans, including one who called into question Captain Marvel's ability to lead the Marvel Cinematic Universe. "Wtf Marvel? Your supposed next 'leader of the MCU' is a straight up villain," they wrote on Twitter. "Assaulting someone and stealing their property over a compliment ? I guess Endgame really was the end.." 
YouTuber Joey "Salads" Saladino denounced Captain Marvel as "the worst/most unlikeable HERo ever," and journalist Tim Pool agreed that she's "a villain."
While many were up in arms over the scene, others took no issue with it. Some even pointed out the hypocrisy in criticizing Captain Marvel for doing something that could be viewed as not-so-heroic when other heroes have done the exact same thing. 
"The #CaptainMarvel deleted scene. Listen, that guy was a jerk, he wanted Carol to smile for him because he thinks he's hElPiNg her. Carol putting that guy in his place isn't something to get mad about. So what if she took his bike? LMAO stop trying to hate on Carol," wrote one Twitter user. 
Another loved the deleted scene so much that he felt it should have been the take included in the official version of Captain Marvel: "So, about that deleted scene from Captain Marvel where she humiliates and takes that guy's motorcycle... The scene is awesome, and I 100% wish it had been in the final cut."
Robert Kazinsky, the actor who plays the Don in Captain Marvel, addressed the critics when the uproar became too much to ignore — that is, when those upset over the scene continued to tag his Twitter account in their impassioned reactions. 
"I'm caught in the mentions of men who hate Cpt Marvel, and oh my god...." Kazinsky tweeted, adding a GIF of Captain Marvel laughing to underline his feelings. 
Contention has always surrounded Captain Marvel, it seems, and it looks as though it won't die down until the film stops making headlines. The good news is that even when faced with a swarm of naysayers, people storming the film's Rotten Tomatoes page and tanking its audience rating to well below 60 percent, and thousands bent on verbally attacking the cast and crew, Captain Marvel soared at the box office and made $1.13 billion across the globe. The pre-release negativity had another positive effect: it partially motivated Rotten Tomatoes to revamp its standards and practices for audience reviews. 
As for Larson, she has yet to respond to any of the adverse responses to Captain Marvel or this deleted scene, though we have a feeling she'll stay quiet on the whole thing. Not to say that harsh words don't sting, but it's easier to brush the haters off when you're a superhero in the Marvel movie world.