The Game Of Thrones Character Who Wasn't Meant To Die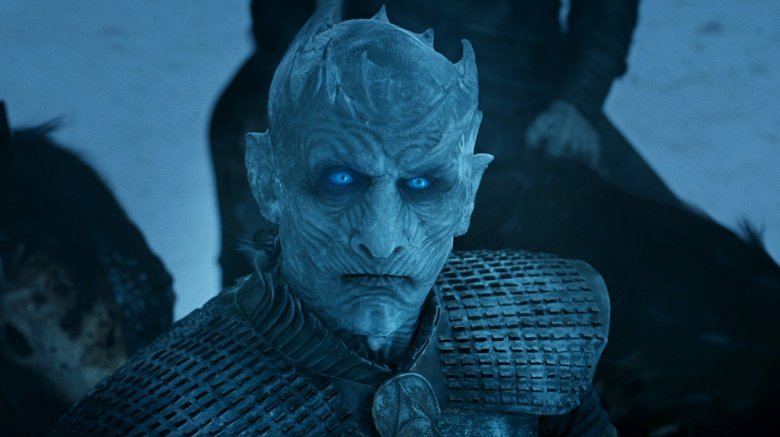 Contains spoilers for Game of Thrones season 8
Cersei Lannister warned us early on that the game of thrones is a ruthless one: players either succeed and taste sweet victory, or die trying. Indeed, many Game of Thrones characters perished on the path toward the Iron Throne, but there was one person who was initially meant to live to the very end. 
In a recent interview with Entertainment Weekly, Thrones writer Dave Hill revealed that Iain Glen's character, the faithful-to-a-fault Ser Jorah Mormont, wasn't supposed to die before the end of the show's divisive eighth and final season. 
He explained that the writers originally had Jorah, who died protecting his queen and the object of his unwavering affection Daenerys Targaryen (Emilia Clarke) during the Battle of Winterfell, make through everything alive. As Hill detailed, Jorah was actually supposed to head to the Wall with Jon Snow (Kit Harington) and walk out into the snowy North alongside him and Tormund Giantsbane (Kristofer Hivju) following Dany's death and Bran Stark's (Isaac Hempstead Wright) coronation as the new king. Ultimately, though, the writers changed their mind — and for good reason. 
"For a long time we wanted Ser Jorah to be there at The Wall in the end. The three coming out of the tunnel would be Jon and Jorah and Tormund," Hill said. "But the amount to logic we'd have to bend to get Jorah up to The Wall and get him to leave Dany's side right before [the events in the finale] ... there's no way to do that blithely. And Jorah should have the noble death he craves defending the woman he loves."
From Glen's perspective, he's actually glad Ser Jorah died before Daenerys took King's Landing with fire and blood, slaughtering thousands of innocent people after the city surrendered to her. 
"There's a sweetness in that because Jorah will never know what she did. That's probably best. It's a blessing for him that he never found out what happened to her. And from a pragmatic story point of view, his death served a greater purpose," he said. Glen added that he has no idea where the series would have taken Jorah had he witnessed Dany's firebombing, but we know: the Wall. 
Everything considered, Hill has a point. The Game of Thrones writing team would have to do a lot of mental gymnastics to twist Jorah's narrative to end with him at the Wall. As heart-wrenching as it was to watch him die, that conclusion to his arc makes sense: he protected Daenerys until the very end, just as he promised.
Additionally, there's something to be said about what Daenerys would have done if Ser Jorah didn't die in the Battle of Winterfell. His death was one of several events that pushed Dany over the edge — the others being learning of her lover Jon's true identity as the rightful heir to the Iron Throne Aegon Targaryen, discovering that Varys (Conleth Hill) had betrayed her and was trying to get Tyrion Lannister (Peter Dinklage) and the whole of Westeros to do the same, seeing Cersei (Lena Headey) order the Mountain (Hafþór Júlíus Björnsson) to behead her advisor Missandei (Nathalie Emmanuel). If Jorah hadn't died, perhaps Daenerys wouldn't have done the things she did, and would still be alive trying to rule over Westeros with an iron fist. Is that really what's best for the country? 
Though watching Jorah turn his back on Dany after she tumbled into madness and burnt down King's Landing would have been jaw-dropping given his loyalty to her, it wouldn't make all that much sense in the grand scheme of things. Some plot twists are simply too twist-y, and some characters are truly better off dead.