Star Wars: Knights Of The Old Republic Movie In The Works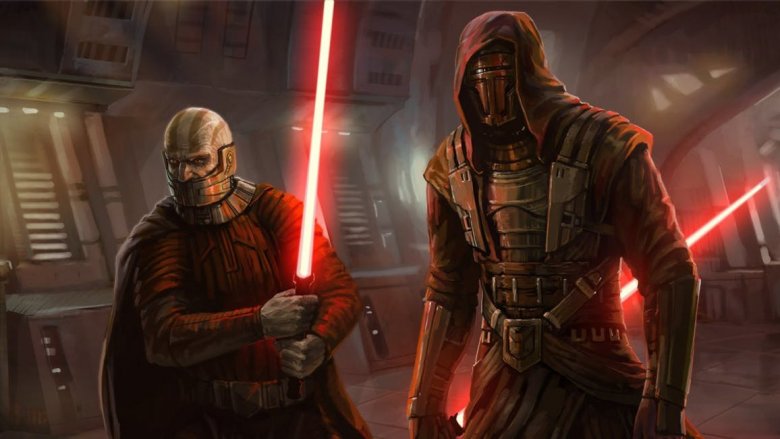 Forget the Knights of Ren — the Knights of the Old Republic should be the Force-sensitive fighters on your mind. 
According to BuzzFeed News, Lucasfilm has put into development a film based on the popular role-playing video game Star Wars: Knights of the Old Republic.
Three separate sources with knowledge of the production relayed to BuzzFeed News that Lucasfilm selected Laeta Kalogridis (Avatar and Shutter Island) to pen the script for Knights of the Old Republic. The first woman to write a Star Wars movie since Leigh Brackett co-wrote 1980's The Empire Strikes Back with Lawrence Kasdan, Kalogridis is said to have joined Lucasfilm in the spring of 2018 with the intent to adapt the beloved IP.
Lucasfilm has not yet commented on the news, though studio president Kathleen Kennedy did tease a Knights of the Old Republic screen adaptation earlier this year. She told MTV News during Star Wars Celebration, "Yes, we are developing something to look at. Right now, I have no idea where things might fall."
Originally released for the Xbox console in July of 2003, Knights of the Old Republic focuses on (what else?) the tensions between the Jedi and the Sith in an era 4,000 years before the events of the first entry in the Star Wars film franchise, Star Wars: A New Hope. The game is set prior to the establishment of the Galactic Empire, and sees the dark Sith lord Darth Malak send an armada of his followers to unleash fury on the Republic. Players adventure as a Jedi, journeying to various different planets in the galaxy far, far away in hopes of bringing Malak and his legion of Siths to their knees. As players progress, however, the choices they make impact the alignment system in Knights of the Old Republic that points characters either to the dark or the light side of the Force.
As of this writing, the project has neither an official title nor a tentative release date. It's also unclear whether the film will even make it to the big screen, as there's a chance that it could end up a streaming exclusive for the upcoming House of Mouse-owned platform Disney+. Given that the central Star Wars film franchise is going on a hiatus following the release of The Rise of Skywalker this December, it stands to reason that the Kalogridis-written Knights of the Old Republic movie could be released during that off period. 
Uncertainties aside, this is fantastic news. For years now, Star Wars fans have been dreaming of the day when Lucasfilm gives the green light to a film adaptation of Knights of the Old Republic. Hearing that the studio is reportedly getting things going on that long-hoped-for project is sure to make millions of people smile.