George R.R. Martin Breaks His Silence On GoT Finale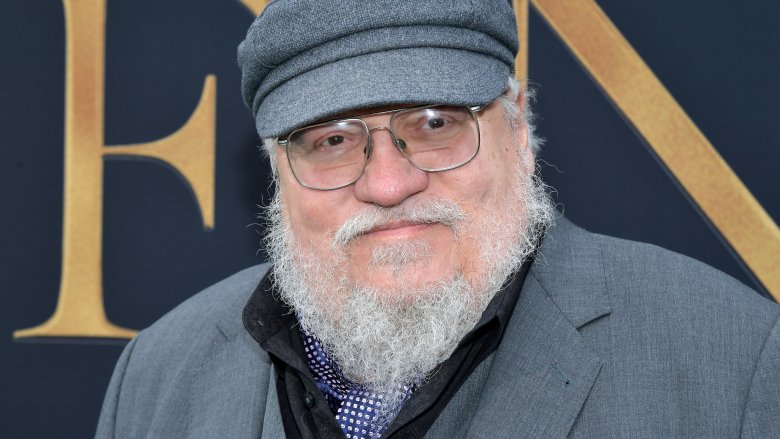 Amy Sussman/Getty Images
Contains spoilers for Game of Thrones season 8
Game of Thrones has come to an end — but the novel series upon which the show is based isn't over yet. Author George R.R. Martin has yet to finish the final two entries into the A Song of Ice and Fire collection, The Winds of Winter and A Dream of Spring, and has made some intriguing comments on how his ending of the fantasy epic compares to the one fans watched on television. 
Taking to his personal website, Martin shared a post addressing the Game of Thrones finale and explaining that there isn't a straightforward answer to whether the novel series' ending will be the same as the show's. The author admitted that it's "hard to believe it is over" and reminisced about where Thrones began, then offered sincere thanks to those who have made the show a reality. 
"The last night, the last show. After eight epic seasons, HBO's GAME OF THRONES series has come to an end," wrote Martin. "It has been a wild ride, to say the least. I want to thank people, but there are so many. There were forty-two cast members at the season eight premiere in New York City, and that wasn't even all of them. And the crew, though less visible than the cast, were no less important. We had some amazing people working on this show, as all those Emmys bear witness."
He continued, praising series creators and showrunners David Benioff and D.B. Weiss for assembling a "championship team," commending the "incredible" directors, and applauding Game of Thrones producer Bryan Cogman and the HBO team led by Richard Plepler. 
Martin then promised that with the closing of the door on Game of Thrones comes the opening of another — one that will lead fans to the final ending of the story. The author assured readers that he is hard at work completing The Winds of Winter and A Dream of Spring, and though he can't say when each book will be published, he teased that the wait will be more than worth it. 
"Let me say this much — last night was an ending, but it was also a beginning. Nobody is retiring any time soon ... And I'm writing. Winter is coming, I told you, long ago... and so it is. THE WINDS OF WINTER is very late, I know, I know, but it will be done. I won't say when, I've tried that before, only to burn you all and jinx myself... but I will finish it, and then will come A DREAM OF SPRING," Martin wrote. 
As for what will happen in The Winds of Winter and whether A Dream of Spring will have the same ending as the show, Martin gave an interesting answer: "Well... yes. And no. And yes. And no. And yes. And no. And yes."
There are several reasons why the series and the books can't have the exact same conclusion or wildly different endings — the biggest being that the two works are in separate mediums. Additionally, where Benioff and Weiss wrapped the story up in six episodes, Martin is finishing A Song of Ice and Fire with two books that will span 3,000 manuscript pages — which can translate to anywhere between 750,000 to 900,000 words, or roughly 1,600 to 1,900 pages. And, of course, there are a ton of characters who never appeared on Game of Thrones or who had their storylines drastically altered for television that Martin intends to give proper endings. Martin noted that "the butterfly effect will be at work as well" and "readers will learn what happened to Jeyne Poole, Lady Stoneheart, Penny and her pig, Skahaz Shavepate, Arianne Martell, Darkstar, Victarion Greyjoy, Ser Garlan the Gallant, Aegon VI, and a myriad of other characters both great and small that viewers of the show never had the chance to meet."
As for whether the book or the show will have the "'real' ending," Martin thinks it's a silly question, and compared it to people wondering how many children fictional character Scarlett O'Hara really had. She had three children in the 1936 novel Gone with the Wind, one in the film based on the book, and none in real life, because she isn't a real person. No answer about O'Hara's children is more accurate than the other, just as Martin feels no ending to the Thrones tale is the realest.
This echoes past remarks Martin made regarding potential differences between the ending Benioff and Weiss chose for Game of Thrones and the one he has yet to write. He told Rolling Stone in April, "I mean, would I prefer they do it exactly the way I did it? Sure. But I've been on the other side of it, too. I've adapted work by other people, and I didn't do it exactly the way they did it, so ... It's two variations of the same story, or a similar story, and you get that whenever anything is adapted."
At the end of the day, the most important takeaway from this all is what Martin said at the end of his post: "How about this? I'll write it. You read it. Then everyone can make up their own mind, and argue about it on the internet."