How GoT Ruined The Romance Scene That Everyone Wanted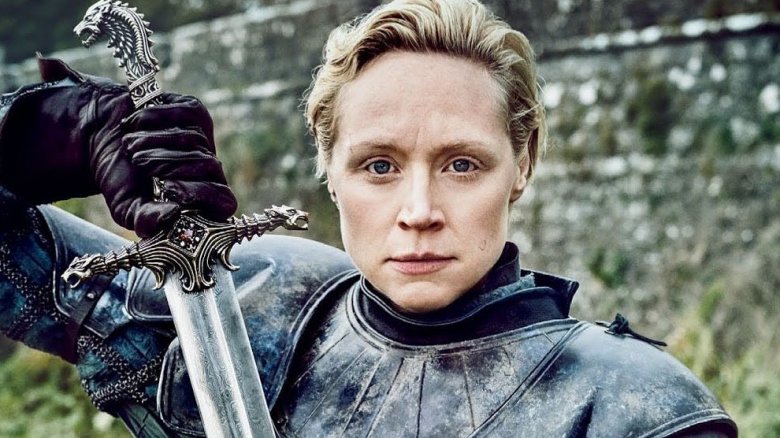 Contains spoilers for Game of Thrones season 8, episode 4, "The Last of the Starks"
Just two episodes after Game of Thrones gave Arya Stark (Maisie Williams) a stunning romance scene, the series completely dropped the ball with another female character — at least in the eyes of countless fans around the world. 
Beware, for this article is dark and full of spoilers.
The fourth episode of Game of Thrones' final season, "The Last of the Starks," picked up after the brutal Battle of Winterfell. Before Arya Stark (Maisie Williams) vanquished the Night King and his frosty minions, many sacrificed their lives to protect Winterfell and the rest of Westeros, Daenerys Targaryen (Emilia Clarke) and Jon Snow (Kit Harington) attempted to flame out the enemy with their dragons, and Brienne of Tarth (Gwendoline Christie) put her new status as a Knight of the Seven Kingdoms to use, fighting the White Walkers as the commander of her own section of soldiers — one being the man who knighted her, Jaime Lannister (Nikolaj Coster-Waldau). 
Brienne and Jaime have had a complex history throughout Thrones' run: the pair met when he was her prisoner, eventually got taken by House Bolton supporters, and grew closer over Jaime's missing hand, Brienne's battle against a bear, and their shared skills on the battlefield. Jaime even gave Brienne his Valyrian steel sword Oathkeeper on her mission to keep the Stark girls safe. Clearly, there is a lot of love between Jaime and Brienne — platonic and maybe a little more at turns — but nothing ever manifested since Jaime had been blindly in love with his sister Cersei (Lena Headey) all this time. 
This changed on season 8, episode 4, when Jaime and Brienne shared an intimate night together after a drinking game they were playing with Tyrion (Peter Dinklage) and Podrick (Daniel Portman) took a turn for the personal. For most watching at home, the moment was everything they could have wanted. Love! Passion! Adorable banter about Brienne being a knight now! But for as long as viewers waited for Jaime and Brienne to consummate their relationship and for as wonderful as the moment was, Thrones tarnished it in a flash. 
In the eyes of many, the romance scene between the two knights was ruined only a few minutes after it happened, when word of Euron Greyjoy (Pilou Asbæk) ambushing Daenerys' fleet and slaughtering her dragon Rhaegal, and Cersei capturing Dany's Handmaiden Missandei (Nathalie Emmanuel) reached Winterfell. Brienne, who is staying in Winterfell to look after Sansa for the time being, delivered the news to Jaime, who slipped away in the night to head for King's Landing. What exactly he plans to do when he gets there is a mystery, but Jaime's departure left Brienne broken-hearted and begging him to stay. 
"You're a good man and you can't save her," Brienne told Jaime, referring to Cersei and Jaime's toxic relationship with her. "You don't need to die with her. Stay here. Stay with me. Please. Stay."
Jaime told a sobbing Brienne the horrific things he's done "for Cersei" — like pushing Bran Stark (Isaac Hempstead Wright) out of a window and paralyzing him for life, strangling his cousin to death, and nearly murdering "every man, woman, and child in Riverrun" — seemingly in an attempt to get her to see him for who he is. 
"She's hateful," Jaime said, "and so am I." 
With the sound of Jaime riding off to King's Landing and Brienne's soft sobs came the sound of hearts breaking everywhere. Fans took to Twitter to express their distress over Game of Thrones giving Jaime and Brienne a long-awaited romance scene and then taking it all away shortly thereafter. 
"Brienne crying is something i never want to see again," one fan tweeted. Another used a popular GIF of Tyra Banks yelling, "I was rooting for you! We were all rooting for you!" to capture their thoughts on Jaime leaving Brienne behind.
Twitter user @jaimesprotector was devastated at what happened: "Just finished the episode and what should have been our Jaime and Brienne moment got COMPLETELY RUINED AND I'M SO ANGRY I WANT TO CRY I DONT KNOW SHOW JAIMIE RIGHT NOW." 
One other fan took aim at the Game of Thrones writers, tweeting, "good morning i only came online to say that brienne deserves better & the writers completely ruined YEARS of jaime's development in one episode thank you."
Jamie Jirak tweeted, "As a staunch Brienne and Jaime shipper, this episode provided the worst emotional whiplash of my life," while user @cinssmith joked that they felt like a clown for believing Jaime and Brienne could have a happy ending.
Jaime abandoning Brienne in Winterfell in a move that is in some way motivated by his relationship with Cersei isn't the only reason why fans are upset about what went on between the two on the most recent Thrones episode. Others are annoyed that they even took their relationship to a physical level, and are disappointed that the writers would depict Brienne crying and pleading to Jaime to stay with her, since that seems out of her character. Some rebutted that argument by stating that it's understandable Brienne, who had grown to love Jaime over the course of several seasons and finally opened herself up to him emotionally and physically, would react to Jaime leaving her in the way that she did. 
"Brienne has arguably been in love with Jaime for years. He was her first. He callously left her and broke her heart. As humans, we often behave irrationally when we're hurt by someone we love. I think her 'acting out of character' was good writing," one fan wrote on Twitter. Another added, "She isn't crying because he's leaving her, she's crying because she, more than anyone, has seen his character growth and now he's turning his back on that growth. He's giving up. Come on...keep up."
Clearly, the Jaime-Brienne romance scene and its subsequent fallout on the fourth episode of Game of Thrones' final season ruffled a lot of feathers for many different reasons. But there is a bright side that could smooth things over on all fronts: Jaime might be going to King's Landing to kill Cersei, planning to return to Winterfell and live out his days with Brienne. Could the Kingslayer become the Queenslayer and then Brienne's new beau on the next episode of Game of Thrones? We'll simply have to wait and see.