How Scarlett Johansson Got Ripped To Play Black Widow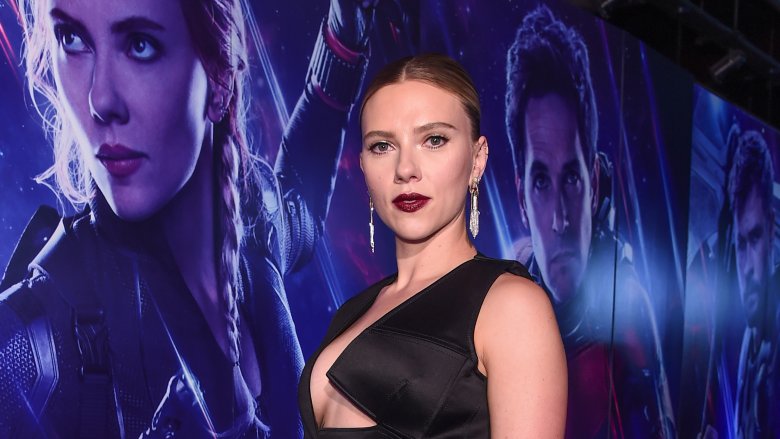 Getty Images
As one of the six original Avengers, Scarlett Johansson has been living with her Marvel character for the best part of a decade now. The actress has had to maintain a high level of fitness since making her MCU debut as Natasha Romanoff (aka Black Widow) back in 2010's Iron Man 2, as personal trainer Eric Johnson explained to The Hollywood Reporter. "Scarlett always wants to be within three weeks out of her peak condition," Johnson said right after the release of 2019's Avengers: Endgame. Of course, Johansson has taken on a number of physically demanding roles outside Marvel (Lucy and Ghost in the Shell both jump to mind), but she was a total stranger to the gym when she was cast as Black Widow. Today, they're old friends.
"The gift of fitness has been one of the best parts about working for Marvel," Johansson told THR. "I am stronger and more capable now than I was 10 years ago, which is so awesome to be able to say." But how did she go from a total noob to totally ripped? As her trainer pointed out, this is no ordinary role ("We're trying to create this crazy comic book hero in real life with somebody who's normal," Johnson said), and therefore it requires an extraordinary workout routine. This is how Scarlett Johansson got in shape to play Black Widow.
Learning the ropes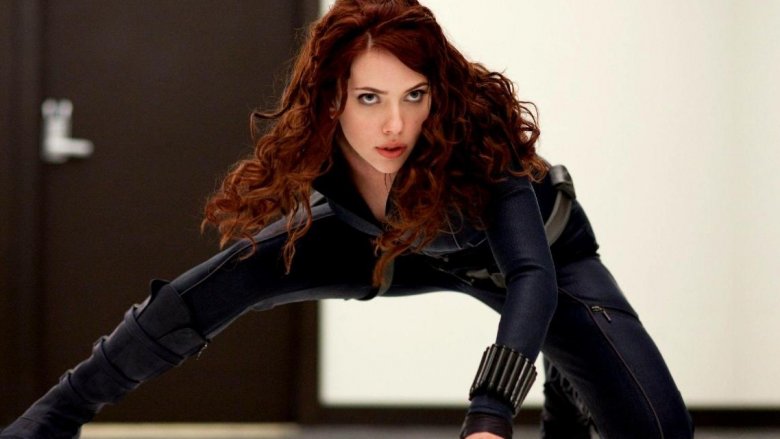 Marvel Studios
Scarlett Johansson wasn't just a complete novice when Marvel gave her the nod as Black Widow; she was apparently a bit of a menace, too. The actress has been training with Eric Johnson since the very beginning, with their first sessions taking place back in 2009. These were in preparation for Johansson's debut as Marvel's KGB agent turned Avenger, and it turned out they were sorely needed. Speaking to The Hollywood Reporter in 2019, Johnson recalled the carnage that was Johansson's first ever rope climb. "On the way up, she kneed me in the face and gave me a nice bloody nose — she was celebrating and I'm fighting back tears, gushing blood," the trainer said. "She's dangerous even when she's not in the Black Widow costume!"
Another pro who has been working with Johansson since her first Marvel movie is Heidi Moneymaker, the Hollywood stuntwoman who has doubled for everyone from Drew Barrymore to Frankie Muniz. When Moneymaker sat down for an interview with Shape in 2012, she revealed that Johansson was way more competent by the time The Avengers came around. "I've been working with Scarlett since Iron Man 2," Moneymaker said. "She is one of my favorite actresses I have ever worked with. She works very hard and picks things up really fast."
She sneaks in on-set sessions with her stunt double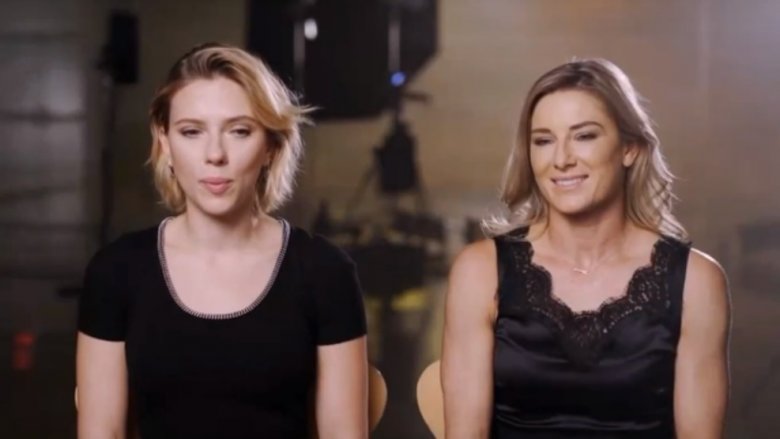 YouTube
Scarlett Johansson developed a great relationship with Moneymaker right off the bat. Strictly speaking she was hired to do the things that Johansson couldn't, but in the end, Moneymaker wound up showing the actress how she could do some of those things herself. "I first met Heidi about ten years ago; we were shooting Iron Man 2 and I had a very short period of time to train in," Johansson recalled. "Being as I'd never stepped foot in a gym, I had no experience at all with any sort of martial arts. Heidi was like my beacon of hope... Heidi is so creative in her movement — all the movements really tell a story."
When the pair reconvened for 2012's The Avengers, they took their working relationship to the next level, squeezing in sneaky work-out sessions between takes. They had a little more time to get ready for the shoot this time round, but (with hand-to-hand combat and weapons training on the agenda) it was still hard work. "We only had about five or six weeks to train before we started filming," Moneymaker told Shape. "Luckily, Scarlett is such a professional and works incredibly hard, so she learned all her fights and performed them with perfect execution. We would also take advantage of any time we had free during filming to sneak in a training session."
The almost-vegan Avenger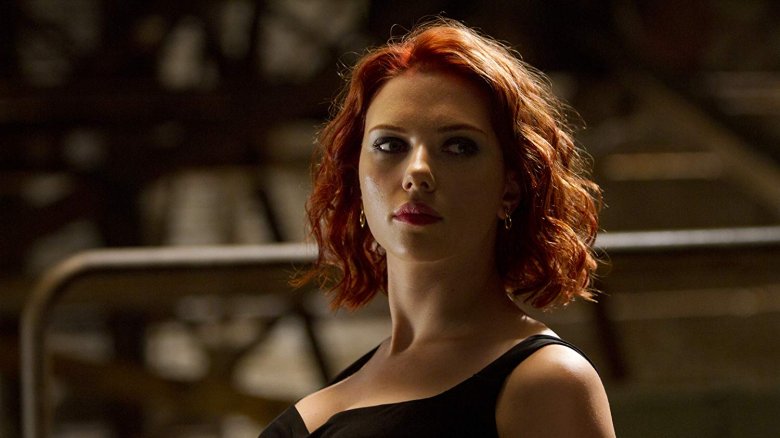 Marvel Studios
The words "bodybuilding" and "veganism" don't usually go together in the same sentence, but more and more people are realizing just how beneficial this diet can be while training, including Thor actor Chris Hemsworth. The stacked Aussie star went vegan while training for 2012's The Avengers, and so did Johansson. Well, almost. According to Johansson's former trainer Bobby Strom, the actress was on a "mostly vegan" diet at the time. Johansson confirmed this during an interview with Ecorazzi, revealing that she was "always following some crazy regime" for one movie or another.
"The thing is right before we started I was lifting all these weights and eating raw vegan," she said. "But the only reason I was doing that was to fix my previous diet because that was a Paleo diet. So I've had the extreme of everything. Because when you're training you rely on your trainer to help you lose muscle and gain muscle and whatever it takes to change your body. ... And after lots of fighting and training and raw vegan food you can fit into a cat suit."
She ate a lot of kale as she tried to get fighting fit for the first Avengers team-up movie. When the shoot was done, however, she quickly developed a non-vegan-friendly obsession. "Buffalo chicken wings," she confessed to Fox News. "I am addicted to them."
She works out 'like a guy'
Marvel Studios
Scarlett Johansson's next appearance as Black Widow came in 2014's Captain America: The Winter Soldier. Starring alongside the super-ripped Chris Evans is likely to make even the most confident of actors feel a little inadequate, but Johansson made sure she was ready to share the screen with Cap. Speaking to Elle in 2013, the actress revealed that her workouts consisted of exercises that most people associate with men. "I go to the gym twice a week, but if I'm preparing for a role, I sometimes go every day," she said. "I like lifting weights and doing exercises to work my core muscles. To be honest, I work out like a guy!"
This isn't the only time Johansson has alluded to the fact that she's like one of the boys when she hits the gym. It's this weight-heavy approach (coupled with a strict diet and routine) that gets her where she needs to be. "It's boring 5 a.m. workouts and salad and chicken and nothing else, pretty much," she said, as reported by health and fitness blog Lose Stubborn Fat. "It's that old tried and true 'work-out-like-a-dude-and-eat-like-a-rabbit.'" When the time came to get in shape for 2015's Avengers: Age of Ultron, Johansson knew all she needed to do was more of the same. "We picked up with the same program we'd used for Iron Man 2 and it had a proven history," she said.
Channeling Linda Hamilton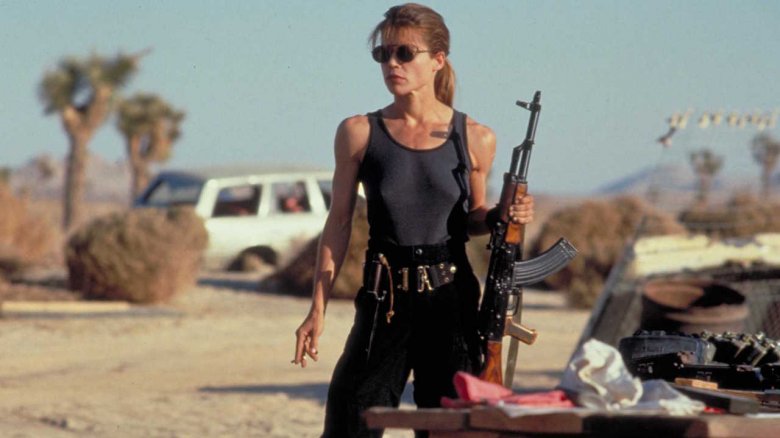 Carolco
For 2018's Avengers: Infinity War and 2019 follow-up Avengers: Endgame, Johansson decided to change it up a little. Speaking to Harper's Bazaar, Johansson's long-time personal trainer Eric Johnson revealed that this time around they modeled the Black Widow character on another badass big screen female — Sarah Connor. "Our inspiration for this iteration of Black Widow was Linda Hamilton in Terminator 2; without the cigarette smoking, pounding the pavement for miles, and sleeping more than four hours a night," Johnson told the fashion mag. This doesn't mean that Johansson was sculpting her guns day and night to look more like Hamilton as Sarah Connor. As Johnson explained, the idea was to simply get Johansson to a place where she could do everything asked of her on any given day without hesitation.
"We treated the process like an athlete preparing for competition," the trainer said. "By placing more emphasis on her performance, her physique just followed." Knowing the kinds of things the actress would have to do while in character, Johnson spent a great deal of time on what he called "integrated foundational strength training," which included everything from weight lifting and kettlebells to plyometrics and even yoga. It's hard to imagine Sarah Connor doing yoga, but it's perfect preparation for Johansson, who always has to be "very bendy and fierce" while playing Black Widow.
Knowing her limitations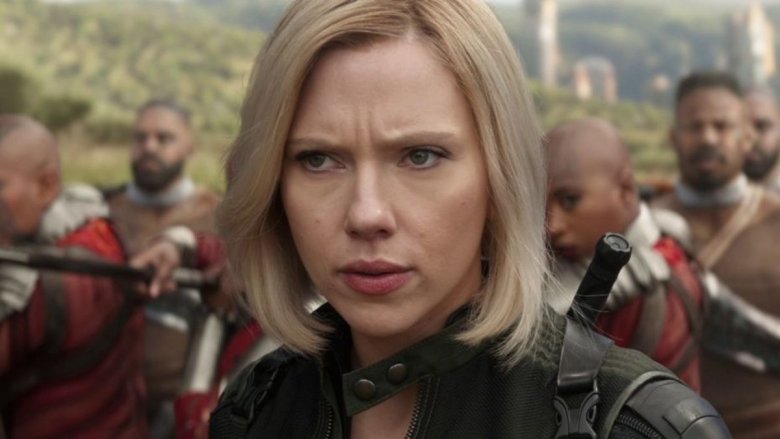 Training to be a superhero isn't just about playing to your strengths. It's also about identifying your weaknesses and pushing beyond them. During his interview with Harper's Bazaar, Johansson's personal trainer revealed that every time they had a workout session they would begin with some mobility work that was "specific to Scarlett's limitations." From the sound of it, the actress would be perfectly happy just hitting the weights all day (her favorite exercises apparently include pull-ups, military presses, deadlifts, pistol squats, and kettlebell swings), but Johnson would make her start by throwing medicine balls and doing bear crawls. "We worked to not only challenge her body to adapt, but also stimulate her mind," he said.
It might not be as simple as plain old pull-ups, but Johansson knows all the multidirectional jumping she does (which sometimes involves boxes and hurdles) allows her to keep up with the pace of shooting a Marvel movie. "If you're doing a running scene, you want to be as fresh and powerful in the first take as you are in the 20th," Johansson told The Hollywood Reporter. For Johnson (who is also responsible for getting Bucky Barnes actor Sebastian Stan into shooting shape), that means "always pushing her ceiling so anything below that is attainable and easier."
She fasted for 12 hours a day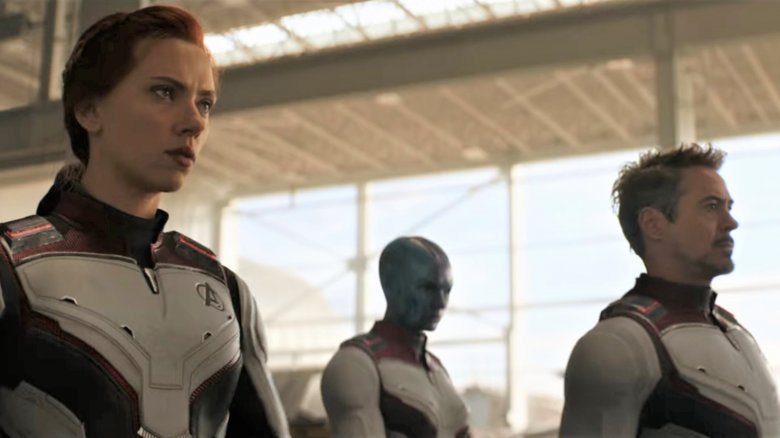 Marvel Studios
Scarlett Johansson went raw vegan when she was preparing for 2012's The Avengers, and she took an equally extreme approach to Avengers: Infinity War (2018) and Avengers: Endgame (2019). When her personal trainer sat down with Harper's Bazaar on April 25, 2019, he revealed a lot of interesting details about her preparation for the third and fourth Avengers movies, but one of the most shocking revelations was that Johansson fasted for 12 hours a day, sometimes even longer.
"At moments we pushed beyond that to 14 to 15 hours depending on the filming schedule," Johnson said. "She cycled through days of high carbohydrates and low fat consumption versus low carbohydrates and higher fat while maintaining protein intake." The trainer to the stars confirmed that the actress stuck to this impressive diet and regimen for "a year of so" while Infinity War and Endgame were being made.
Johnson (who owns a series of private gyms with his equally ripped brother) dished more about Johansson's specially designed diet when he spoke to The Hollywood Reporter, letting readers in on an industry hack that works wonders for superheroes. In what he called "a bit of Hollywood magic," he revealed that the Marvel actress dropped carbs in the days leading up to the shoot to get some extra enhancement on her cuts.
She's an early riser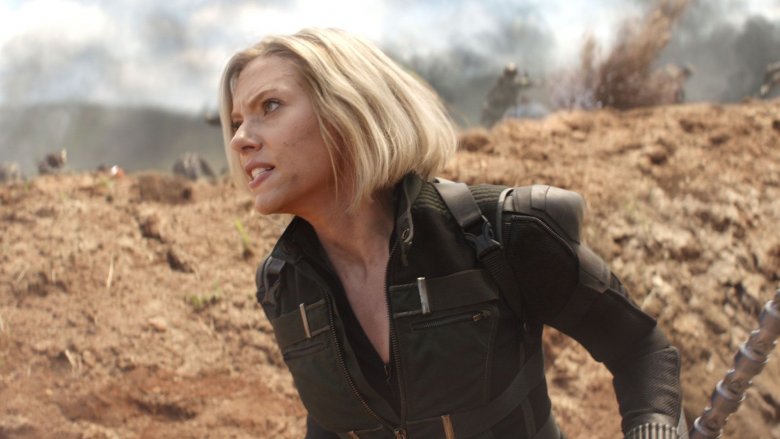 Camera trickery and selective wardrobe choices managed to hide the fact that Scarlett Johansson was pregnant when Avengers: Age of Ultron was being filmed. "We're not avoiding any of the danger because the stuntwomen do the danger — as has always been the case," director Joss Whedon told Entertainment Weekly. "She's very central to the movie and when we heard [about the pregnancy] we scheduled things around that." The actress gave birth to daughter Rose (who seems to believe that her mother is an actual real-life superhero) in 2014, and by the time Infinity War and Endgame came around, she was raising her single.
"It's hard to fit everything in when you try to balance motherhood, training, and work," Johansson told The Hollywood Reporter. "That balance is a myth!" In order to hit her workout goals and still be a full-time mom to Rose, Johansson had to become an early riser. She's out of bed at 6 a.m. four or five days a week, giving her time to squeeze in up to an hour in the gym before she heads to set. "[It's] clearing me so that after work, I can make dinner and do bath and nighttime with her before preparing my lines for the next day."
She hates traditional cardio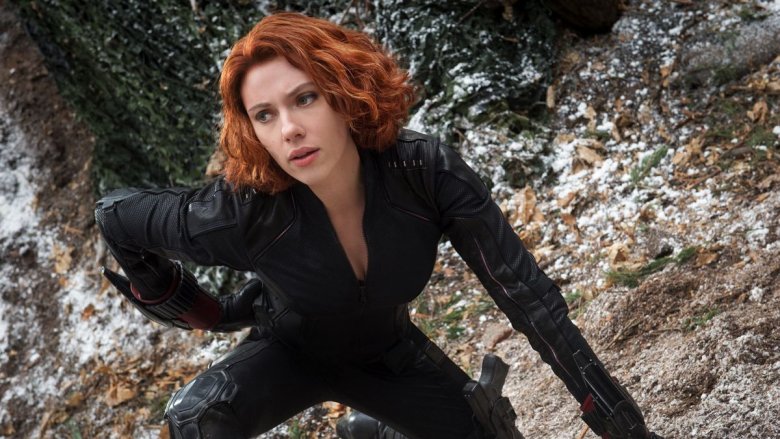 Marvel Studios
When Scarlett Johansson sat down for a chat with Elle in 2013, she admitted that she was "not a fan of cardio," and that hadn't changed by the time she joined up with Eric Johnson to get good and ripped in time for Infinity War and Endgame. "Scarlett hates traditional cardio," Johnson said, putting it bluntly. Luckily for Johansson, the various trainers she works with know how to work around that and still get the best out of her. In fact, renowned celebrity sculptor Don Saladino firmly believes there are better ways to burn fat and tone up than cardio, which makes him the perfect match for Johansson.
"Scarlett loves lifting weights, running and jumping into different types of activities," Saladino told Vogue in 2015. "She is very open to trying new things — we have done yoga and bar for example. I started working with Scarlett about seven years ago; she was a referral from Hugh Jackman who I trained for the movies Wolverine and Australia." Their sessions are varied, but one thing they have to be is highly efficient. "Scarlett's a mom, and I think coming in and working so hard every day is not responsible," Saladino (who also trains Johansson's ex-husband, Deadpool star Ryan Reynolds) told Well and Good. "I owe a lot of success to paying attention to what she needs on that given day."
Her competitive spirit drives her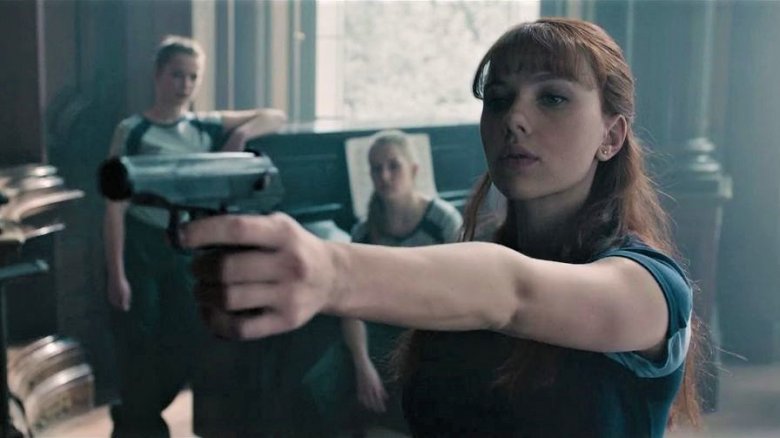 Marvel Studios
According to Eric Johnson, the thing that really gives Scarlett Johansson the edge when she's trying to get ripped to play Black Widow is her competitive spirit. Johnson has been with her for long enough now to know that all he needs to do to get an extra push out of the actress is show off a little. "If I show her something I can do easily, she wants to do it," he joked with The Hollywood Reporter. "We finish a lot of sessions with sprints, me versus her, and if I offer a 5-yard head start, she gets pissed off that I would even dare." Repeating Johnson's toughest exercises isn't enough, however.
Johansson not only has to be capable of doing the things Natasha Romanoff does — she has to look good doing it. That's where the battle ropes and trusty kettlebells come in handy. "It teaches her to be powerful and strong while [also] elegant and pretty. ... Do it with ease and fluidity, be able to own it." The actress does exactly that when she suits up as Black Widow, and, despite her heroic (and somewhat controversial) death in Avengers: Endgame, she'll get the chance to do it all again when she reprises the role in the upcoming standalone feature. The film is rumored to be a prequel featuring a younger Natasha Romanoff, meaning Johansson will have to train harder than ever before, but hey, whatever it takes, right?