Jason Momoa Gets Emotional Speaking About Almost Losing Emilia Clarke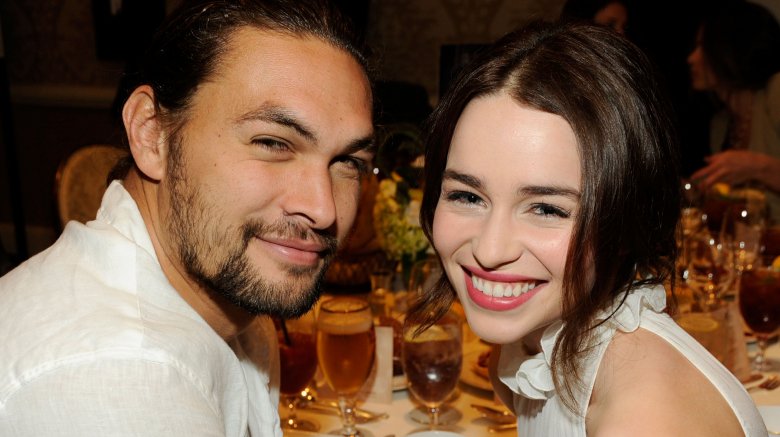 Getty Images
Contains spoilers for Game of Thrones season 8
Nothing can break the bond between one of Game of Thrones' most memorable couples. 
Jason Momoa, who played Khal Drogo on the first season of the fantasy drama, got emotional when discussing his on-screen wife Emilia Clarke's health battle that almost took her life... twice. The Daenerys Targaryen actress revealed earlier this year that she had previously suffered two brain aneurysms, the first of which came in 2011, just as Game of Thrones was taking off. 
Speaking with ET at the Game of Thrones season 8 premiere in April, Momoa, whose Khal Drogo was married to Daenerys prior to his death, praised Clarke's courage and tenacity during the hardest time in her life. 
"I've kind of been a part of that whole situation for a very long time, so we've had so many scares and trying to find the right way to come out and help. I'm very sad, because we almost lost her the first time," he said. "So, I love her to bits and she's here and she's going to do great things with it and teach the world. I just think it's beautiful that... she's so brave in helping the world and trying to raise awareness."
In March of 2019, Clarke penned a moving essay for The New Yorker in which she detailed that she had experienced a brain aneurysm at the age of 24, and then was stuck with a brain bleed two years later while doctors attempted to reduce the size of the original aneurysm. 
"Just when all my childhood dreams seemed to have come true, I nearly lost my mind and then my life," wrote Clarke. "The diagnosis was quick and ominous: a subarachnoid hemorrhage (SAH), a life-threatening type of stroke, caused by bleeding into the space surrounding the brain. I'd had an aneurysm, an arterial rupture. As I later learned, about a third of SAH patients die immediately or soon thereafter."
The actress opened up about the "minimally invasive" emergency surgery she underwent to seal off the aneurysm, as well as the aphasia (loss of ability to understand and/or express speech) she experienced afterward. Clarke then detailed the second operation required to "take care of" the expanding growth in her brain — plus the subsequent surgery needed when that operation failed and left her with a "massive bleed." 
"The operation lasted three hours. When I woke, the pain was unbearable. I had no idea where I was. My field of vision was constricted ... I couldn't remember [my name]. Instead, nonsense words tumbled out of my mouth and I went into a blind panic. I'd never experienced fear like that — a sense of doom closing in. I could see my life ahead, and it wasn't worth living. I am an actor; I need to remember my lines. Now I couldn't recall my name. I was suffering from a condition called aphasia, a consequence of the trauma my brain had suffered," Clarke wrote. 
Of her second and third surgeries, she said, "The recovery was even more painful than it had been after the first surgery. I looked as though I had been through a war more gruesome than any that Daenerys experienced ... And there was, above all, the constant worry about cognitive or sensory losses. Would it be concentration? Memory? Peripheral vision? Now I tell people that what it robbed me of is good taste in men."
In the midst of all this hardship and double-brush with death, Clarke was actively filming Game of Thrones, as well as rehearsing for the 2013 Broadway rendition of Breakfast at Tiffany's. Though she kept her composure, told virtually no one about what she had been through, and even denied the genuinely accurate reports that she had experienced life-threatening trauma, Clarke was overwhelmed with exhaustion and anxiety.
"On the first day of shooting for [Game of Thrones] season 2, in Dubrovnik, I kept telling myself, 'I am fine, I'm in my twenties, I'm fine.' I threw myself into the work. But, after that first day of filming, I barely made it back to the hotel before I collapsed of exhaustion. On the set, I didn't miss a beat, but I struggled. Season 2 would be my worst. I didn't know what Daenerys was doing. If I am truly being honest, every minute of every day I thought I was going to die," said Clarke. "There was terrible anxiety, panic attacks. I was raised never to say, 'It's not fair'; I was taught to remember that there is always someone who is worse off than you. But, going through this experience for the second time, all hope receded. I felt like a shell of myself."
But, like the fireproof Mother of Dragons she plays, Clarke was resilient and determined, and came out on the other side with a renewed sense of hope and purpose. After bravely sharing her story with the public, Clarke announced that she had partnered with executives in the United States and the United Kingdom to develop a charity called SameYou, which works to provide additional and more immediate rehabilitation options for young people who have suffered brain injuries, as well as to fund research, advocate for policy change, and "facilitate innovations in specialist nurse training." 
While the world is lucky to still have Clarke, and Clarke lucky to have survived all that she did, Game of Thrones fans may not be so fortunate when it comes to Clarke's character, Dany. 
Those caught up on Thrones season 8, which is currently airing on Sundays on HBO, know that Daenerys is at Winterfell with her lover-slash-nephew Jon Snow (Kit Harington) and is about to face off against the Night King and his band of undead sycophants. As much as viewers may love Dany, many speculate that she will meet her end either during the Battle of Winterfell or sometime thereafter. The folks at Pop Sugar theorize that, after learning Jon is really Aegon Targaryen, the son of her brother Rhaegar Targaryen and Lyanna Stark, Daenerys may attempt to murder Jon during the battle in order to eliminate the biggest threat to her stake on the Iron Throne. On the flip side, she might end up sacrificing herself to allow Jon to live, dying peacefully knowing that even though she'll never be Queen of the Seven Kingdoms, at least another Targaryen will rule. In any case, Dany's fate on Game of Thrones hangs in the balance — though we suspect she'll probably stay alive to see how it all ends. The series is a song of ice and fire after all, and you can't have that without the Dragon Queen herself, right?
For Clarke's part, she couldn't be more grateful to have "cheated death twice" and lived to help bring Game of Thrones to its epic conclusion. 
"There is something gratifying, and beyond lucky, about coming to the end of Thrones," she said. "I'm so happy to be here to see the end of this story and the beginning of whatever comes next."