Avengers: Endgame First Reactions Are Here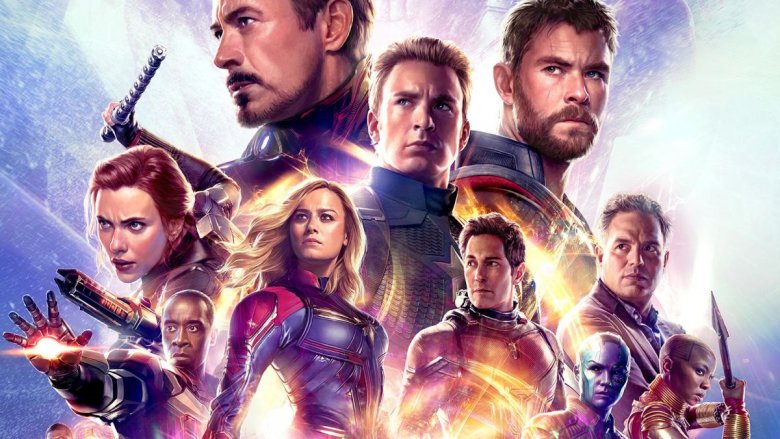 We're finally in the endgame now. 
Following the world premiere of Avengers: Endgame on Monday, April 22 in downtown Los Angeles, Marvel Studios lifted the social media embargo on first reactions to the superhero epic — spoiler-free, of course. Those fortunate enough to attend the screening ahead of the film's theatrical debut on Friday raced to Twitter to pour out praise by the bucketful, with critics, journalists, and members of the media lionizing it as the perfect culmination of the last 11 years of the Marvel Cinematic Universe and a film that will, without a shred of doubt, make even the toughest moviegoers shed enough tears to water a garden. 
Grab a box of tissues and your favorite Marvel superhero figurine — we're diving into the first reactions to Avengers: Endgame. 
Mashable's Angie J. Han, who admitted she was "not especially enamored of Infinity War," wrote that Endgame is "an immensely satisfying payoff, not just to Infinity War but to all the films that came before." To punctuate her point, she added not one but three heart emojis to the end of her tweet — that's how you know she seriously loves Endgame. 
Brandon Davis of ComicBook.com had powerful words to offer regarding Avengers: Endgame. He tweeted, "#AvengersEndgame is an astonishing, amazing film. I've never seen anything like it. This movie is everything I wanted to be and SO much more. Amazing ... While watching #AvengersEndgame, I laughed so loud, I clapped with so much force, and I cried so hard. The movie exceeds every expectation and is the perfect culmination of the entire Marvel Cinematic Universe."
Fandango managing editor Erik Davis also noted that Endgame is a flawless, intelligent coming-together of the 21 films that preceded it, further teasing that the flick's ending is a rousing one. 
#AvengersEndgame is a masterful epic — a true culmination of 22 films that not only concludes the story, but expands upon it," tweeted Davis. "You'll learn more about the other movies while this one unfolds. If Infinity War is the brawn, Endgame is the brains. And wow, what an ending!" 
He added in follow-up tweets that Endgame stands as its own entity that complements Infinity War, though the two films were shot back-to-back and do deal with the same major threat in the intergalactic tyrant Thanos (Josh Brolin), and that audiences should be ready to check their pride at the door and prepare to bawl their eyes out and laugh hysterically while watching Endgame unfold.
"Do not go in expecting Infinity War part two. The two films are so different, yet compliment [sic] each other in all the best ways. In terms of which MCU movie to watch beforehand... honestly, all of them. What an experience — what an accomplishment," he wrote. "Not going to spoil anything at all, but I will say I laughed, I cried, I cried, I cheered, I laughed, I cried again and then the entire audience gave it a massive standing ovation. And then I cried again. Be ready, kids. Be. Ready. #AvengersEndgame." 
Peter Sciretta of Slashfilm tweeted that Avengers: Endgame is incredibly emotional, apparently due to both what happens within the film and what the movie means to the larger picture of the MCU. 
"Imagine the best possible version of #AvengersEndgame and somehow the film still surpasses all expectations. I cried 5-6 times. It's the most emotional, most epic, MCU film. A tribute to ten years of this universe and holy s*** the great fan service in this movie. Soooo good," said Sciretta. 
Movie Trivia Shmoedown creator Kristian Harloff agreed, writing, "Man #AvengersEndgame kicked my a**. It was an epic conclusion to 11 years of films. It had laughs, incredible action and absolute emotional rollercoaster. It was the series finale for these cast of characters that I had been hoping for. Congrats to all for pulling off the feat."
Beatrice Verhoeven, senior film reporter at The Wrap, had something surprising to say to fans: none of the theories they came up with have braced them for Endgame. "So I just saw #AvengersEndgame, and you guys aren't ready for s***. All the theorizing didn't prepare you for this," she tweeted. "I cried a lot, I flung my hands in the air and screamed out loud. It's incredible. #EndgamePremiereLA #Avengers #Endgame."
"I was not prepared for the range of emotions that #Endgame put me through, from utter despair to pure elation. I laughed, I cried, I wished Tony Stark was my dad," wrote Dave Itzkoff of The New York Times. Added Rotten Tomatoes editor-in-chief Joel Meares, "Spoiler free #AvengersEndgame thoughts: Fans are going to go APES***." 
Dennis Tzeng of Collider Video praised Avengers: Endgame as "an achievement in blockbuster filmmaking," and applauded the film for its balance of "action, humor, and emotion while keeping the stakes high throughout." He added, "#AvengersEndgame is filled with so much comic book awesomeness that you may not be ready!"
Variety's Matt Donnelly kept his reaction to Endgame simple but impactful: "Incredible ingenuity and commitment. Marvel and Disney can and should be proud of this moment." 
Aaron Crouch of The Hollywood Reporter added to the chorus of people singing Endgame's praises — and proved just how emotional the film is by sharing that Captain America actor Chris Evans said he "cried like six times" during the premiere. Crouch also noted that Endgame is surprisingly funny, and that most of what fans have seen of the film thus far through trailers and TV spots barely scratches the surface of the full flick: "90 [percent] of the #AvengersEndgame footage that's been officially released is from first the 15 minutes: Other than the actual surprises, the biggest surprise to me was how funny it is."
CinemaBlend's Eric Eisenberg offered a response to Endgame that will give you chills: "This can't be understated: #AvengersEndgame is everything you want it to be and more. I am absolutely floored. A perfect reflection on the last 11 years that pays off everything in the best way possible. Without question my new favorite Marvel Cinematic Universe film. Stunned."
Perri Nemiroff of Collider had a similar reaction, though she warned that Endgame does, at times, feel overwhelming. In all, Nemiroff feels that everything leading up to the film and to the film's conclusion was worth it: "#AvengersEndgame is A LOT. Too much at times. But wow the payoff is huge. Left me proud to have invested over a decade in a franchise that delivers an inspiring exploration of what it means to be family & a hero. (Endgame also now has one of my favorite shots in the entire MCU.)"
Overall, response to Avengers: Endgame has been overwhelmingly positive. Critics have called it everything from the "greatest superhero movie EVER" to "entertainment from beginning to end" to "the film of the year." As always, though, these are just a selection of reactions to a film that everyone is bound to have different opinions about. The fantastic feedback should make fans giddy as they await the premiere of Avengers: Endgame on Friday, April 26, when they'll have the chance to offer their own thoughts on the superhero epic. 
Until then, sit tight and avoid spoilers. And when the time comes, as one critic advised, "plan your bathroom breaks accordingly."