New Game Of Thrones Season 8 Teasers Ride The Line Between Death And Survival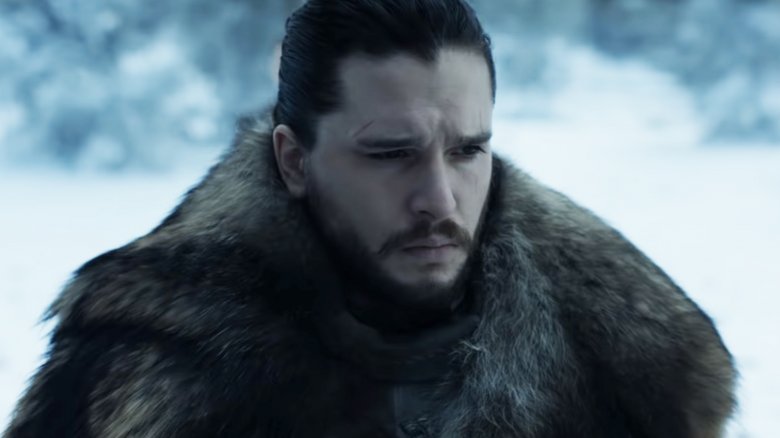 Cersei Lannister said it best: in the game of thrones, you either win or you die. 
Over the course of the last 24 hours, HBO has released three teasers for the upcoming final season of Game of Thrones, the footage teasing that certain characters who have survived the brutal events of seasons past may perish before our very eyes come season 8. 
With the beloved fantasy drama series being as secretive as it is, these new looks at Game of Thrones' eighth and final season don't reveal any more concrete information than previously unveiled footage have, though they do offer winks at who might live and who may die as the battle for the Iron Throne reaches its apex. 
One teaser, entitled "Aftermath," pans across the snowy wreckage of Winterfell, showing shots of Arya Stark's (Maisie Williams) sword Needle, Jon Snow's (Kit Harington) sword Longclaw, and Jaime Lannister's (Nikolaj Coster-Waldau) fake hand as dragons roar in the distance. While no one is physically seen standing on Winterfell grounds, the objects that rest in the thick pillows of snow suggest that the battle at the Stark stronghold resulted in several casualties — perhaps including Arya, Jon, and Jaime. It wouldn't be out of the realm of reality, given that the whole of Westeros is fending off the White Walkers and the Army of the Dead after they burst through the Wall. However, plenty of people have put money on the bet that Jon will become the new king, as season 7 of Thrones revealed he isn't a bastard but the true-born son of Rhaegar Targaryen and Lyanna Stark, which makes him the rightful heir to the Iron Throne. That said, it seems unlikely at this point that Jon will die (again) during season 8 before he at least makes it to King's Landing to fight for his spot on the spiky chair. As for Arya and Jaime, well, it's tough to predict their fates considering they have less of a claim to the Throne than does Jon. 
Another clip, bearing the title "Together," begins with Tyrion Lannister (Peter Dinklage) stating that the people of Westeros need to "fight together now" — regardless of whom they believe deserves to rule the Seven Kingdoms. Over footage of the Unsullied putting up their shields, Cersei Lannister (Lena Headey) whipping her head around to look at an oncoming danger, and Varys (Conleth Hill) and Tyrion looking up at dragons flying overhead, Jon explains just how dangerous the fast-approaching Army of the Dead is: "Our enemy doesn't tire, doesn't stop. They're coming." As Tyrion states, if the Westerosi don't unite to defeat the White Walkers and their ruthless leader the Night King, they will surely die — and there will be no one left alive to take the Iron Throne. 
The final teaser, "Survival," brings things back to the start: the godswood tree at Winterfell, where Jon and Ayra are now seen reuniting. Knowing that so many people have died since the fight for the Throne began and so few are left standing, Jon says, "It's time to end this war." Glimpses at fire-filled battle sequences and Dany and Jon riding into Winterfell on horseback pan across the screen while Jaime Lannister declares the message of Game of Thrones season 8: "This goes beyond loyalty. This is about survival." Right he is — if they want to stop the White Walkers from destroying Westeros and if they hope to survive the winter that has finally arrived, everyone must drop their egos and push their loyalties aside to come together and win the war. It's no longer about beating the top contender for the Iron Throne, but about slaying the sinister enemies encroaching on Westeros. The war is much bigger than mortal men. 
Alongside this trio of teasers, HBO revealed a new poster for the final season of Game of Thrones. It features the series' cast buried underneath blankets of snow, spread out on the ground in the shape of the Iron Throne. Its caption on Twitter reads, "The great war was here." Check it out below. 
These new peeks at the series' last turn on television are tasty enough to get fans hyped up about what the episodes have in store, but it's still a giant mystery as to what exactly will happen. There are only six episodes of Thrones left to see, lasting between 54 and 80 minutes in length, so there isn't a whole lot of time to wrap up the show's many dangling storylines. That kind of tight squeeze likely placed pressure on showrunners David Benioff and Dan Weiss to make the most of the time they were allotted, meaning that what's to come on the final season of Thrones should shock and satisfy in equal measure. Let's all raise a wine goblet in hopes that Game of Thrones will go out with a bang, and that its eight-year run will end on a high note. 
Game of Thrones season 8 is set to premiere on HBO on Sunday, April 14 at 9 PM ET.