Us Scares Up $70 Million During Opening Weekend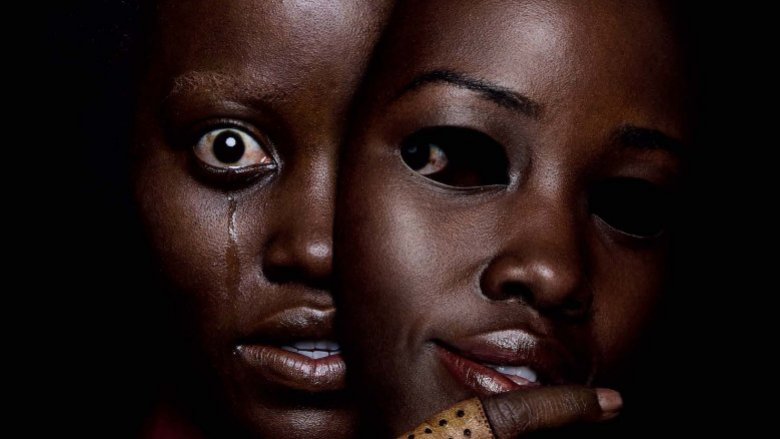 Us is so good, it's scary. 
Jordan Peele's sophomore directorial effort, Us brought in an impressive $70 million from theaters in the United States and Canada during its opening weekend, which officially began on Friday, March 22. Variety dished up the facts and figures. 
The film, which stars Lupita Nyong'o and Winston Duke as a married couple confronted with twisted versions of themselves while on a family vacation, raked in $7.4 million in Thursday night previews at the domestic box office on March 21, then went on to take in $16.7 million in global territories across its first three days out. In total, Us had a worldwide opening weekend of almost $87 million. 
What does his stunning debut mean for Us? Big things, dear readers, big things. 
A $70 million domestic opening means Us has scored the second-best stateside launch of 2019, coming behind Captain Marvel, which opened to $153 million on March 8. It also shattered the record for biggest opening weekend for any original horror film, besting John Krasinski's A Quiet Place ($50.2 million domestic), and beat out Ted ($54.4 million domestic) to have the largest launch for an original R-rated movie. Peele also broke a personal record with Us, which grossed more than double what his directorial debut Get Out did when it opened two years ago. Starring Daniel Kaluuya, Get Out earned $33.3 million in its initial three-day frame in 2017.
Additionally, Us yielded almost twice the revenue it was predicted to, shocking industry analysts who had estimated the chilling film to take in somewhere between $38 million and $45 million in its opening weekend at the domestic box office. Such a gross sees studio Universal and Peele's production banner Monkeypaw Productions recouping the cost to make Us and turning a sizable profit from the start. Us carried a reported $20 million production tab, excluding money spent on marketing and distribution, so a $70 million domestic pull equates to three and a half times the cost of production. A roughly $87 million global start means Us quadrupled that figure in just a handful of days. 
When the box office numbers came in, with Us standing strong as the winner of the domestic weekend, Universal Pictures' president of domestic distribution had choice words to say about Peele and his second feature film: "Put simply, Jordan Peele is a genius. He's managed to tap into something that the domestic box office can't get enough of. People can't wait to see what he does next."
Critics and fans have been eating Us up with fervor, audiences giving it a B CinemaScore and reviewers lifting it to a 94 percent approval rating on Rotten Tomatoes. Much of what people love about Us comes down to Peele's vision: he stitched together a sundry collection of metaphors, cleverly commented on societal norms, turned a blind eye to notions of what horror should be, and offered a jaw-dropping twist in the final few moments of the film. It also helped that Nyong'o gave an arresting performance as Adelaide Wilson and her Tethered lookalike Red, which many are calling the best of her career (and she's won an Oscar!). 
In his just-the-facts-ma'am rundown of Us, Heroic Hollywood's Nathaniel Brail heralded the film as the best horror offering in history: "Us is horrifying, thought-provoking and will definitely invoke people to search into the deeper meanings of it. Lupita Nyong'o hones her craft masterfully and leads this masterpiece of a film with the highest level of skill. Us is the best horror film of all time. The way it perfectly intertwines comedy and horror shows us exactly why Jordan Peele is the new king of horror. Hit the theater to check this out as soon as possible and avoid all spoilers. Us is the real deal."
There's little doubt that Us will continue on this train of success as the weeks go by, giving Peele confidence to get started on his third social thriller. Personally, we can't wait to see what his infinitely creative mind can come up with next — even if we watch it from behind our fingers.