Captain Marvel Soars To $153 Million Domestic, $455 Million Global Debut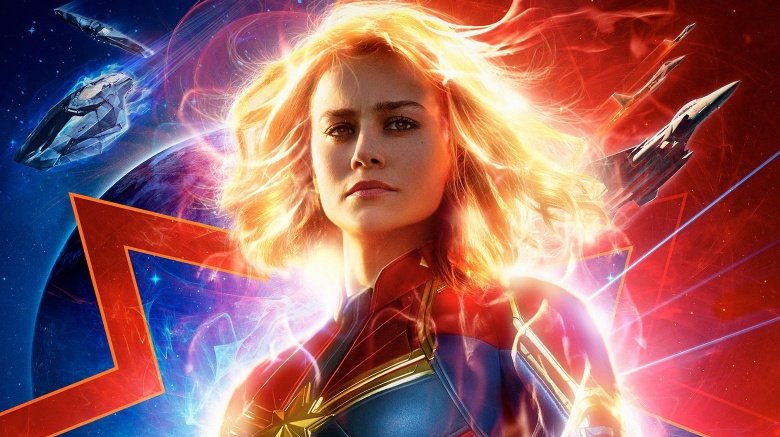 Higher, further, faster — and now richer, too. 
The weekend box office results are in, and everything's coming up Captain Marvel. Starring Brie Larson as the titular hero — the half-Kree, half-human former Air Force pilot Carol Danvers – Captain Marvel opened to the tune of $153 million across theaters in North America, and to $455 million worldwide. 
The Hollywood Reporter had the full rundown of facts and figures. 
Such a dazzling debut sees Captain Marvel, the 21st entry into the Marvel Cinematic Universe, breaking several records, not the least of which is the biggest opening for a female-led film in history. The superhero tentpole snagged the title from Disney's Beauty and the Beast, which earned $357 million worldwide when it launched in theaters around this time in 2017.
Another trophy Captain Marvel grabbed during its massive opening weekend? The second-place one for best superhero movie debut of all time. With its $455 million global launch, Captain Marvel scored the second-largest opening for any superhero film, coming just behind the mammoth Avengers: Infinity War, which raked in $640.9 million globally in its first three days out in April of 2018. 
Additionally, Captain Marvel's bow is the sixth-best one in history for any type of movie, superhero or otherwise. The $302 million it earned in territories outside of the U.S. and Canada make up the fifth-highest pull of all time — even better than Star Wars: The Force Awakens' international debut of $281 million. Directed by Anna Boden and Ryan Fleck of Mississippi Grind fame, Captain Marvel also snagged the seventh-best debut for the MCU (coming in behind The Avengers, Avengers: Age of Ultron, Avengers: Infinity War, Black Panther, Captain America: Civil War, and Iron Man 3) and the second-biggest domestic debut for a superhero film featuring a new character. Black Panther still holds the top spot in that category.
Compared to DC's female-featuring superhero flick Wonder Woman, the Patty Jenkins-directed film that smashed its fair share of records upon debuting in June of 2017, Captain Marvel flew past it with ease. The DC film made $103 million domestically — $50 million less than Captain Marvel did. Internationally, Wonder Woman took home $125 million to make up a global opening weekend yield of $228 million. 
The records don't stop there: Captain Marvel had the best domestic debut in nine months, since Incredibles 2 opened to $182 million in North America in June, and the third-highest opening in history for March, behind Beauty and the Beast with $174.8 million and Batman v. Superman: Dawn of Justice with $166 million.
As Disney distribution chief Cathleen Taff aptly put it, "Marvel Studios once again proves that stories combining diverse perspectives and different experiences make great movies that play to everybody. People crave representation. Higher, further, faster, baby."
Added Wall Street analyst Erik Handler, "This continues the momentum started by Wonder Woman. Female-led movies have been gaining traction for several years, but these two films, along with Black Panther, show that a superhero doesn't have to be a white male in order to support a massive budget."
Considering Captain Marvel cost a reported $150 million to make, the film has already recouped its production budget and turned an enormous profit. This says a great deal about the power of Marvel Studios, as well as the company's ability to remain bulletproof in the face of so much vitriol that preceded the launch of Captain Marvel. 
A group of people — predominantly men, but including many women as well — banded together in the days leading up to Captain Marvel's debut on Friday, March 8 to flood the film's Rotten Tomatoes page with negative audience reviews. Reactions ranged from bad-mouthing Larson as a man-hater to slamming the film's pro-girl message of female empowerment as unnecessary. But even after trolls sank Captain Marvel's audience score to the lowest one in the history of the MCU, Captain Marvel walked away with an A CinemaScore — the second-highest score viewers can give a film when polled after opening day screenings. 
To reference the 2013 film Captain Phillips, look at her, look at her — she is the captain now. 
Also starring Samuel L. Jackson as a young Nick Fury, Ben Mendelsohn as the Skrull leader Talos, and Lashana Lynch as Carol's best friend and fellow pilot Maria Rambeau, Captain Marvel is in theaters now. (But you knew that already.)