Modern Three Musketeers Movie In The Works At Netflix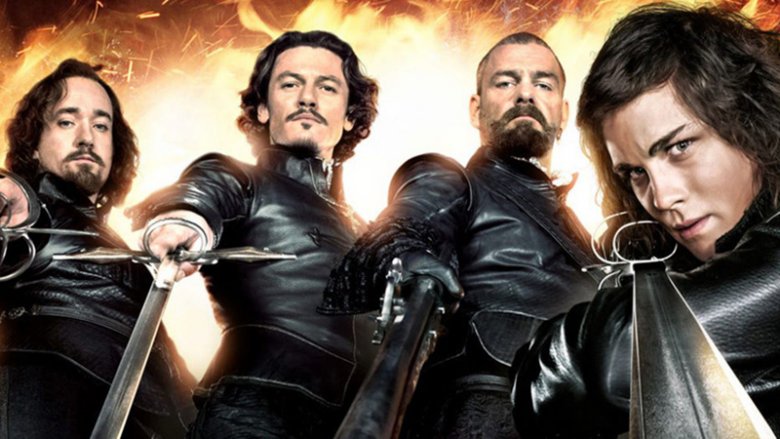 They're scoundrels, playboys, outlaws — the greatest heroes who ever lived — and they're headed for Netflix. 
As The Hollywood Reporter announced in an exclusive report published Thursday, March 21, the streamer is developing a fresh take on version of The Three Musketeers from writer Harrison Query, who crafted a "modern" adaptation of Alexandre Dumas' 1844 novel of the same name. 
It's unclear when the new film adaptation will take place, but it's safe to assume that the central characters and plot structure will remain the same from Dumas' classic work to Netflix's new film. Those keen to see the new Three Musketeers should expect to see the young Frenchman d'Artagnan longing to join the ranks of the Musketeers, the famous king's guard in Paris. When d'Artagnan is rejected from joining the fabled crew, fate has it that he meets three men who didn't get turned down: Athos, Aramis, and Porthos, the three most well-liked and respected Musketeers in the biz. Together, the foursome get tangled up in all sorts of adventures, ones involving sword fights, espionage, and secret, illicit plans. 
While no concrete details on the new Three Musketeers movie were immediately available, THR did note that the project is in the vein of Mission: Impossible in terms of its tone. (Over-the-top action offset with humor and a bit of romance? We can dig it.) 
Plenty of filmmakers and television creatives have turned Dumas' novel into screen projects, with perhaps the most famous takes being the 1973 film directed by Richard Lester and starring Michael York as d'Artagnan, Oliver Reed as Athos, Frank Finlay as Porthos, and Richard Chamberlain as Aramis; the 1993 adaptation from Walt Disney Studios and director Stephen Herek that featured Chris O'Donnel as d'Artagnan, Kiefer Sutherland as Athos, Oliver Platt as Porthos, and Charlie Sheen as Aramis; and director Paul W. S. Anderson's take from 2011 that starred Logan Lerman as d'Artagnan, Matthew Macfadyen as Athos, Ray Stevenson as Porthos, and Luke Evans as Aramis. That Query and Netflix are doing something different with the story, apparently making it feel like an entry in the pedal-to-the-metal action franchise that nearly killed Tom Cruise on more than one occasion, is a sign that the new Three Musketeers can and will stand out from the adaptations that came before it.
The updated iteration of The Three Musketeers marks the second collaboration between Netflix and Query, who previously pitched to the streaming site in 2017 his script for a military-centric adventure film entitled War Party. That flick has Tom Hardy attached to star as an "elite and highly decorated Navy SEAL," with Ridley Scott on board as producer and Andrew Dominick behind the helm as director and co-writer alongside Query. 
As for the team surrounding the new The Three Musketeers, Eric Newman and Bryan Unkeless of Screen Arcade and Scott Glassgold of Ground Control Entertainment are producing. Now, we know that most readers out there might not be all that concerned with who produces a project, but in this case, it's worth pointing out, as Query and Glassgold have worked together before and proven their power as a creative pair. Cross Creek Pictures previously purchased their adaptation of Bryan Denson's novel The Spy's Son: The True Story of the Highest-ranking CIA Officer Ever Convicted of Espionage and the Son He Trained to Spy for Russia, and Lionsgate also snatched up the duo's Incident at Fort Bragg, a true-life military exorcism pic. With The Three Musketeers landing at Netflix, Query and Glassgold are three for three in their pitch record. 
Based on the information at hand, this new take on The Three Musketeers could either be one of Netflix's biggest wins or a middle-of-the-road offering that doesn't generate much buzz. Adapting a classic tale for a modern audience is one thing; taking that refreshed concept and spinning it into the same tonal territory as Mission: Impossible is something else entirely. We can see this film swinging for the fences and raking in positive ratings if Netflix brings aboard some bright stars to fill out the main cast, as those are the people who will make or break Query's Mission-meets-Musketeers vision.