Why The Characters In Us Look So Familiar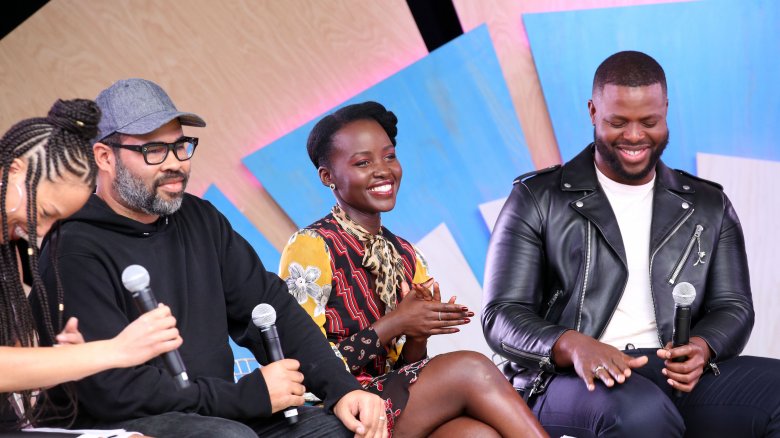 Getty Images
After the overwhelming success of his directorial debut, Get Out, audiences were anxious to see what Jordan Peele might do next. After getting his start in sketch comedy, Peele's tonal shift to horror may have confused some loyal Key & Peele fans, but he earned their trust with Get Out, a social thriller in the vein of Alfred Hitchcock that crushed box office records, scored Oscar nominations (as well as a win for Best Original Screenplay), and earned a place in the cultural lexicon thanks to familiar yet new concepts like "the Sunken Place."
For Peele's follow-up to his now beloved debut, stakes were high, but thanks to glowing early reviews and a strong cast, it looks like his sophomore effort, Us, will be yet another notch on his cinematic belt. From fellow Oscar winner Lupita Nyong'o to Emmy winners like Elisabeth Moss and even a few Friends alumnae, this stacked cast is full of familiar faces, even if Peele and the actors haven't revealed every last detail about their characters yet. Here's what you need to know before you head out to see Us.
Lupita Nyong'o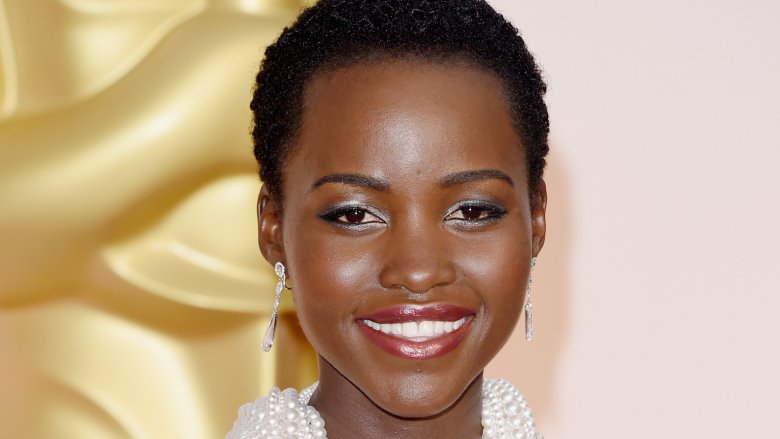 Getty Images
Lupita Nyong'o is among the most pedigreed members of the Us cast — after modest beginnings as a production assistant, she earned a master's degree in drama from Yale University (one of the most competitive and elite acting degrees in the country), and booked her first major film role shortly after graduation. Nyong'o's work in Steve McQueen's 12 Years A Slave netted the young talent her first Oscar for Best Supporting Actress, which made her a breakout star pretty much immediately. After big moves like joining the Star Wars universe, Nyong'o joined the cast of Black Panther, a Marvel juggernaut that crushed box office records and won multiple Oscars. As Nakia, a Wakandan spy who was also a love interest for King T'challa (Chadwick Boseman), Nyong'o proved that she could headline a blockbuster as well as perform in a prestige drama, making her mark as one of the most versatile stars around.
Along with most of the main cast of Us, Nyong'o plays two distinct parts — Adelaide, the matriarch of the Wilson family, who find themselves stalked by terrifying, murderous doppelgängers, alongside Red, the only speaking double and member of "the Tethered" who looks exactly like Adelaide. Nyong'o has already won stellar reviews for her performance, and some believe this film could propel her to her second Oscar nomination thanks to the literal duality of her performance.
Winston Duke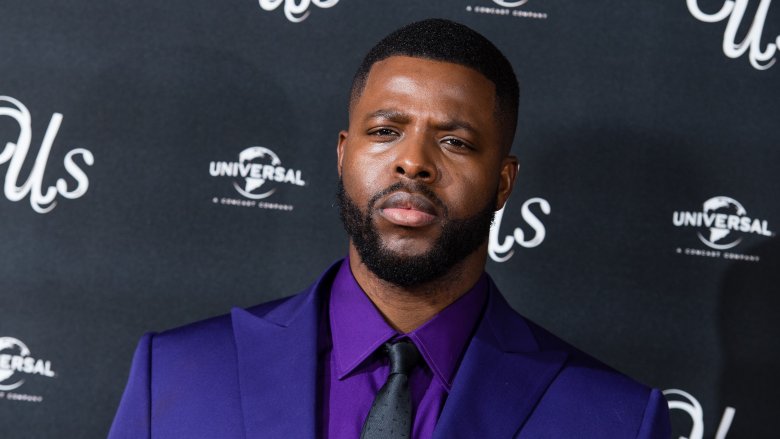 Getty Images
Born in Tobago and raised in upstate New York, Winston Duke pursued an acting M.F.A. at Yale University, where he met his classmate and future co-star Lupita Nyong'o. After earning his degree, Duke booked a seven-episode arc as the violent criminal Dominic on CBS' Person of Interest, and though he racked up TV appearances over the years, most people recognize Duke from his breakout role in Black Panther (alongside Nyong'o) as M'Baku, who leads Wakanda's mountain tribe known as the Jabari. Though he and his tribe originally protest T'Challa (Chadwick Boseman) becoming the Black Panther and the King of Wakanda, they ultimately join forces with T'Challa's allies to fight the usurper Killmonger (Michael B. Jordan). After stealing scene after scene in this massive Marvel hit, Duke came back to the role in 2018's Avengers: Infinity War, surviving the war in Wakanda as well as Thanos' snap.
Thanks to his appearance in the MCU, Duke nearly missed out on Us as Jordan Peele thought Duke was too fit for the character, but luckily, Peele overlooked Duke's physique and cast him as Gabe Wilson, the father of the family who will go to any lengths to protect his wife and children. As well as playing Gabe, described as the "heart and soul" of the family, Duke must play his frightening double as well, giving the actor a chance to show his versatility and become an even bigger name.
Tim Heidecker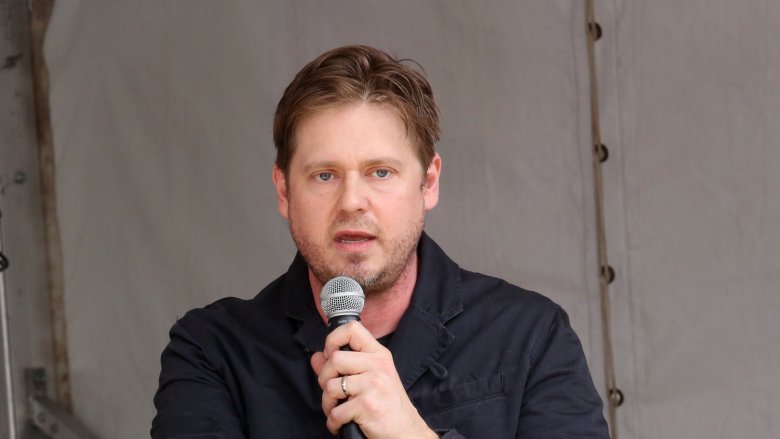 Getty Images
Tim Heidecker's name might not be instantly recognizable, but once you pair him with his comedy partner Eric Wareheim, it might jog your memory — the duo's show, Tim and Eric Awesome Show, Great Job!, ran on Adult Swim from 2007 to 2010. A native of Philadelphia, Heidecker and Wareheim (who would go on to appear in a large supporting role in Aziz Ansari's acclaimed series Master of None) continued working with Adult Swim for a number of years while simultaneously pursuing other projects, including performing original music, appearing in a number of sketch comedy series, and even doing a commercial series for Absolut Vodka. Heidecker has appeared in a few films, including Bridesmaids (in a nearly non-speaking role as Maya Rudolph's groom) and Marvel's Ant-Man and the Wasp (in a small part as a whale boat captain), typically sought for the offbeat, irreverent sense of humor that informs nearly all of his work with Wareheim and other comedic collaborators.
Heidecker's character in Us, Josh Tyler, is still somewhat of an enigma, but fans already know that he and his wife are friends with the Wilsons and are fairly affluent, with Gabe trying to compete with the Tylers' lifestyle (in particular, the size of their boat). At the very least, audiences can be sure that Heidecker will bring a few laughs to the film's otherwise terrifying proceedings.
Elisabeth Moss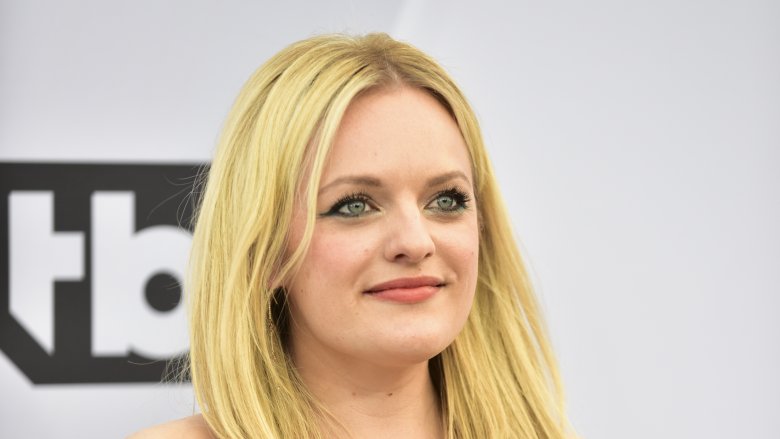 Getty Images
Known for her award-winning roles in some of television's best prestige dramas, Elisabeth Moss is a veteran of TV and film who regularly delivers incredible performances regardless of the medium. Moss got her start in television as Zoey Bartlet, the first daughter on Aaron Sorkin's popular drama The West Wing, before going on to appear in major films like Girl, Interrupted. Her breakthrough came in Mad Men, the AMC advertising firm drama now hailed as one of the best series of all time, in which Moss played Peggy Olson, an initially meek secretary who ends the series as an advertising executive with her own office. Throughout Peggy's journey, Moss remained one of the highlights of the series and was nominated for several Emmys — but her first win would come later thanks to her starring role in Hulu's The Handmaid's Tale, an adaptation of Margaret Atwood's seminal dystopian novel in which Moss plays Offred, an oppressed handmaid trying to escape captivity and return to her family.
Thanks to her background in drama — as well as her appearance in Mark Duplass' The One I Love, which also centers on doppelgängers — Moss seems to be the perfect fit to play Us' Kitty Tyler, a family friend of the Wilsons. Not many details are known yet about Kitty, but knowing Moss, she'll turn out yet another extraordinary performance and keep audiences on the edge of their seats.
Shahadi Wright Joseph & Evan Alex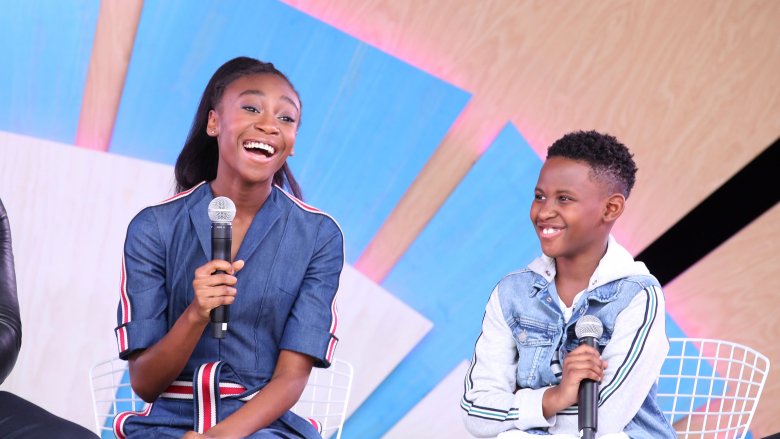 Getty Images
As the Wilson children Zora and Jason, Shahadi Wright Joseph and Evan Alex must play against two Yale graduates (Nyong'o and Duke), portray their own evil doppelgängers, and help carry most of the film in starring roles — quite the Herculean task for two young performers. Joseph, who plays the older sister, has primarily worked on the stage, appearing in School of Rock on Broadway and on television as Little Inez in 2016's Hairspray Live!. Us marks her first feature film credit, for which she has already been praised (particularly for a scene during which she must defend her family). Alex, the younger sibling, has appeared on television shows like Jim Carrey's Kidding as well as several episodes of the YouTube series Mani, and is also earning his first film credit playing both Jason and his double.
As two young actors starring in a gory and deeply frightening film, the two seem to be maintaining a healthy sense of humor, helping kids their age figure out the "right age" to see Us, and thanks to positive early reviews, it looks like these two have quite the future ahead of them.
Anna Diop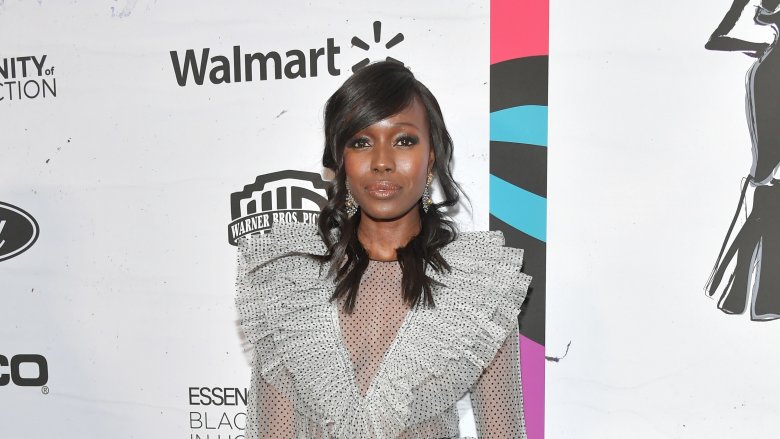 Getty Images
Anna Diop got her television start in 2006 with a recurring role on Everybody Hates Chris, setting the stage for a busy career to come. After appearing in a few short films, Diop got her first major television role as a series regular on the CW's The Messengers (on which her future Us co-star Winston Duke also appeared), a show about five strangers who suddenly find themselves with supernatural abilities. After appearing on two episodes on Quantico alongside Priyanka Chopra, Diop booked a main role in 24: Legacy, a sequel to the popular Fox drama that centered on several very stressful days in the life of counter-terrorist agent Jack Bauer (Kiefer Sutherland), which followed the same format as 24 while introducing new characters. Diop played Nicole Carter, a nurse and the wife to one of the show's main agents, Eric Carter (Corey Hawkins), for the limited series' entire two-month run in 2017.
Diop still appears in a main role on the DC web series Titans as Starfire, one of the titular Teen Titans, as well as her mysterious role in Us as Rayne Thomas (as well as her own doppelgänger), who plays Adelaide's (Lupita Nyong'o) mother in flashbacks.
Kara Hayward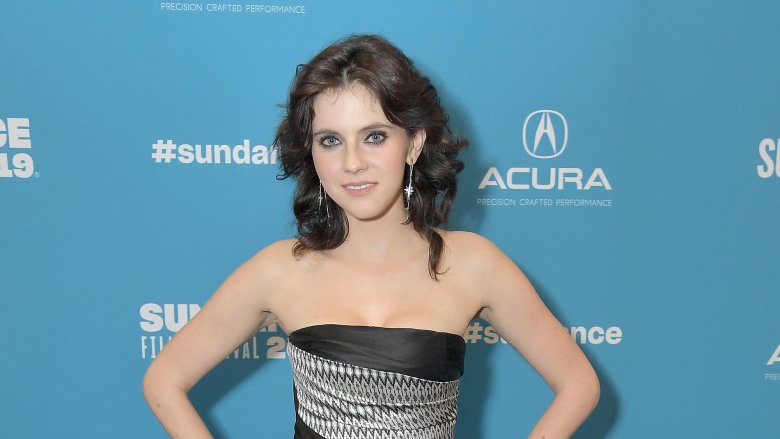 Getty Images
Despite her young age and relatively small resume, Kara Hayward has already made an impressive entry into arthouse films — at just 14, she landed a starring role in Wes Anderson's whimsical Moonrise Kingdom, alongside huge names like Tilda Swinton, Bill Murray, Frances McDormand, Bruce Willis, Edward Norton, and more as well as fellow newcomer Jared Gilman, who played opposite Hayward. As Suzy Bishop, a strange and slightly aggressive young girl who becomes pen pals with an odd young boy named Sam Shakusky, Hayward easily adopted the deadpan, quirky humor typical of Anderson's films, even basing her audition and subsequent performance on Gwyneth Paltrow's in one of Anderson's previous movies, The Royal Tenenbaums. Both she and Gilman received plenty of praise for their breakout performances, in which they both held their own against Oscar-winning actors, many of whom were frequent Anderson collaborators.
Her role in Us still remains somewhat of a mystery — credited as "Nancy," it seems fairly certain that Hayward will also portray her own double — but with a background as a leading Anderson player and an apparent wisdom beyond her years, it feels as if Hayward is a perfect casting choice for a film like Us.
Yahya Abdul-Mateen II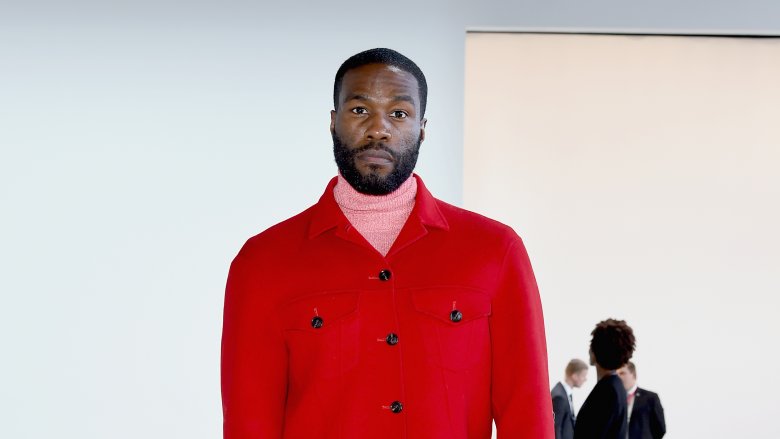 Getty Images
Yet another Us cast member with a master's degree from the Yale School of Drama, Abdul-Mateen burst onto the scene in 2016 with a huge role on Baz Luhrmann's The Get Down, a Netflix series about disco and hip-hop in New York in the 1970s. As Clarence "Cadillac" Caldwell, the son of an influential nightclub owner who is referred to as a "disco prince," Abdul-Mateen appeared alongside a cast that included Jimmy Smits, Shameik Moore, and Justice Smith for 11 episodes. The show was canceled after its first season, freeing up Abdul-Mateen to appear in some major feature films, including a role as a police officer in the film adaptation of Baywatch (starring Zac Efron and Dwayne "The Rock" Johnson) as well as in The Greatest Showman alongside Hugh Jackman and, once again, Efron.
After appearing in DC Comics' Aquaman as Black Manta, one of the film's two villains, it was announced that Abdul-Mateen would appear in Us, and is listed as playing Dr. Russell Thomas, a young Adelaide's father. It looks like Peele took a liking to Abdul-Mateen, as the actor is slated to appear as the lead in the Peele-produced Candyman.
Cali & Noelle Sheldon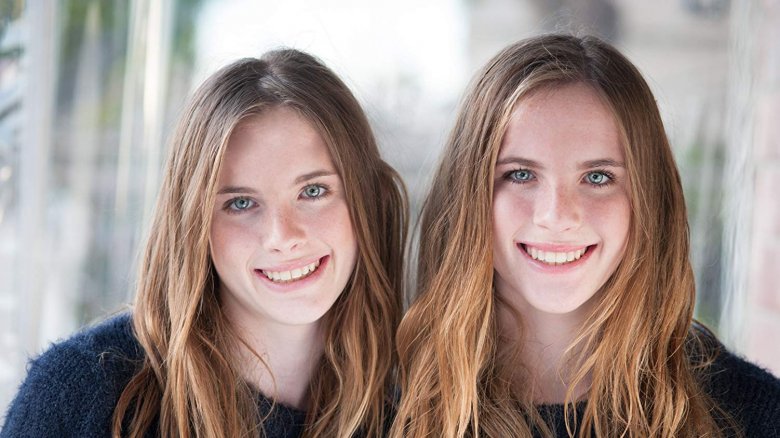 They're still teens, but twins Cali & Noelle Sheldon have a handful of acting credits to their name, although one is likely better known. As infants, the twins appeared on Friends as Emma, Rachel and Ross' baby, for a total of eight episodes. Emma's birth was a larger plot point that created initial turmoil between the on-again, off-again couple and eventually helped bring them back together, with Rachel calling off a move to Paris to stay with Ross as the show ends.
At 16, the twins were cast in Us as Gwen and Maggie Tyler, Josh (Tim Heidecker) and Kitty's (Elisabeth Moss) twin daughters, and though they haven't been seen in any trailers, their casting brings up a lot of questions. With the theme of doppelgängers and doubles and the presence of "the Tethered," casting a pair of identical twins adds an extra layer of mystery to the film, especially considering that the actresses, like all other cast members, will be playing their own doubles. With two identical girls playing their own identical doubles, Peele is likely trying to create even more terrifying confusion, giving even more depth to this already frightening film.