Avengers: Endgame: First Look At Thanos Revealed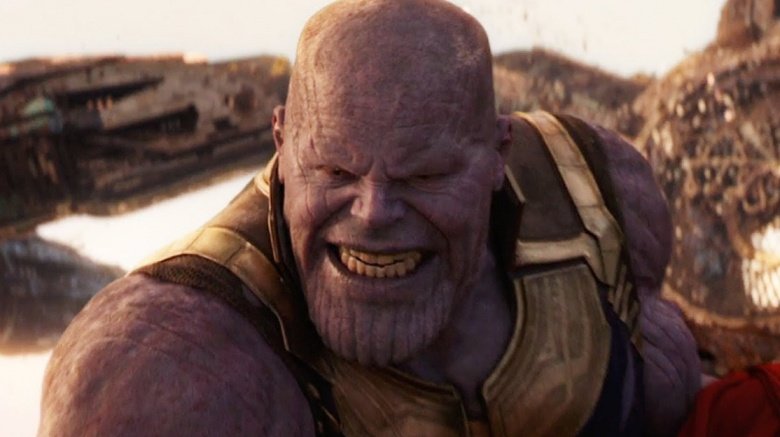 Surprise, Marvelites — bet you thought you'd seen the last of the Mad Titan. 
The first look at Thanos, played to tyrannical perfection by Josh Brolin in Avengers: Infinity War, for the fast-approaching and long-awaited superhero ensemble Avengers: Endgame has been revealed. Empire gave us the gift of the pre-Endgame-launch glimpses at the big purple nasty, who graces one of the outlet's newest magazine covers. 
Due out on newsstands this upcoming Thursday, March 21, the Endgame issue of Empire dives deep into the 22nd installment of the Marvel Cinematic Universe, capturing just how massive the movie will be and what it will mean to the heroes millions of fans have fallen in love with on the silver screen over the last decade. The first of the two covers shows off a handful of these vigilantes — namely, the original Avengers line-up: Hawkeye (Jeremy Renner), Captain America (Chris Evans), Iron Man (Robert Downey Jr.), Thor (Chris Hemsworth), Black Widow (Scarlett Johansson), and Hulk (Mark Ruffalo). Thanos sits front and center in the second cover, decked out in gold armor, a matching helmet, and, of course, the Infinity Gauntlet he used for his Decimation in Avengers: Infinity War that killed half of all living things in the universe. 
Check out both of the Avengers: Endgame covers of Empire Magazine at the bottom of this article. You can also take a look at the exclusive subscriber cover, which features a gorgeous painting by artist Vincent McIndoe.
It's interesting seeing Thanos rocking heavy armor post Infinity War, since one would assume he wouldn't need protection after winning the battle against Earth's Mightiest Heroes and committing the mass genocide (which he viewed as an act of mercy to bring about a new era in which a diminished population would have better access to resources). Thanos isn't someone known for his humility or coyness or self-doubt, and beating the Avengers in Infinity War should make him more confident than ever. So why guard himself in Endgame? 
One idea is that perhaps Thanos is fully prepared to go for round two, knowing that the heroes who survived his murderous snap will re-up and try to take him down. Maybe he caught wind that – spoiler alert – Captain Marvel (Brie Larson) has partnered with the Avengers in their efforts and feels he would be better safe than sorry, not willing to take any chances if he does have to face off against the heroes a second time. 
Marvel is notorious for guarding plot details as fiercely as Smaug shielded the treasures of Lonely Mountain, so the real reason why Thanos is sporting all-out armor in Avengers: Endgame won't be made known until the film arrives in theaters on April 26.