Netflix Cancels One Day At A Time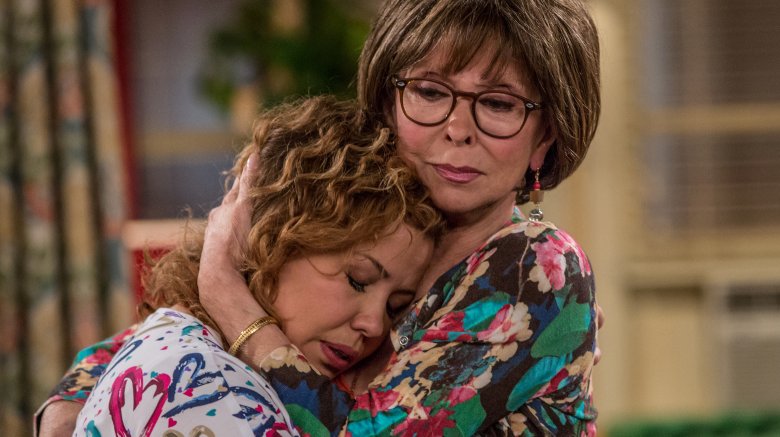 Time is up for One Day at a Time.
Netflix announced Thursday that it has canceled its original streaming series One Day at a Time, a comedy-drama inspired by Norman Lear's 1975 sitcom of the same name, after three seasons on the platform. 
One Day at a Time co-creator Mike Royce broke the news on Twitter, sharing a screenshot of a statement he and fellow series co-creator Gloria Calderón Kellett wrote. It reads, "Last night, Netflix told us they are cancelling One Day at a Time. We had the time of our lives making this show. We worked with the best, most giving and talented cast, writers and crew ever, as well as the incomparable Norman Lear. So while our hearts are very heavy, they are also bursting with appreciation for this amazing experience. And for all of you. All of you who told us how much One Day at a Time means to you. We've worked on many shows, but never have we experienced the outpouring of love, connection and support like we have with ODAAT."
Royce, Calderón Kellett, and the show's studio Sony Pictures Television plan to shop One Day at a Time to other platforms and networks in hopes of finding a new home for it. 
"Along with our studio, Sony, we will be exploring other places One Day at a Time can live, and with any luck we'll find one," wrote Royce and Calderón Kellett. "Either way our three seasons will always exist and be there for you and for us. In the meantime, we want to thank everybody who watched. We love you. Familia Para Siempre."
The streamer confirmed the disappointing news in a series of tweets shared to the official Twitter account for Netflix U.S., explaining that the decision to pull the plug on One Day at a Time was a difficult one and ultimately came down to low viewership numbers.
"We've made the very difficult decision not to renew One Day at a Time for a fourth season. The choice did not come easily — we spent several weeks trying to find a way to make another season work but in the end simply not enough people watched to justify another season," Netflix detailed. "Thank you Norman Lear for bringing this series back to television. Thank you Gloria Calderón Kellett & Mike Royce for always making us laugh and never shying away from bravely and beautifully tackling tough subject matter in a meaningful way. To Justina Machado, Todd Grinnell, Isabella Gomez, Marcel Ruiz, Stephen Tobolowsky, and Rita Moreno: thank you for inviting us into your family. You filled this show with so much heart and warmth and love, it truly felt like home. And to anyone who felt seen or represented — possibly for the first time — by ODAAT, please don't take this as an indication your story is not important. The outpouring of love for this show is a firm reminder to us that we must continue finding ways to tell these stories."
Ted Sarandos, the chief content officer at Netflix, issued a statement to Variety addressing the cancellation of One Day at a Time. 
"It's been a great honor to work with the legendary Norman Lear on One Day at a Time," said Sarandos. "I've personally spoken with Norman, and co-creators Gloria Calderón Kellett and Mike Royce, to express my gratitude to them, all the writers, the dedicated crew and the cast including the brilliant Justina Machado and dazzling Rita Moreno for creating a series with such humor, heart and humanity. This was a very difficult decision and we're thankful to all the fans who've supported the series, our partners at Sony, and all the critics who embraced it. While it's disappointing that more viewers didn't discover One Day at a Time, I believe the series will stand the test of time."
While Netflix's tweets and Sarandos' statement indicate that the company felt One Day at a Time didn't attract a large enough audience to justify it continuing on for another season, there's also the possibility that Sony's ownership of the series played a part in the streamer's choice to axe it. Netflix had to pay Sony Pictures Television a licensing fee for each season of the show, so perhaps the streamer simply grew tired of funding a series that wasn't garnering stellar ratings and that it didn't own. Heck, ownership issues were one of the big reasons why all five of Netflix's Marvel series bit the bullet: Netflix didn't technically own the shows, Marvel Television did. And with companies like Disney and Warner Bros. launching their own streaming sites, Netflix is focusing on ownership now more than ever. 
Those who did tune into One Day at a Time — which centered around the triumphs and trials of single mom and U.S. Army Nurse Corps veteran Penelope Francisca del Carmen Riera Inclán Ruiz Maribona de Alvarez (Justina Machado), her mother Lydia Margarita del Carmen Inclán Maribona Leyte-Vidal de Riera (Rita Morena) her children Elena (Isabella Gomez) and Alex (Marcel Ruiz), and her wealthy landlord Pat Schneider (Todd Grinnell) — are calling B.S. on Netflix's reasons for cancelling the show. 
Prolific writer Kellee Terrell wrote in response to the streamer's posts on social media, "You all have a hell of a lot of nerve. All the money you spend on numerous awful shows and movies that literally NO ONE asked for and you cancel the BEST show you have right now. This is incredibly disappointing. I get that Hollywood is about making money, and Netflix isn't a non-profit, but somewhere, somehow, there has to be a way to have saved this show, despite the lack of viewers. Like all of those horrible Australian reality shows you all have, no one needs that mess. Latinx people deserve to see themselves on screen, & not just as flat stereotypes, but as the flushed out beautiful whole beings they are. That is what Gloria and her team achieved. I wish you all could have weighed the power of representation and transformative work over [money]."
Fans of the series have banded together to start the social media petition #SaveODAAT, calling for other platforms to pick up the series and give it a new home. Only time will tell if their voices will be heard and One Day at a Time will be saved.