Orphan Black Spin-Off In Early Development At AMC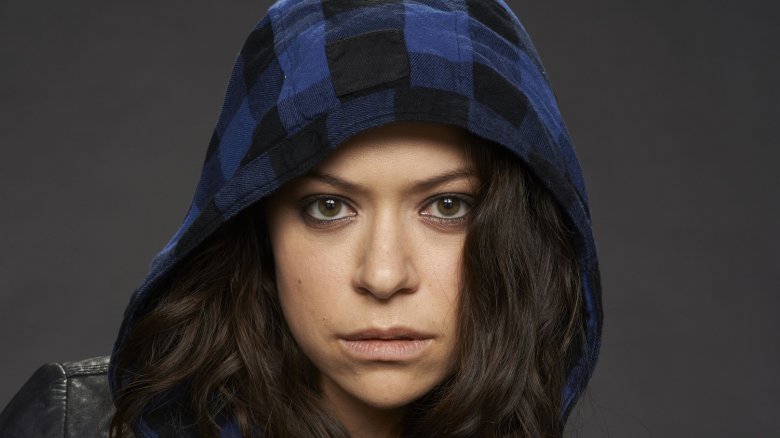 The world of Orphan Black is returning to the small screen.
A new series set in the same world as the venerable sci-fi series is in early development at AMC. It reportedly won't be a reimagining or reboot, but will focus on new characters and situations, according to Variety. 
The report states that Temple Street Productions, the imprint behind BBC America's original, is back on board to produce. Writers are currently being sought for the project, with Temple Street intent on bringing in multiple scribes to pitch their own unique visions for the show.
For those not in the know, Orphan Black told the story of Sarah Manning (Tatiana Maslany), a woman whose world is turned upside down when she encounters multiple clones of herself — the first of which, a copy going by the name of Elizabeth Childs, promptly commits suicide. Taking Childs' place (and position as a police detective), Manning attempts to get to the bottom of the bizarre goings-on, bringing her into the orbit of a nefarious biotech firm and a secretive religious group bent on wiping out the clones. The series introduced several distinctive variations on Manning during its first season, allowing Maslany to demonstrate a previously-unseen and ridiculously formidable range as she breathed life into all the various iterations of her character. 
Orphan Black debuted on BBC America in 2013, and while it was slightly underseen during its tenure on the cabler, the series picked up considerable steam after Amazon secured the streaming rights in advance of it second season. Each of its five seasons were showered with accolades by critics; Maslany scored well-deserved Emmy nominations for her lead performance no fewer than three times, taking home the trophy in 2016.
The series came to an end not because of any decline in viewership or quality, but because co-creators Graeme Manson and John Fawcett thought it best to take the show out on a high note with a planned ending point. Speaking with Variety in 2016, Manson said, "We sort of had five seasons in mind, and the thing that we just didn't want to do is get kind of soft around the middle. We think that it's better to cancel yourself than to get canceled, than to peter out."
Fair enough, but the series' end was lamented by fans and critics alike, meaning that a return to its universe shepherded to the screen by the same production house should be welcomed by both with open arms. Sure, it'll be sorely missing Maslany's powerhouse acting chops, but the producers' willingness to entertain a multitude of concepts to possibly anchor the revival can only bode well for its potential to live up to the original's legacy of strong, compelling storytelling set within a well-defined (and sublimely sinister) universe.
Obviously, there is absolutely zilch in the way of further details available at this time; it's not even clear how exactly AMC came to be involved (the network had no comment on the report). But with its own sterling track record of fielding uncommonly strong — all-time classic, even — hourlong drama series, the cabler seems as fitting a landing place for Orphan is the New Black (which will not by any means be the series' actual title) as any. We'll keep our finger on the pulse of this one, and keep you updated as the news breaks.