Why The Actor Who Plays Elton John In Rocketman Looks So Familiar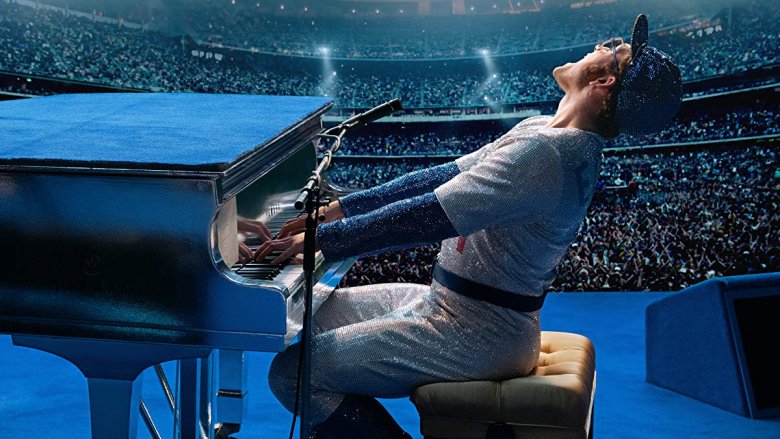 Just as Bohemian Rhapsody was winning Oscars for its glossy depiction of a queer British rock star of the 1970s and '80s, we started seeing trailers for Rocketman, an upcoming musical-biopic-fantasy film about the life and career of Elton John from director Dexter Fletcher. And the connections don't stop there — Fletcher also spent about two weeks directing a bit of Bohemian Rhapsody after Bryan Singer was removed from the production. It's not surprising if you didn't recognize who's playing Elton in Rocketman, especially because he so perfectly embodies the young John. 
However, maybe you did recognize 29-year-old Welsh actor Taron Egerton in the role, even if you weren't sure where you'd seen him before. If you're a fan of the Kingsman movies, on the other hand, you probably identified him immediately. As the release of Rocketman approaches, let's take a look back at the relatively short but very promising acting career of Taron Egerton.
Emerging from the London 'Smoke'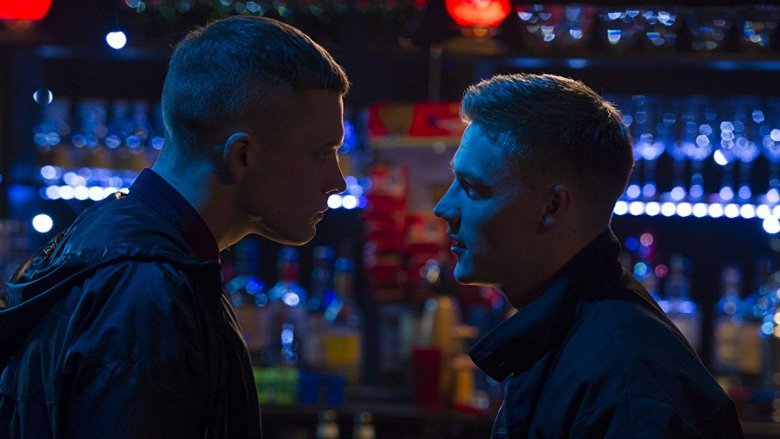 If you're in the U.S., you may not have heard of The Smoke, a British TV series about firefighters that ran for eight episodes in 2014. It starred Jamie Bamber as Kev Allison, a veteran firefighter who's back on the job after an injury. Taron Egerton had a key supporting role as Dennis "Asbo" Severs, the new kid in the firehouse, who turns out to have a pretty shady past. In fact, over the course of the short season, it's revealed that the criminal responsible for Kev's injury is old friends with Dennis, which obviously creates tension within the team. 
Egerton's character was positioned as someone trying to start a new life while his old one keeps showing up to haunt him. That could have made him the most interesting character in the series if it had been renewed and lasted longer than eight episodes. On the other hand, the short run of the series positioned Egerton to move on to movies early in his career.
Beloved brother, doomed soldier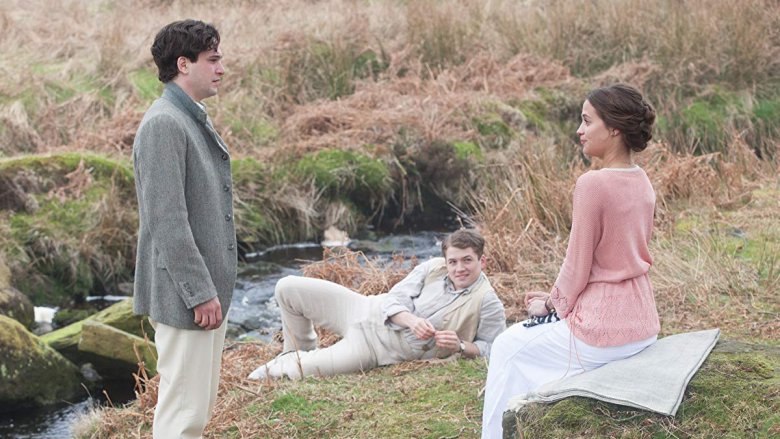 Testament of Youth is a BBC Films feature based on a WWI memoir by Vera Brittain, a student who left Oxford to become a war nurse. Alicia Vikander plays Vera, and Taron Egerton plays her brother Edward Brittain. Edward goes to war with his friends Roland and Victor, played by Kit Harrington and Colin Morgan, respectively. Roland and Vera have a romance, although Victor also has feelings for her. 
Ultimately, their love triangle doesn't matter, because Roland and Victor both die in the war. That inspires Vera to seek out Edward, but he soon dies as well. The arc of the movie is about Vera Brittain's path towards becoming a pacifist as the war takes away every young man she cares about. An extremely sad true-life World War I drama was never in the running to be a big hit, but it was well-reviewed, and brought more attention to Egerton.
Her Majesty's other Secret Service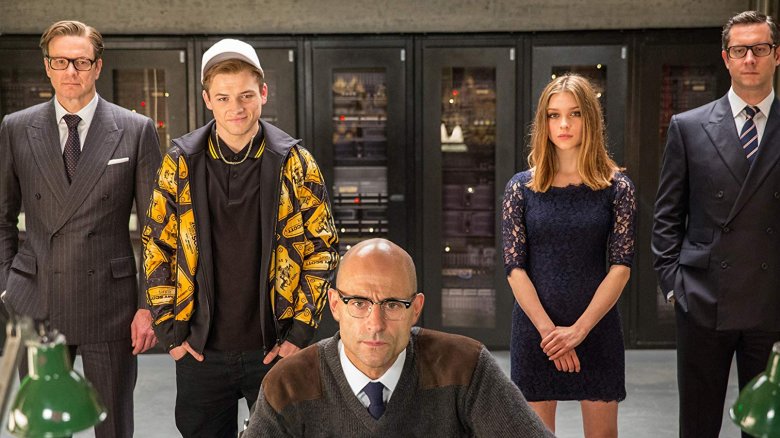 Matthew Vaughn's action comedy Kingsman: The Secret Service, was a major breakthrough in Taron Egerton's career. Based on the comic book The Secret Service by Mark Millar and Dave Gibbons, Kingsman focuses on Gary "Eggsy" Unwin (Egerton), a small-time crook who is pulled out of that life by his father's friend Harry Hart (Colin Firth), who recruits Eggsy into a very British intelligence service where he's trained to fight and also behave like a gentleman. 
In addition to a fun script, the movie features a great cast, with Michael Caine as the leader of the Kingsman organization, Sophie Cookson and Mark Strong as other agents, and Samuel L. Jackson and Sofia Boutella as villains. Although it failed to capture the number one spot from Fifty Shades of Grey, which was released the same weekend, Kingsman: The Secret Service did well at the box office and eventually earned a sequel. It wasn't the kind of hit that could make Egerton a huge star, but it did prove he can work as the lead in a major film.
Overshadowed by a Legend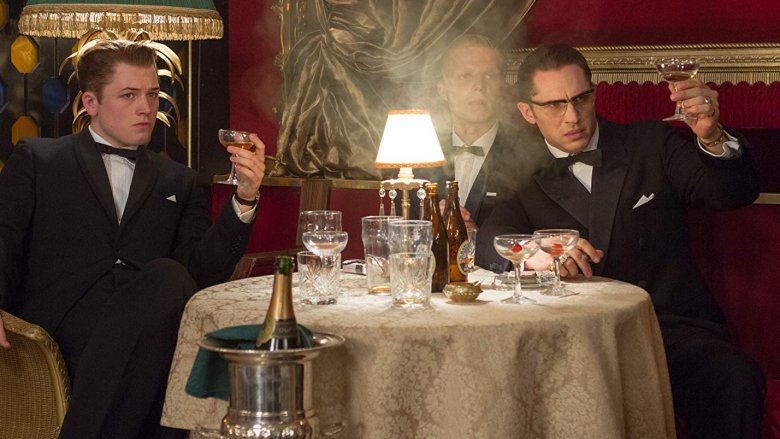 Directed by Brian Helgeland, Legend serves primarily as a vehicle for Tom Hardy, who plays both of the film's lead roles. Adapted from the book The Profession of Violence: The Rise and Fall of the Kray Twins by John Pearson, the film stars Hardy as both the ambitious Reggie Kray and the unhinged Ronnie Kray, who were prominent in the London underworld of the 1960s. Taron Egerton plays Edward Smith, known as Mad Teddy, a dangerous and unpredictable gay man who is involved with Ronnie Kray. 
There's very little room for anybody else's acting to be noticed in a movie that stars two Tom Hardys, but Egerton manages to make an impression. Legend largely flew under the radar and received mixed reviews from critics, with most understandably focused on Hardy's performance(s). However, Taron Egerton continued to prove his worth as an actor to anyone who was tracking his career or considering him for future roles.
Flying like an Eagle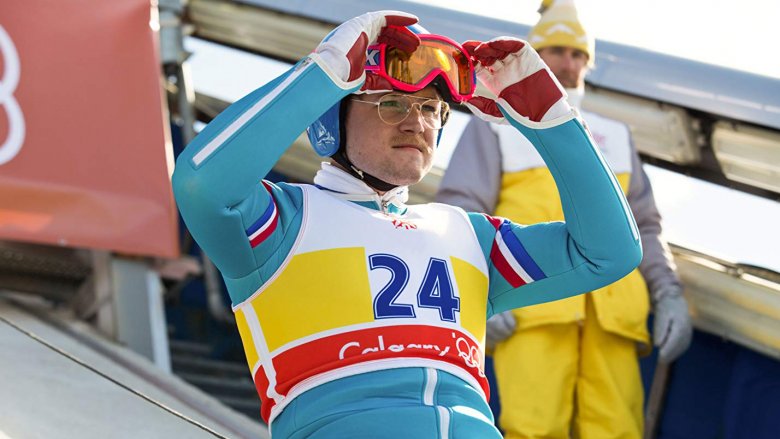 Dexter Fletcher's 2016 film Eddie the Eagle stars Taron Egerton as the title character, whose real name was Michael Edwards. Edwards was an actual British Olympian who became famous at the 1988 Calgary Winter Olympics despite coming last in both of his ski jump events, just by being a memorable character with an indomitable attitude. 
After dreaming his entire life of making it to the Olympics, Edwards is rejected by the British skiing community for being uncouth. He realizes he can qualify for ski jumping instead, since Britain hadn't entered anyone in that event since 1928. Despite initially injuring himself when he tries to jump, Eddie devotes himself to training with the help of American ski jumper Bronson Peary (Hugh Jackman), who becomes his coach. He makes it to the Olympics, where he realizes his dream and even becomes an international hero, despite his lack of success at the event. The biopic came and went without too much attention, but Egerton really inhabits the role of Eddie Edwards to a degree that makes him a promising choice for future biopics.
That gorilla can really Sing
Obviously you wouldn't remember Taron Egerton's face from 2016's Sing, an animated musical in which he plays a handsome young gorilla in a leather jacket, but you might remember his voice. Produced by Illumination, the animation studio behind Dispicable Me, Sing is a lighthearted family film about a singing competition in a city of anthropomorphic animals. Egerton's character is Johnny, the son of a gorilla crime boss called Big Daddy (Peter Serafinowicz), who wants Johnny to learn his criminal trade rather than spending his time on music. 
The real thrust of the movie is the musical performances by the various animals, and Egerton gets to show off his impressive singing voice more than he had previously. In fact, Johnny's biggest number in the film is an Elton John song, "I'm Still Standing," which might well have made an impression on the creators of Rocketman when Egerton was being considered.
Back in the Service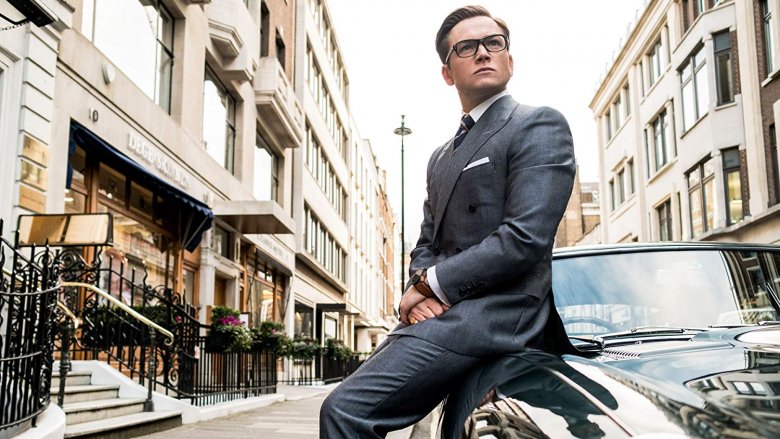 Taron Egerton reunited with director Matthew Vaughn and resumed the role of Eggsy Unwin for the 2017 sequel Kingsman: The Golden Circle. This Kingsman is even more over-the-top than the original, beginning with the destruction of the Kingsman headquarters and the deaths of most of its agents. That leads Eggsy and his surviving allies into an alliance with the American equivalent of the Kingsman organization, known as Statesman. An international villain played by Julianne Moore is revealed to be behind the destruction of Kingsman, and naturally they have to take her down and save the world so they can rebuild. 
Whereas the first Kingsman featured Egerton's character learning to come into his own as a gentleman hero, this film features him in that fully realized form from the beginning. Amusingly, it also features Elton John, playing himself in a small role as a hostage of Julianne Moore's character. Sir Elton's encounter with Egerton here likely played a role in the casting of Rocketman, on which Elton John is himself a producer.
A Club with one regrettable member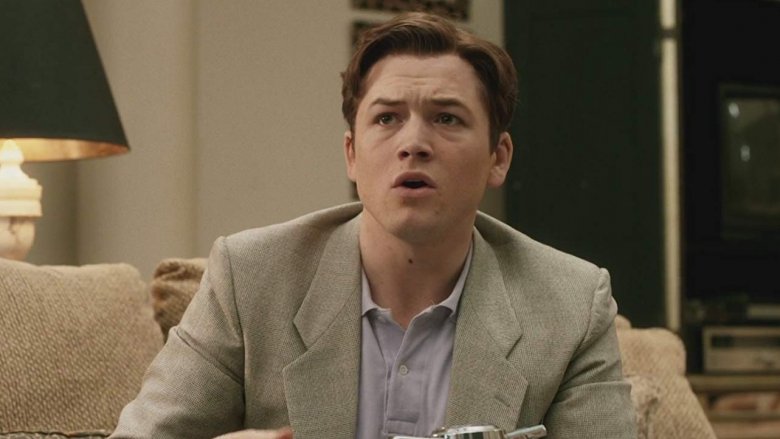 2018's Billionaire Boys Club was directed by James Cox, and tells the true story of a group of wealthy young men in 1980s Los Angeles, who form an investment group that becomes a ponzi scheme, eventually leading to mayhem and murder. Ansel Elgort plays the lead role of group leader Joe Hunt, but Taron Egerton plays another prominent member of the club, a tennis pro named Dean Karny. 
Unfortunately, the other prominent star of the film is Kevin Spacey, who plays Ron Levin, a con artist who is ultimately murdered by Hunt after stealing from the club. Between the shooting of the movie and its release, Spacey was accused of sexual assault by actor Anthony Rapp and several other men. He quickly became a pariah in Hollywood, and after he was removed from the film All the Money in the World, Billionaire Boys Club had the misfortune of being the first movie in which Spacey was seen after he had been brought down. That cast a pall over the film, which was reviewed poorly and quickly forgotten.
Nobody's favorite Robin Hood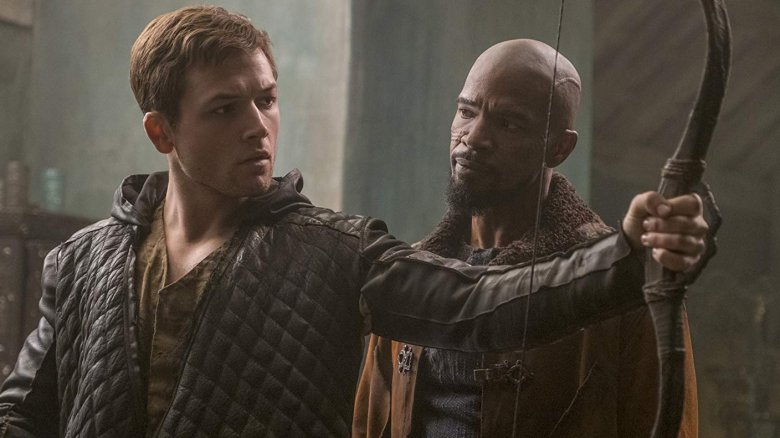 After Egerton had played a very modern English hero twice in the Kingsman movies, he was cast as one of England's greatest legendary heroes in Otto Bathurst's 2018 adaptation of Robin Hood. While that may seem like an idea with potential, it didn't lead to a good or successful movie. The film attempts to incorporate elements of modern superhero stories (particularly Batman) into the medieval Robin Hood story, with Robin of Loxley posing as a worthless playboy while secretly fighting the Sheriff of Nottingham as the Hood. Jamie Foxx costars as a version of Little John who owes more to Morgan Freeman's character from 1991's Robin Hood: Prince of Thieves. 
While most criticisms weren't aimed at Egerton himself, the movie got terrible reviews and was a box office flop. However, because of the strange nature of movie stardom, the promotion of Robin Hood did increase the public perception of Taron Egerton as a blockbuster star, even if nobody wanted to watch the movie he was starring in this time around.
Voices on the television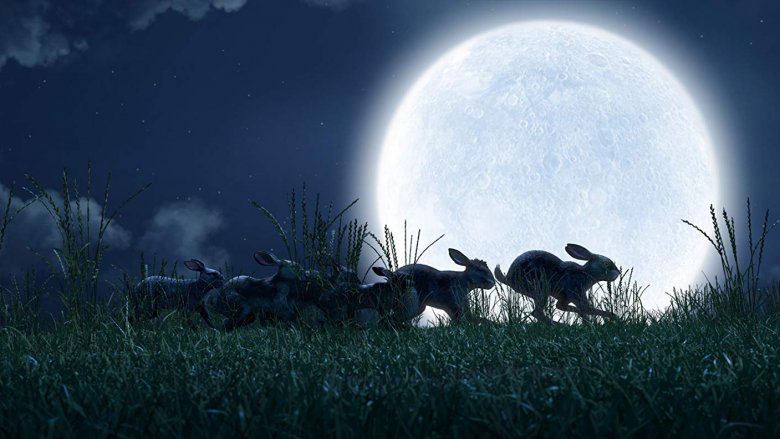 In a slight detour from his path to movie stardom, in 2018 Taron Egerton joined many other prominent British stars in the voice cast of Watership Down, a BBC/Netflix animated TV miniseries based on the classic novel about rabbits by Richard Adams. James McAvoy stars as Hazel, the leader of the rabbit warren at the center of the story, but Egerton is memorably featured in flashback as El-Ahrairah, the Prince of a Thousand Enemies, the ancient rabbit king who figures prominently in their mythology. The show is a clear attempt to take the often-misunderstand story seriously, but it was criticized for its clunky animation and sluggish pacing. However, the voice cast, which also featured Ben Kingsley, John Boyega, and Olivia Colman among others, was generally praised.
Egerton has more prominent voice work on the way as well. He's been cast to play the lead roles in a new international animated version of The Moomins, based on the popular children's characters created by Tove Jansson, and Dark Crystal: Age of Resistance, a Netflix spinoff of Jim Henson's 1982 film The Dark Crystal.
Rocketman to the top