Game Of Thrones: New Season 8 Character Photos Unveiled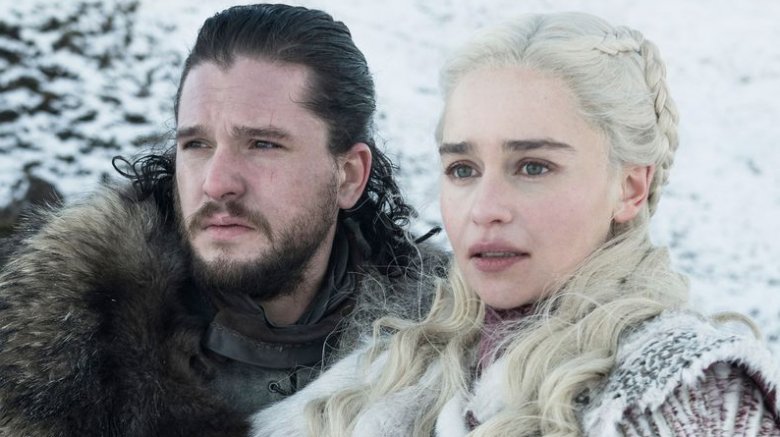 The brisk chill of winter has fallen over Westeros — but HBO has brought the heat with a collection of brand-new Game of Thrones season 8 character photos. 
Unveiled in a most interesting medium, over on Twitter in a specially-made "All #ForTheThrone" Twitter moment, the premium cabler rolled out 20 — count 'em twenty – new one-sheets for the impending final chapter of Thrones. 
Each photograph features a different prominent character — from Emilia Clarke's mother of dragon and breaker of chains and lover of her own nephew (no, we are never letting that go until Game of Thrones actually addresses that fact) Daenerys Targaryen to Maisie Williams' Winterfell warrior Arya Stark to Kit Harington's believed-to-be-a-bastard-boy Jon Snow — sitting on the Iron Throne and looking devilishly determined to seize control over the Seven Kingdoms. 
Accompanying the new character stills are quotes for all 20 characters, which reflect their attitudes toward aristocracy, war, and the game of thrones they have been engaged in for years on end. 
The one for Dany reads, "My reign has just begun." Jon's says, "We know no king, but the King in the North." The Cersei Lannister (Lena Headey) photo is captioned, "Long may she reign." The one for her brother-lover Jaime (Nikolaj Coster-Waldau) asserts, "There are no men like me. Only me." And the quote beneath the picture of the incestuous twins' shunned younger sibling Tyrion (Peter Dinklage) is even more powerful: "Never forget who you are. The rest of the world will not." 
Sansa's reads, "The lone wolf dies, but the pack survives." Arya's states, "The North remembers." And Bran Stark's (Isaac Hempstead Wright) reminds us, "I'm the Three-Eyed Raven now." 
Other stills feature Liam Cunningham's Ser Davos Seaworth ("We have to fight, and we need to do it together."), Gwendoline Christie's Brienne of Tarth ("This goes beyond houses and honor and oaths."), Pilou Asbæk's Euron Greyjoy ("There's only one reward I want."), Jacob Anderson's Greyworm ("Unsullied fear nothing."), Iain Glen's Jorah Mormont ("No one can survive in this world without help."), Carice van Houten's Melisandre ("The night is dark and full of terrors."), Nathalie Emmanuel's Missandei ("She's the queen we chose."), John Bradley's Samwell Tarly ("I'm tired of reading about the achievements of better men."), Alfie Allen's Theon Greyjoy ("I always wanted to do the right thing."), Conleth Hill's Varys ("I don't believe in saviors."), and Rory McCann's The Hound/Ser Gregor McClane ("You know who's coming for you. You've always known.")
Rounding out the bundle of kickass character photos is arguably the most foreboding of them all: the Night King. Underneath the snap of the master of the White Walkers is the caption, "Fear is for the winter."
Feast your eyes upon the splendor that is the new Thrones stills at the bottom of this article. And for you Twitter users out there, any time you hashtag the name of one of these 20 featured characters, a tiny emoji pops up next to the tag. Adorable, huh? 
With Game of Thrones heading for its final season debut faster than Sonic the Hedgehog races to scoop up golden rings, HBO is shifting its promotion for the final season into overdrive. The network has always been one for making use of all available platforms to push Thrones onto — social media being the most viable one. Fans probably shouldn't expect much in the way of plot details, story reveals, or behind-the-scenes sneak peeks at what awaits them on the last installment of the Game of Thrones saga considering how secretive the cast and crew are, but they can anticipate cool photos like these ones, plus some cutesy emojis to go alongside them. What's mass murder, battles between bastards, ice dragons, sword fights, and sabotage without some tiny cartoon characters, right? 
Discover who will take the Iron Throne when Game of Thrones airs its season 8 premiere on HBO on Sunday, April 14.