Detective Pikachu: Ryan Reynolds Teases New Trailer With Hilarious Video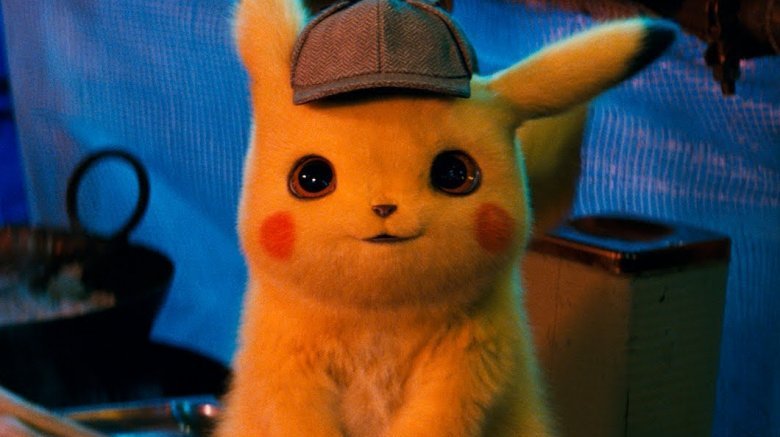 Ryan Reynolds is doing what Ryan Reynolds does best: promoting his latest project in the most clever, chuckle-worthy way. 
On Monday, after the fanfare and festivities, surprises and subs of the 2019 Oscars ceremony began to die down, Reynolds swooped in and shifted the conversation away from which films deserved Academy Awards and why BlacKkKlansman director Spike Lee was disappointed that Green Book took home Best Picture and Bohemian Rhapsody actor Rami Malek falling off the Oscars stage and got everyone talking about the forthcoming live-action/CGI feature Detective Pikachu, in which he stars as Pikachu.
In a video posted to Reynolds' Twitter account, the actor teased that a new trailer for the film, directed by Rob Letterman, is headed our way tomorrow. 
But Reynolds didn't jury-rig a makeshift tripod using old books and a few half-full cereal boxes, click on a camera, and deadpan down the lens, "Hello, a new trailer for Detective Pikachu is coming tomorrow. Be prepared, for it will be fun. Over and out." That just isn't his brand, and the kind of kooky stuff he's pulled off in the past (both to promote his movies and to stoke the flames of his faux feud with X-Men franchise actor Hugh Jackman, with whom he's been dying to collaborate for a Deadpool-Wolverine crossover film) shows that Reynolds always takes the humorous road in any situation. 
The "Outside the Actor's Studio" video sees Reynolds take on a fake-serious tone, discussing the lengths he went to in preparing for the titular role in Detective Pikachu. As he explains, there's a lot more that goes into portraying a famous electric rat who self-styles as a detective than one might think. Some may believe that certain aspects of preparation would be negated due to the nature of the film and Reynolds' role within it, but that couldn't be further from the truth that the actor dishes up in the video. Though he may not appear as his human self in Detective Pikachu, and the film's team didn't employ motion-capture techniques to create Pikachu around Reynolds' movements and facial expressions, Reynolds still poured his heart as soul into the character. 
Interspersed through black-and-white snaps of Reynolds caressing a Poké Ball and reclining on a leather chaise lounge with a magnifying glass in his hand is footage of the actor detailing that his preparation for Detective Pikachu was so immersive that he forgot where he started and the character began. 
"You know, I lived it and I breathed it; I became the character. I spent the entire year as Detective Pikachu," he says in the video. "Bringing Detective Pikachu to the big screen is a privilege that I don't take lightly. Every second of my energy is spent making this character come alive with the same exacting standards that the most discerning fans would come to expect."
Reynolds continued, not once breaking his bit, and shared an anecdote to demonstrate how he "vanishes" into this roles. 
"I was on my way to pick up my daughters from school when I heard that I got the role," the actor shares. "I didn't show up at school because Detective Pikachu, he doesn't know who those two little girls are. Who are they?" 
From there, the video transitions to show Reynolds' wife, Blake Lively, looking none too happy that her husband forgot to pick up their children and subsequently thought it an appropriate story to share with the world. 
"They're our daughters. He just left them," she says. 
"I immersed myself completely within the world of Pokémon," Reynolds details in the clip, saying that Pikachu is just a "yellow guy" who lives "in a briar patch" and doesn't have a wife. He even jokes that he went full Method by reading everything there is to know about the little Pokémon detective, going so far as to attempt to live at his height (1 foot and 4 inches, which is less than a quarter of Reynolds' 6 feet and 2 inches) and attempting to drop 182 pounds so that he could be the same weight as Pikachu (a reported 13 pounds). Doctors wound up intervening, as Reynolds explains, but weight and height and looks aside, there was one part of the actor's own identity that wound up transferring into his take on Detective Pikachu: his voice. 
Lively jokes in the video, "I mean, he didn't even change his voice. It just–it just sounds like him."
"The point is, my daughters, they may never see their dad again," Reynolds continues to jest. "But you can be damned sure that they're going to be looking up at that screen this summer and they're going to see Detective Pikachu." Lively then interjects with a laugh, "We're not going."
The clip ends with Reynolds chuckling and giving a slightly defeated "pika-pika," before it cuts to the Detective Pikachu title card. Reynolds' promise of a new trailer dropping in the next 24 hours is found in the video's caption, which reads, "'Acting is behaving truthfully under imaginary circumstances' – Sanford Meisner. Point is, there's a new Detective Pikachu trailer tomorrow."
Check it out below.
Prior to Reynolds announcing that the second Detective Pikachu trailer is arriving on Tuesday, the Canadian organization Consumer Protection BC, responsible for rating and licensing films within British Columbia, approved new footage for the movie. The Canadian answer to the U.S.'s Motion Picture Association of America that views and approves film trailers, Consumer Protection BC gave to the upcoming trailer the go-ahead on Saturday, February 23. Normally, when a company does such a thing, the actual footage follows shortly thereafter. 
A second trailer for Detective Pikachu will probably include some of the same footage seen in the first full trailer, which sketched out the film's core story: ex-Pokémon trainer Tim Goodman (Jurassic World: Fallen Kingdom actor Justice Smith) is searching for his father, well-known Ryme City detective Harry Goodman (Paul Kitson). Tim ends up teaming with Pikachu, his father's former Pokémon partner, whom he discovers he can actually understand and communicate with. The unlikely duo search the streets of Ryme City, coming across all sorts of creatures and their human counterparts (like Kathryn Newton's Lucy Stevens and her Psyduck, and Ken Watanabe's Detective Yoshida and his Snubbull) and eventually uncover a nefarious plot that goes beyond Harry's disappearance and could endanger all of Ryme City, ruin the "peaceful co-existence" between humans and Pokémon, and destroy the whole of the Pokémon universe if it isn't stopped. 
With any luck, the new footage should give us additional looks at more Pokémon, as well as the purported villain of the movie, the Psychic-type Pokémon Mewtwo. Thankfully, there isn't much time left to wait before we find out what the trailer has in store. 
The new Detective Pikachu trailer drops tomorrow, Tuesday, February 25. Be on the lookout for the film in theaters on May 10.
"Acting is behaving truthfully under imaginary circumstances" – Sanford Meisner. Point is, there's a new Detective Pikachu trailer tomorrow. pic.twitter.com/g9dRTOJHL1

— Ryan Reynolds (@VancityReynolds) February 25, 2019