Star Wars: Episode IX: C-3PO Actor Anthony Daniels Wraps Filming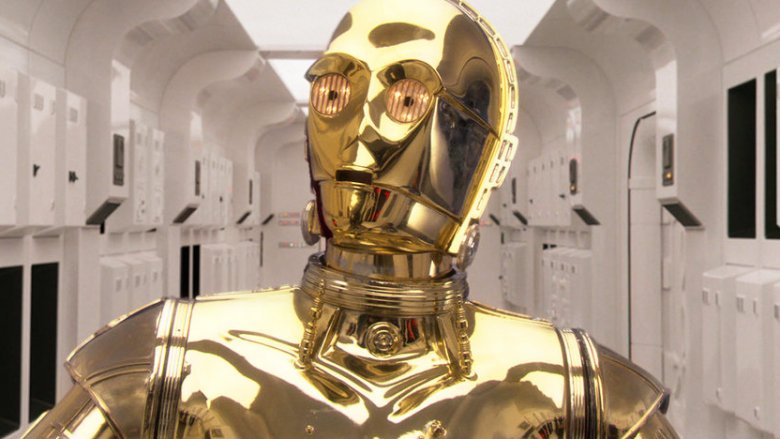 That's a wrap on Star Wars: Episode IX for the most frantic droid in the galaxy far, far away. 
C-3PO actor Anthony Daniels confirmed on Monday, January 28 that he had officially completed filming his scenes for the upcoming Star Wars saga installment, directed by The Force Awakens helmer J.J. Abrams. 
"Today was 3PO's last on Episode IX. He's sad – so am I. But we're so proud to have worked with such a lovely, talented cast & crew lead by J.J. & Kathy," Daniels wrote on Twitter. "I'll miss everyone but I'm glad to know that we've been making something exceptional together, to share with the waiting world."
A cornerstone of the Star Wars film series, Daniels has played a part in every live-action franchise entry to date. He's best known for bringing to life the Anakin Skywalker-built humanoid protocol droid with perfect etiquette, fluency in six million-plus forms of communication, and a shiny golden exterior — but Daniels has also appeared as the enslaved human mine worker Tak in Solo: A Star Wars Story and as Achk Med-Beq associate Dannl Faytonni in Attack of the Clones and Revenge of the Sith.
Daniels was pretty careful not to make any declarative statements about his involvement in Episode IX, avoiding spilling any secrets or accidentally revealing that Episode IX might mark the last-ever appearance of C-3PO on screen in a live-action Star Wars feature. Still, though, the actor's message was emotional and carried a certain sense of finality. Could Threepio really take his final turn, beep his last beep, in Episode IX? It's anyone's guess for right now, as Lucasfilm has kept an air-tight lid on story specifics, but plenty of fans are hoping that the lovable droid will somehow return for Episode X. 
Joining Daniels for Episode IX is another Star Wars icon: Billy Dee Williams, the man behind the super-suave, smooth-talking gambling man Lando Calrissian, who teased the intense training regimen he underwent to prepare to head back to the silver screen. Though Luke Skywalker sadly bit the dust (well, faded away to dust) in The Last Jedi, he will pop up in Episode IX as well, likely in Force-ghost form. The late, great Carrie Fisher will make her last appearance as Leia Organa in Episode IX – a posthumous one made possible by the film's creative team implementing footage that was captured for but unused in The Force Awakens. Leaked plot details claim that Leia will wield Luke's lightsaber at a pivotal part in the film, during a scene in which — surprise! — C-3PO also appears. 
"Leia [is] on a world that appears to be a mix between Endor, Tatooine and Jakku. This may be the (Outer Rim) planet of Batuu. Leia is dressed in a black outfit almost like a robe. Leia is with Maz Kanata, C-3PO and R2-D2, holding the Skywalker lightsaber and examining it. She begins to hold it in a Jedi-like stance and activates it, pointing it towards a city that looks like it has gone through battle," the leak reads. "This does not indicate that Leia is a Jedi. The stance is done more in a victorious way. It could be the site of a First Order defeat."
If any credence can be found in this information, it stands to reason that C-3PO will be vital to the mission that goes down in Episode IX. If there isn't, Episode IX is expected to end the Skywalker saga for good, so fans should expect something big (and maybe heartbreaking) to happen to ol' Threepio nonetheless. We won't know for sure until Lucasfilm makes formal announcements re: Episode IX, either through press releases or a teaser (which we still haven't seen yet). The general belief amongst fans is that big news will drop during Star Wars Celebration in April, so keep those eyes peeled, readers. 
Star Wars: Episode IX is scheduled to open in theaters on December 20.