The Most Ridiculous Movie Titles Ever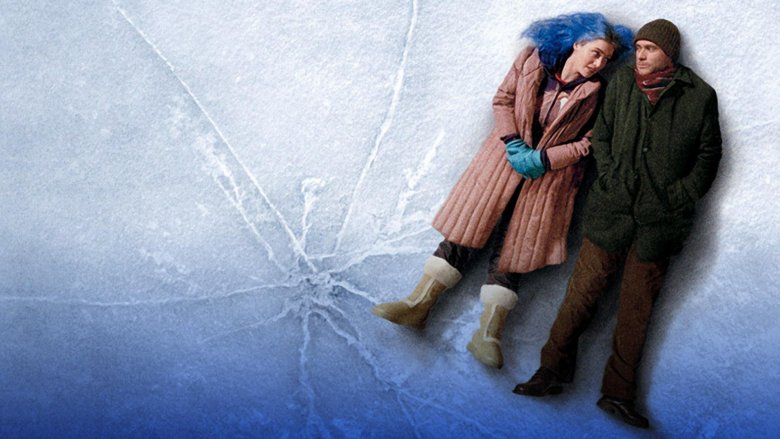 Choosing a solid movie title is an important part of the business of Hollywood. Filmmakers and marketers need to find the few words that capture the essence of their story and entice people to see it and steer clear of being too hokey or derivative or plain. Sometimes, it can be as simple as finding an impact word that weighs enough to work, like Jaws or Alien, or slightly lengthier descriptive titles like Back to the Future or When Harry Met Sally.
Every once in a while, though, a filmmaking team will throw caution to the wind and just go with whatever word salad strikes them in the moment. When it comes to these films, the titles are far too long or winding or just plain strange, and yet, somehow most of these movies managed to survive their terrible titles and fare just fine with audiences and critics. With all that in mind, here's a fond look back at a few of the most ridiculous movie titles ever.
Don't Be a Menace to South Central While Drinking Your Juice in the Hood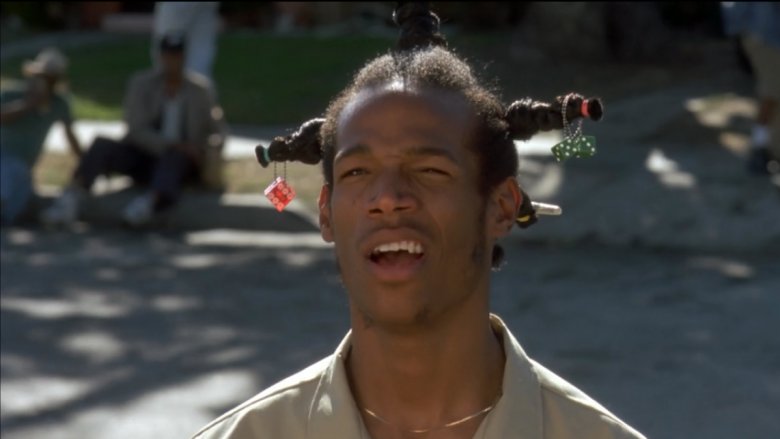 Often referred to as simply Don't Be a Menace, this 1996 comedy marks one of the early entries in the Wayan brothers' parody picture history. It mocked films in the urban crime and coming-of-age subgenre, including many titles which would be spliced together to create its name: Menace II Society, South Central, Juice, and Boyz N the Hood. The film used its lengthy nomenclature as a distinct marketing tool, with the home video trailer boasting that fans could "own the only DVD with 14 words in the title."
Having a zany title was just one part of the Wayans' process for turning serious material into something silly. As Marlon Wayans would later explain, "How do you make fun of Menace II Society and Boyz n the Hood? Two good movies about something so important in terms of black filmmaking. Those films were about exposing what the 'hood' was about. But we just have a dark, crazy sense of humor, to where we could take the darkest thing and find light." The movie was successful enough at the box office, irrespective of its marquee-busting moniker, earning $20 million. However, the Wayanses would find much more success with their humor when they released a sister film with a much more succinct title in 2000's Scary Movie.
Borat! Cultural Learnings of America for Make Benefit Glorious Nation of Kazakhstan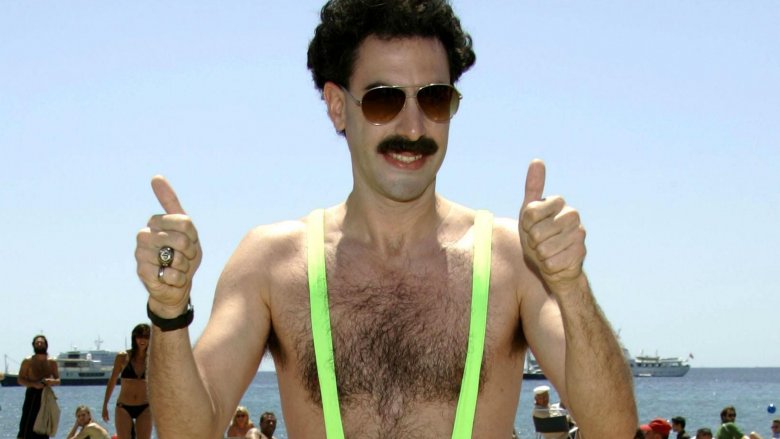 Most fans of this 2006 mockumentary probably refer to it as Borat, but the full title is quite in keeping with the eponymous character's conversational style. The second of Sacha Baron Cohen's Da Ali G Show character movies, Borat! Cultural Learnings of America for Make Benefit Glorious Nation of Kazakhstan features its titular faux journalist traveling to the United States to learn about American culture, and it's a complete mess.
Baron's in-character crudeness and overt misgivings about modern society make for hilariously uncomfortable interactions with very real people — most have no idea that this is all pretend and politely try to go along with his odd asides, but it always spirals right out of control. In the end, it's pretty clear that Borat has learned nothing "for make benefit" of his glorious nation (which, by the way, has nothing to do with the real Kazakhstan) and has instead exposed some unsettling things about the underbelly of America.
The Positively True Adventures of the Alleged Texas Cheerleader-Murdering Mom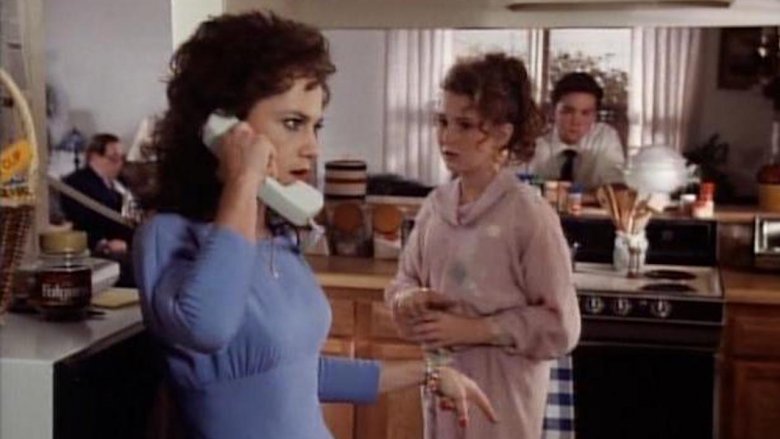 If you've never heard of The Positively True Adventures Of The Alleged Texas Cheerleader-Murdering Mom, well, it's better late than never. The 1993 movie was made for HBO and won Holly Hunter a Primetime Emmy Award — the same season she won a Golden Globe and an Oscar for The Piano, no less — for her portrayal of Wanda Holloway.
As the mouthful of a title indicates, the movie is based on the true story of a Texas woman who tried to order a hit on her daughter's middle school classmate so that her own daughter might have a better chance of making the cheer squad. In addition to being a true-life drama, it's also got some darkly comedic elements which are reflected in the wordiness of the title. Co-star Beau Bridges also won an Emmy and a Golden Globe for his portrayal of her brother-in-law Terry, who records her discussing the plan with him and turns her over to the authorities.
The Englishman Who Went Up a Hill But Came Down a Mountain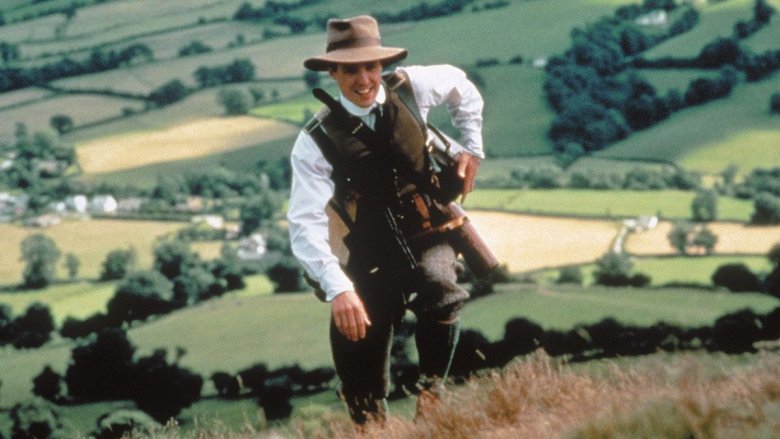 Smack dab in the middle of Hugh Grant's mid-'90s heyday as a romantic comedy king came The Englishman Who Went Up a Hill But Came Down a Mountain, a British dramedy about a cartographer who has to tell a proud town their "mountain" is actually just a hill. Since it's only a few feet shy of the technical requirement to make it a mountain, the villagers try to keep the mapmaker around long enough to tack on an extra mound for good measure; of course, hijinks ensue.
It's not the weirdest-named movie Hugh Grant ever starred in — he also starred in Lord Elgin and Some Stones of No Value and The Lair of the White Worm — but it did have a bigger impact on pop culture. VeggieTales even named an episode in its honor, except the title man came down with bananas instead of a mountain in their version.
To Wong Foo, Thanks for Everything! Julie Newmar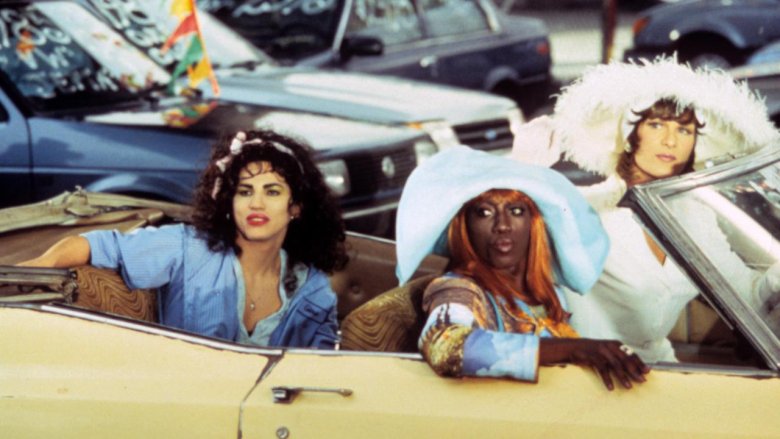 Pretty much everything about To Wong Foo, Thanks for Everything! Julie Newmar is completely batty and unique. The film stars a trio of Tinseltown's then-traditional tough guys — Patrick Swayze, Wesley Snipes and John Leguizamo — as a troupe of drag queens heading out on a road trip together to try and continue their winning streak at the "Miss Drag Queen of America Pageant." Considering the characters' stage names were Noxeema, Vida and Chi-Chi, it makes sense that the movie would have a unique title, but it's the nuance that really makes this one.
The film name refers to the signature scrawl on one of Julie Newmar's headshot photos that Vida swiped to carry with them during their travels. Their journey brings them across a few different slices of America, like a bigoted police officer and some vintage clothing-clad gals in a small town's strawberry social. Everything builds up, of course, to the group getting to meet Julie Newmar herself as she delivers the crown.
The End of the World in Our Usual Bed in a Night Full of Rain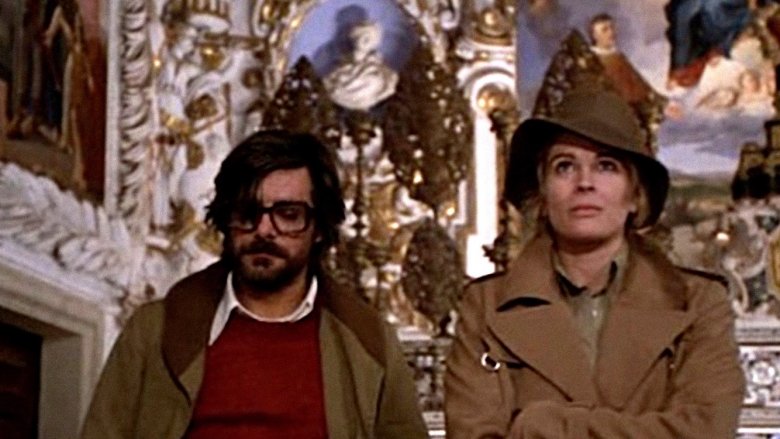 The length of this title is owed to the literal translation of its original Italian version — La fine del mondo nel nostro solito letto in una notte piena di pioggia translates to The End of the World in Our Usual Bed in a Night Full of Rain — but the film is more commonly referred to as A Night Full of Rain in the US.
The romantic drama features Candice Bergen as an American photographer who meets and falls in love with an Italian journalist, played by Giancarlo Giannini with an arresting haughtiness. The Lina Wertmüller-directed narrative features flashbacks to the couple's earliest days falling in love and chasing each other across the world, from Italy to San Francisco. In addition to showcasing the couple's romance in bloom, though, things come to a terrible head as they engage in a fight on, you guessed it, a night full of rain. And to them, indeed, it does feel like the end of the world — their world, at least.
Those Magnificent Men in Their Flying Machines, Or How I Flew from London to Paris in 25 Hours 11 Minutes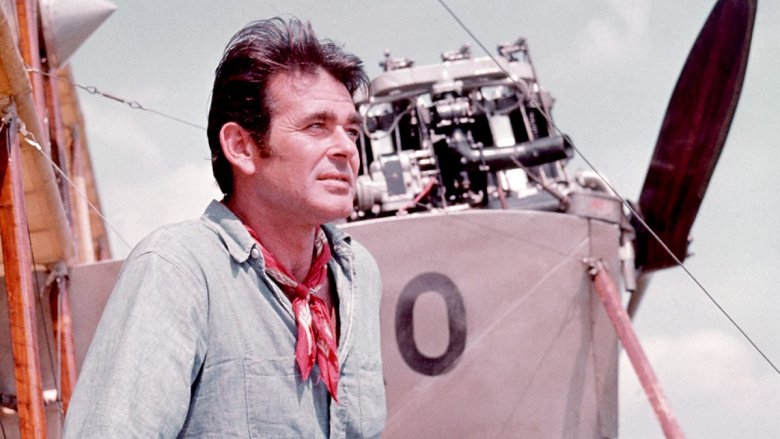 With titles this long, who even needs a logline or a description? Those Magnificent Men in Their Flying Machines, Or How I Flew from London to Paris in 25 Hours 11 Minutes is a 1965 British film is set in 1910, as an English media mogul tries to prove that his nation is the foremost in aviation achievement by sponsoring a contest for pilots to race from London to Paris. Ken Annakin (director and co-writer of the film) and Jack Davies were nominated for an Oscar for their original screenplay for the film (against four other films with much shorter titles).
The title was shared, in part, with the name of the intro song written by a studio executive's wife, with the lyrics "Those Magnificent Men in Their Flying Machines / They Go Up, Tiddly, Up, Up / They Go Down, Tiddly, Down, Down." The second half, obviously, refers to the details of the journey that resulted from the contest, for some reason. Those Magnificent Men in Their Flying Machines would later inspire the title of an episode of Wonderland about a similar pie in the sky flying mission.
Everything You Always Wanted to Know About Sex* (*But Were Afraid to Ask)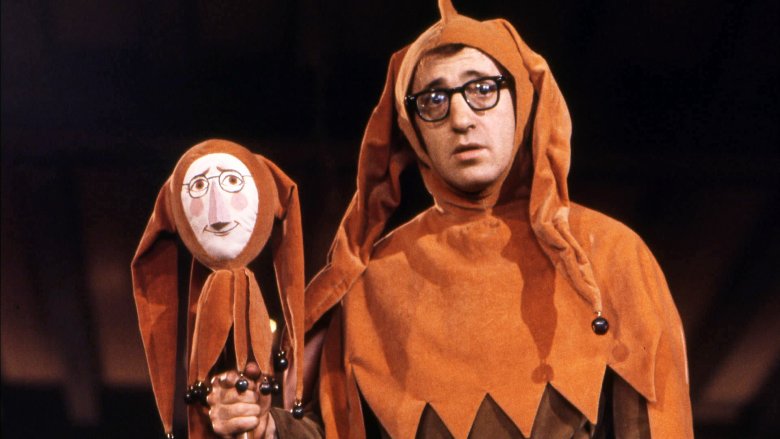 To be fair, Everything You Always Wanted to Know About Sex* (*But Were Afraid to Ask) is simply a big screen adaptation of a 1969 guidebook of the same name, but it's still the filmmaker's fault that they committed this moniker to the marquee, with the asterisk untouched. Shortly after the book's release, Woody Allen adapted Dr. David Reuben's text to script and then directed the film adaptation in 1972.
Everything features a series of seven vignette chapters and covers all manner of risque material — "What Are Sex Perverts?" and "Do Aphrodisiacs Work?" are some of the more family-friendly chapters — and stars Allen as well as Gene Wilder, John Carradine, Louise Lasser, Jack Barry and more in a series of increasingly lewd and ludicrous substories. It wasn't Allen's most celebrated effort, as critics were less than impressed with the limper jokes of the raunchy film.
Birdman or (The Unexpected Virtue of Ignorance)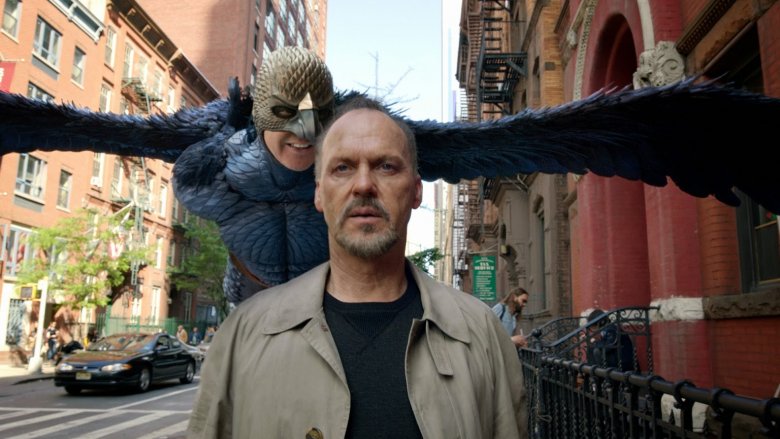 Alejandro G. Iñárritu isn't known for being outlandish when it comes to naming his his films. In fact, most of his movie titles are made up of either one or two words, max. With Birdman or (The Unexpected Virtue of Ignorance), however, he decided to increase the length and strangeness for some reason. It was an odd enough choice that journalists were confused by it and even had to confirm that the dangling "or" was meant to be outside those parentheses before all the awards season brouhaha could begin.
Nevertheless, Birdman went on to clean up at the BAFTAs, the Screen Actors Guild Awards, the Golden Globes and the Academy Awards, where it took home the year's top honor as Best Picture. Were it just Birdman, the meta nature of Michael Keaton's title character might've been a bit too on the beak (the former Batman star played an actor haunted by an old superhero role). But it's also reflective of the audience's experience in not knowing for sure what happens in the end and getting to decide for ourselves. In other words, there's a virtue to not knowing the auteur's intent with that final shot and having to figure out for ourselves what we are willing to believe amid all the magical realism of the movie. Deep stuff.
Eternal Sunshine of the Spotless Mind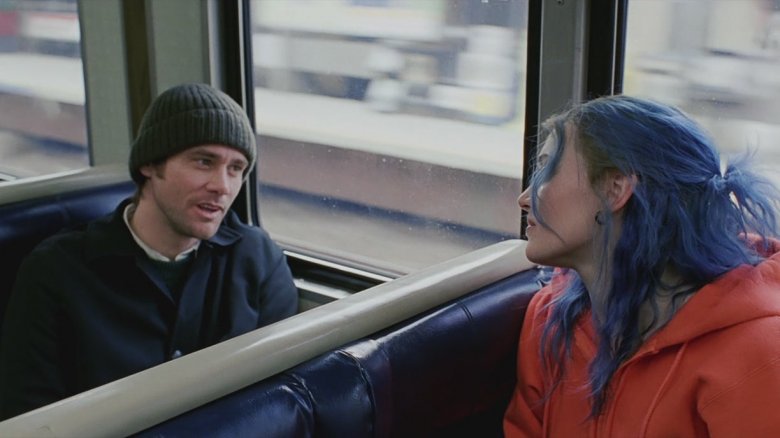 The name of this movie might seem more normal now that the film has found its way into the mass of cinematic best-of lists, but when it was released, Eternal Sunshine of the Spotless Mind's title sounded like gobbledygook (and if you think about it, it still kinda does). The romantic drama, co-written by Charlie Kaufman and director Michel Gondry, features Jim Carrey and Kate Winslet as a couple whose happiness has waned but are too attached to each other to endure being broken up.
Instead of getting over it in the usual way, they decide to have their memories of one another erased from their minds, and as they journey back to some of the sweeter and softer spots in their history, they start to have second thoughts about letting go of them for good. It's very sweet and strange and creative, but the title could have still been halved and still had the same effect. In fact, if you happen upon a film buff and talk about this one, chances are they'll refer to it simply as Eternal Sunshine.
Snakes on a Plane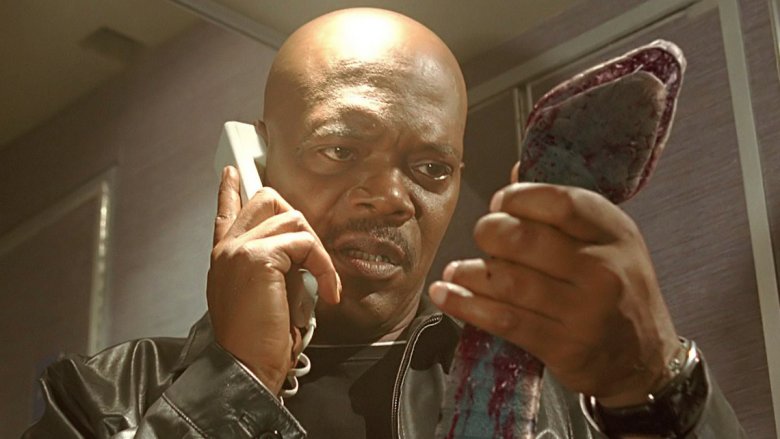 A ridiculous movie premise deserves a ridiculous name, and that's exactly what happened with this 2006 cult favorite. It's unfortunate that none of the four-letter words that often accompanied the utterance of the film's name in the movie itself made in into the title, but there were certainly enough of them in the promo materials to get the point across that this would be a crazy weird ride for audiences.
Snakes on a Plane stars Samuel L. Jackson as an FBI agent whose plane inexplicably comes under attack by serpents. In other words, yes, the title told moviegoers exactly what they'd be getting when they bought a ticket, and there's some value to that. This is exactly how cult phenomenons happen, folks. Interestingly enough, it's not the only snaky movie Jackson was a part of, or even the weirdest of that year: He also starred in the surreal southern drama Black Snake Moan.
Dr. Strangelove or: How I Learned to Stop Worrying and Love the Bomb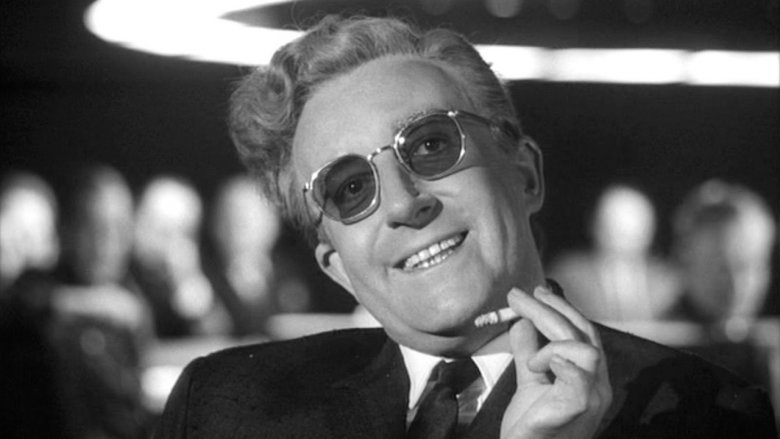 This 1964 satire from Stanley Kubrick gives zany cinematic life to the long-standing fears that the United States of America and the Soviet Union might accidentally engage in a full-on nuclear conflict that wipes out all life on Earth. The character featured in the title is a German ex-Nazi recruited by the President of the United States as a scientific adviser in the War Room, and he has some disturbing intel about the Russians' capability to render the world uninhabitable at the click of a button with its so-called doomsday machine.
The movie is really centered on someone else, though. General Jack D. Ripper, who has clearly gone insane, is the one to watch, as he sends the order to bomb an ICBM station knowing good and well what will result from it and gleefully follows his bomb to its bitter end. Simply calling the movie Dr. Strangelove might be catchy enough, but it would be pretty duplicitous, as he's definitely not the central figure of the film.