Facts You May Not Know About Dude Perfect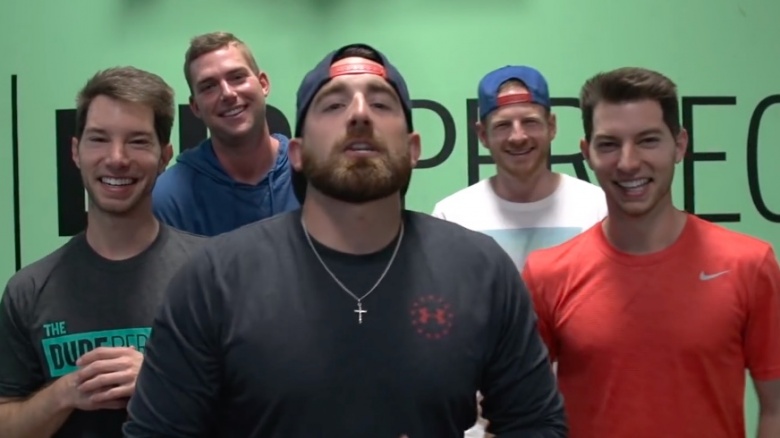 We may receive a commission on purchases made from links.
Ten years ago, few could have guessed that five friends and a panda would capture the hearts and attention of millions—but the dudes of Dude Perfect have done just that. Yet even though they're household names, not everyone knows the real guys and their panda. Whether you're a hardcore fan or just getting into Dude Perfect, here's everything you need to know.
Cory Cotton is a published author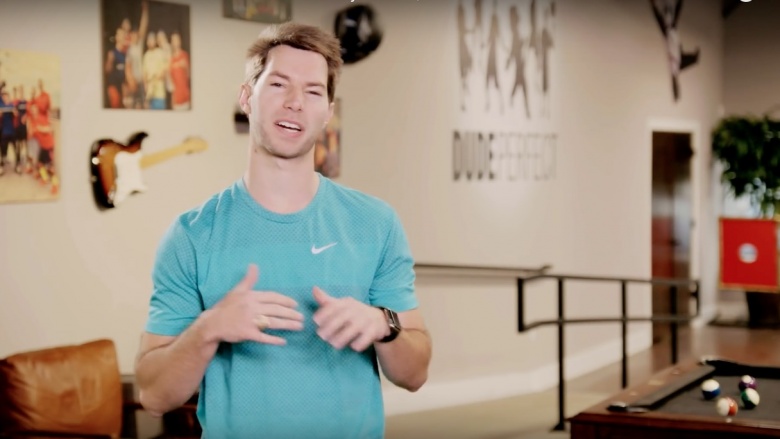 Not content with internet stardom, Dude Perfect founding member Cory Cotton is also an author. In 2011, Tyndale House published his debut self-help book Go Big: Make Your Shot Count in the Connected World. In it, Cotton not only charts the course Dude Perfect took from a collection of college students to Internet sensations, he also provides tips and pointers for other would-be internet conquerors, like "If you don't act wisely and quickly to stand out in the crowd, an idea marked with your fingerprint could easily end up with someone else's name on the package." Seriously, you don't want to wish you were the one who came up with the iPod.
They're a charitable bunch of guys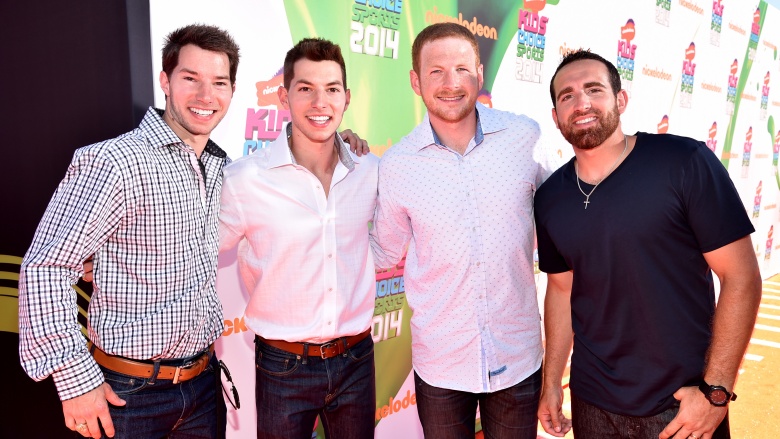 Getty Images
Just because he's a young guy riding a wave of internet millions, don't think Cotton has let it all go to his head. He and the rest of the group have made a point of giving back. They've aligned themselves with both Charity: Water and Compassion International, as they all feel they should do something more than provide entertainment. As Cotton put it, "We have this platform, and we're always thinking of the best ways to use it." Charitable works are an excellent place to start.
Cody Jones is a father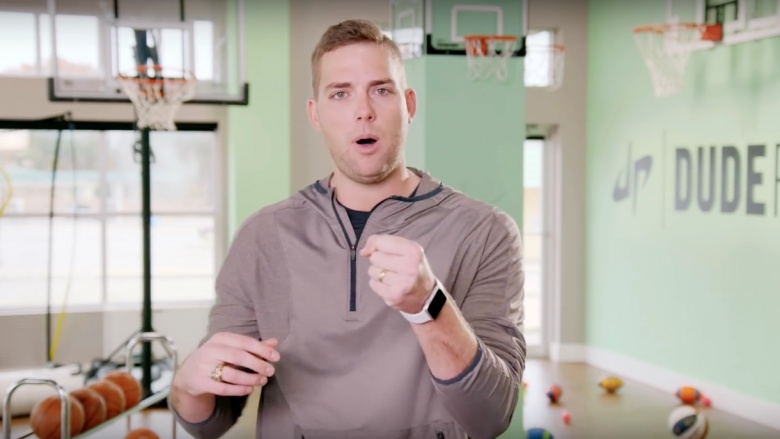 Even in a whirlwind of media attention and television deals, they still make time for their personal lives. Not only are three of the Dudes married, but in January 2016, Cody Jones told his Twitter followers he was going to be a father in June of that year. It's a good thing they inked that TV deal with CMT, because babies are expensive— and now Jones needs to start saving up for his kid's college fund.
They're Harlem Globetrotters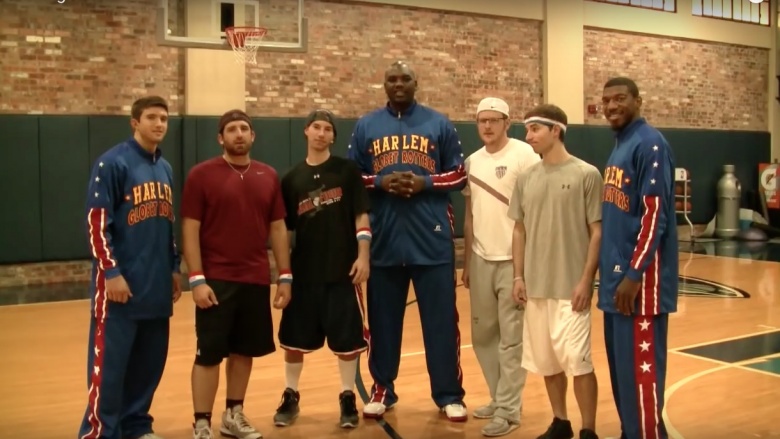 Back in 2011, the guys in Dude Perfect began a friendly rivalry with the original trickshot masters, the Harlem Globetrotters. The two teams met up at the Ranch for a game of H.O.R.S.E. The Dudes managed to impress the Globetrotters with their signature super large fishing pole shot, earning an invitation to become a part of the team during their 2015 draft. No word on whether or not the Dudes accepted the offer.
They've got beef with Guinness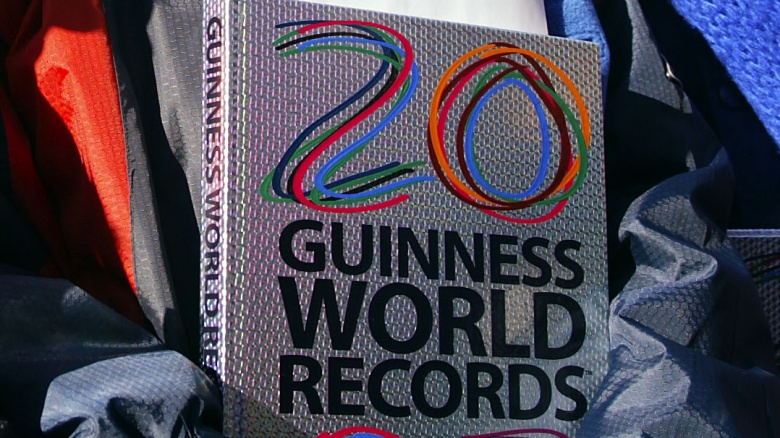 Getty Images
Well, not really, but they at least have a reason to have beef. Dude Perfect attempted to set the world record for longest basketball shot, which they did, kind of. In 2014, they sunk a 561-foot shot at Reunion Tower in Dallas, Texas. However, the folks at Guinness don't recognize this shot as the longest basket. As far as they're concerned, Harlem Globetrotter Thunder Law holds that record, which he set in 2013 by sinking a 109-foot-9-inch shot at US Airways arena in Phoenix, Arizona. As you're no doubt already perfectly well aware, 109 feet is way shorter than 561 feet. That's enough to start a Guinness boycott.
They attract international attention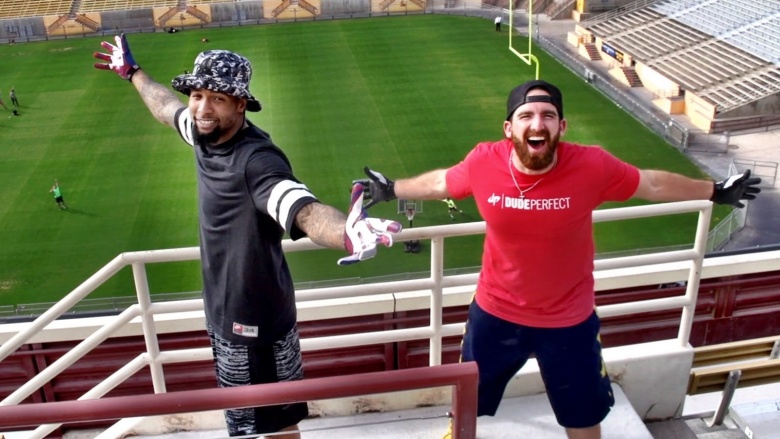 Dude Perfect's attention isn't just limited to the US. These good ol' Texans' antics are so amazing that they've caught the eyes of overseas papers, such as the UK's The Telegraph. In their article, the Brits question not only the authenticity of one of Dude Perfect's trick shots, but they cast doubt on the entire enterprise. According to the 2009 article, the members of Dude Perfect remain "elusive," despite intense media interest. Sounds like someone's upset they didn't get an interview.
They have famous fans
The Dudes have attracted quite an impressive fanbase. Celebs such as Tim McGraw, Odell Beckham Jr., and Dale Earnhardt Jr. not only enjoy their videos, but have asked to appear in them. Even everyone's favorite Ant-Man, Paul Rudd, wanted to take part in some of their amazing antics—and that's just the beginning.
The identity of the panda is a well-kept secret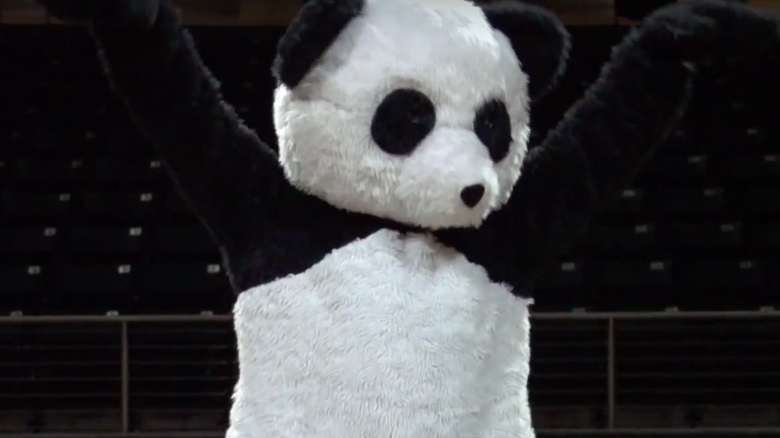 The identity of the Dude Perfect panda is one of the greatest mysteries in entertainment. There's some speculation that it's a French NYU student named Dorian Marie, who wears a panda suit to bring joy to the people of New York, but that's the problem—he's in New York, and Dude Perfect is based in Texas. It looks like the face behind the mask could be one of those things the public never discovers—like the secret base of the Illuminati, or how Steven Seagal managed to keep a perfect ponytail in all those early '90s action movies.
No one knows how they do it
Dude Perfect's trick shots are so amazing that some question whether they're the result of camera trickery. The debate became so heated that the folks at Good Morning America had experts look at some of the videos to see if any CGI or other shenanigans were used. Predictably, the experts came up with nothing, but that doesn't mean the speculation has ended.
They don't plan on doing this forever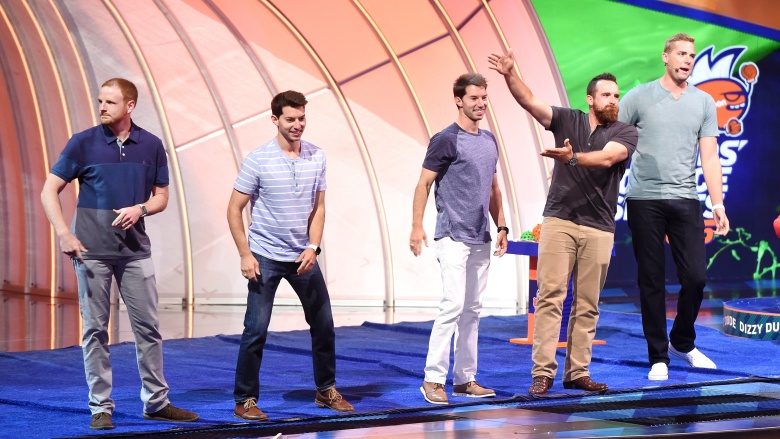 Getty Images
Though they're having the time of their lives now, the Dudes eventually want to do other things. In June 2015, Tyler Toney told The Kernel, "We don't want to be 40-year-olds on YouTube doing basketball shots." (And really, few want to see that.) But don't worry, it doesn't mean they'll disappear from the public eye entirely. Toney went on to say that he and the guys want to continue entertaining—just differently. Maybe they can turn their attention toward training the next generation of Dude Perfectors.