Why Lily James Isn't In The Downton Abbey Movie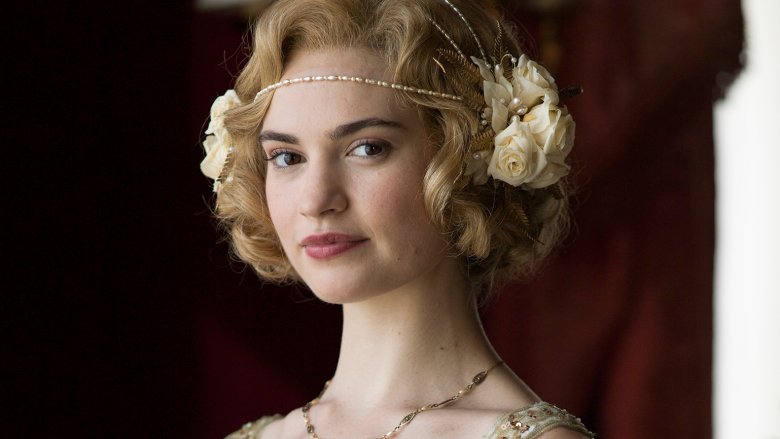 PBS
The Downton Abbey film will bring all of our favorite characters together for a big-screen adventure. Well, almost all of them. Actress Lily James won't make an appearance in the Focus Features flick, due out next year, and we finally know why.
Downtown Abbey series executive producer Gareth Naeme and creator Julian Fellowes explained to Entertainment Weekly that there wasn't just one factor that influenced the decision to keep James' character, the jazz-loving, mischievous libertine Lady Rose Aldridge, out of the film. According to the pair, the move was partly a practical one, as James' busy schedule made it nearly impossible for her to play a part in the pic, and one motivated by the desire to make the story as tight as possible. 
"She can't be [in it]; she's in every other film at the world at the moment," Neame laughed. Fellowes agreed, adding that James' recent skyrocketing to the Hollywood A-list through her roles in Cinderella, The Exception, Baby Driver, Darkest Hours, and Mamma Mia! Here We Go Again has made her "a big star" — one much brighter than she was when she joined the Downton Abbey series back in 2012. 
"It would've been incredibly difficult for her to find time in her schedule to come and play essentially a supporting role in Downton when her career was in a different place when she was with us," explained Fellowes. "In the end, we all felt it was better to leave [Lady Rose] in America."
On top of scheduling woes, there was also the issue of the movie's narrative. Neame and Fellowes shared that they hoped to keep the plot focused and center the action around characters who were still at the forefront when the series ended with its sixth season in 2015. By that time, James' Lady Rose, who first entered the fold during the end of season 3, wasn't a major player; she'd been bumped down to a recurring character in season 6 after heading off to the U.S. in season 5. 
Instead of deciding what to do with Lady Rose and how to tie her story into the collective tale for the feature, Neame and Fellowes chose to invest their creative efforts into the "very core characters" — of which there are 20 — and ensuring they're all given adequate, even attention.
"Technically, she was only a recurring character in the final season. She came in and made some visits in a couple of episodes, but her story ended at the end of the fifth season when she went off to America," Neame said. "We knew we had to focus on the very core characters because there are not very many movies with 20 leading characters, and the dynamic of the TV series was that all these characters were treated equally. That's one thing when you've got 10 or 11 hours of TV drama; another thing when it's a two-hour movie. We had to be quite disciplined about focusing on the really central characters."
James herself has said she would have "loved to come back for a scene," but it seems that her talents have attracted more studios and Hollywood executives than she can agree to work with, and that she's been spread too thin to take on even a tiny turn in the Downtown Abbey film. Though she'll be missing from the fun, the Downton Abbey team still holds her close to their hearts. "She's our greatest success story from the cast of the show," Fellowes gushed.
Downton Abbey may go without James' Lady Rose, but it touts a stuffed cast roster that will more than make up for her absence. Returning stars include Hugh Bonneville as Robert Crawley, 7th Earl of Grantham; Laura Carmichael as Edith Pelham, Marchioness of Hexham; Jim Carter as Charles Carson; Brendan Coyle as John Bates; Michelle Dockery as Lady Mary Talbot; Kevin Doyle as Joseph Molesley; Raquel Cassidy as Phyllis Baxter; Joanne Froggatt as Anna Bates; Matthew Goode as Henry Talbot; Allen Leech as Thomas Branson; Phyllis Logan as Elsie Hughes; Maggie Smith as Violet Crawley, Dowager Countess of Grantham; and many, many more. 
Get ready to head back to Yorkshire when Downton Abbey, directed by Michael Engler, arrives in U.S. theaters on September 20, 2019.