Us: First Look At Jordan Peele's Upcoming Horror Film Unveiled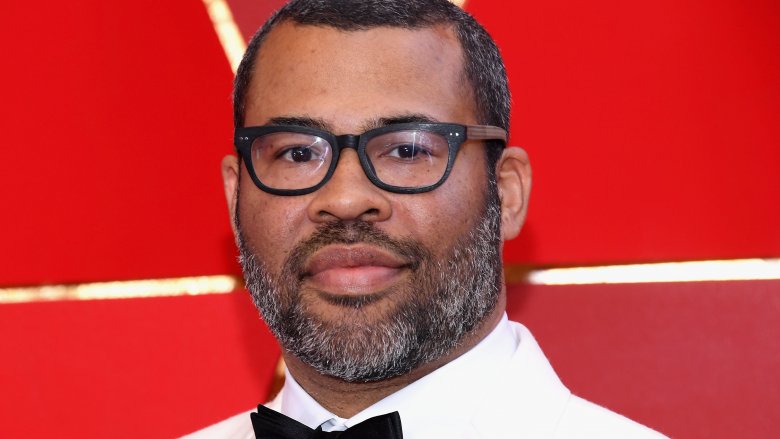 Getty Images
Jordan Peele has kept an unprecedentedly tight lip about his forthcoming horror movie Us, the follow-up to his Academy Award-winning, genre-changing social thriller Get Out and his second feature film directorial effort to date. Save for its heavy-hitting cast and a bare-bones plot summary that sparked major intrigue, very little is known about Us. But now, ahead of the film's Christmas Day trailer debut and following the unveiling of its eerie promo poster, Entertainment Weekly has revealed two first-look images from the flick — plus a brand-new plot synopsis. 
One photo gives us the first-ever glimpse of Lupita Nyong'o's character, whom we now know is named Adelaide Wilson, wearing a ripped and blood-covered white shirt while gripping a metal instrument. She's either in danger and is walking carefully through a room to attack her enemy, or she is the danger and is closing in on her target — we can't say for sure one way or the other.
The second snap from Us unveiled here is a group shot, showing Adelaide and her husband Gabe (Winston Duke) standing hand-in-hand with their two children (Shahadi Wright Joseph and Evan Alex), one of whom wears a mask over their face. Dressed in matching red jumpsuits and beige sandals, the four-person family is motionless and silent at the end of their driveway. Creepy, right?
Alongside this pair of pics, EW shared a new summary of the film's story: "The story is set in the present day and follows Adelaide and Gabe Wilson (Lupita Nyong'o and Winston Duke) as they take their kids to Adelaide's old childhood beachside home in Northern California for the summer. After a day at the beach with the Tyler family (which includes Elisabeth Moss and Tim Heidecker), Adelaide — who's haunted by a lingering trauma from her past — becomes increasingly more paranoid that something bad will happen to her family. As night falls, the Wilsons see four figures holding hands and standing silently at the bottom of their driveway..."
The outlet also detailed its conversation with Peele, Nyong'o, and Duke, who opened up about Us in a way they haven't yet before. 
"For my second feature, I wanted to create a monster mythology. I wanted to do something that was more firmly in the horror genre but still held on to my love of movies that are twisted but fun," said the director. He also mentioned that bringing the two Black Panther stars (and Yale University classmates) Nyong'o and Duke together on another film was pretty much a no-brainer. "I could see signs of them flirting online — they're both flirts in general — you could see the couple in them who would want to be together," Peele stated. "So the chemistry is just on."
Speaking of the pair's dynamic, Nyong'o and Duke's "shared history allowed them a natural closeness and shorthand" when playing Adelaide and the flawed but lovable, "Homer Simpson-esque patriarch" Gabe, who share a different kind of chemistry than do the actors. To hear Duke say it, "It was important for me to not come off as a warrior in this film. He's very sporadic and impulsive, he's the husband and the alpha, and I think that leads to some of the conflict that is in the marriage when we meet the Wilsons."
Nyong'o revealed that she had long hoped to collaborate with Peele on a feature project — "he was on my wish list of people to work with" — and explained why she boarded Us. 
"The very fact that I have not done anything like it was appealing, because it promised growth and excitement and new territory," the actress stated. Nyong'o also offered up the list of 10 horror films Peele required her to watch in preparation to play Adelaide: Dead Again, The Shining, The Babadook, It Follows, A Tale of Two Sisters, The Birds, Funny Games, Martyrs, Let the Right One In, and The Sixth Sense. Peele hoped to have a "shared language" on set, according to Nyong'o, and these movies established just that. 
As for what horrors that language creates in Us, Peele disclosed that the film includes monsters — and they have a name: the Tethered. Nyong'o also teased that the Wilsons get far more than they bargained for on their family holiday, which "turns into this relentless nightmare that taps into [Adelaide's] deepest fears and ours as well — the idea that we might be our own worst enemies."
Though Peele, Nyong'o, and Duke did speak freely about Us, they were clever and cautious with their words, keeping pretty cryptic about the whole thing and leaving much left unanswered and even more to dissect. Who — or what — are the Tethered? How do the Tethered play into the story? What's up with the spooky suits and masks, and why is Nyongo's Adelaide wearing blood like an accessory? And what about the poster for the movie? A set of gloved hands holding a pair of golden scissors? WHAT? 
Peele threw everyone for a loop with Get Out, almost entirely because of the shocking plot twist that revealed Rose Armitage (Allison Williams) as not an innocent bystander but an active villain with no moral compass, and it's all but guaranteed that he'll do something similar in Us. The trailer, set to roll out on December 25, will hand over the biggest taste of Us yet — but it's clear that what's shown will only be a tiny percentage of the full story. 
Prepare for the film that's "beyond your wildest nightmares" on March 15, 2019.