How American Horror Story: Delicate Makes Light Of This Famous Kim Kardashian Folly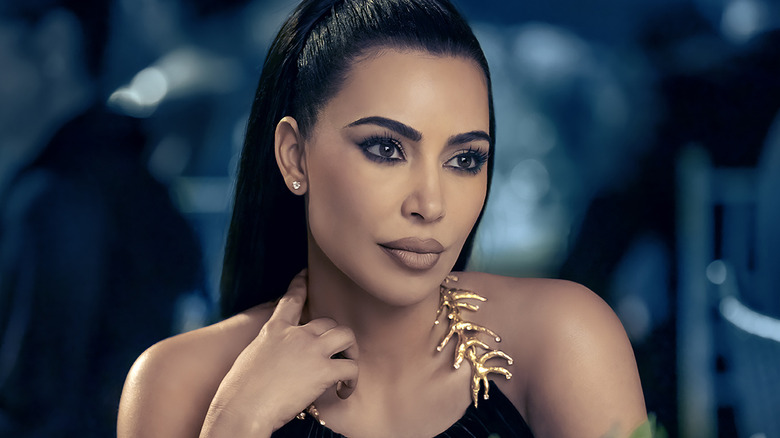 FX
Contains spoilers for "American Horror Story: Delicate" Season 12, Episode 2 — "Rockabye"
"American Horror Story" is well known for its collective sense of pop cultural humor, and is not afraid of both making fun of itself and the world around it. "1984" features the slaughter of 1980s pop band Kajagoogoo at a music festival; "Asylum" has the patients dancing and singing along to "The Name Game"; the wraparound tale for the first season of "American Horror Stories" is a metatextual callback to the show's "Murder House" season. And "American Horror Story: Delicate" enters this reference-laden arena with a plum callback to Kim Kardashian's recent past.
During the episode, Siobhan Corbyn (Kardashian) manages to borrow the dress Madonna wore to the 1991 Oscars for Anna Alcott (Emma Roberts) to spot at the Gotham Awards, where she's up for best actress. Anna is over the moon when she learns about the outfit's provenance, and Siobhan has one warning for her best friend and client regarding the piece before she tries it on — "don't rip it." This definitely seems to be a reference to an incident in Kardashian's real life; the time she was highly criticized for wearing a famous dress formerly donned by Marilyn Monroe to the Met Gala red carpet in 2022.
Kim Kardashian still isn't sorry she wore Marilyn Monroe's dress to the Met Gala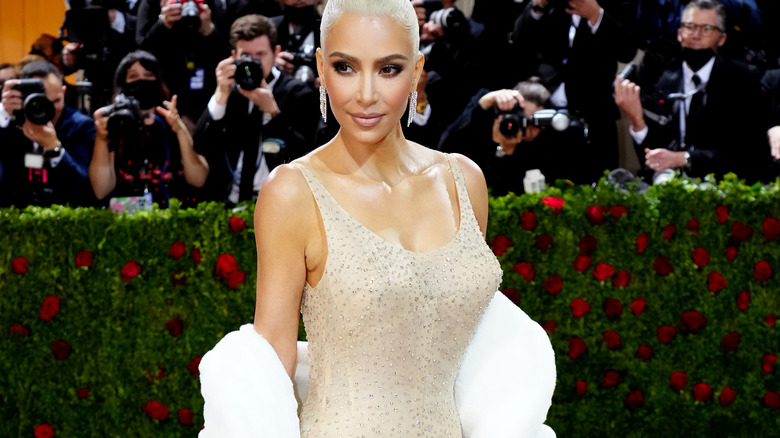 Jeff Kravitz/Getty Images
The dress Kim Kardashian wore to the 2022 Met Gala had previously been worn by Marilyn Monroe to a gala thrown in 1962 for the 45th birthday of then-president John F. Kennedy. Monroe infamously sang "Happy Birthday, Mr. President" to Kennedy during the party — a moment that has become vital to her legacy as a Hollywood seductress.
However, some Monroe fans and historians complained about Kardashian's use of the dress, claiming that the dress should be in a museum. Scott Fortner, a Marilyn Monroe expert, took to Instagram after the Met Gala to claim that Kardashian did damage to the dress, stretching it out of shape, appearing to rip it, and displacing some sequins. Some costume experts also protested the museum's choice to loan out such an important piece of American history.
Kardashian denied that the dress was ever damaged. "Ripley's [Believe it or Not Museum, the owners of the dress] [and I] worked together so well; there were handlers in gloves that put it on me," she told "Today Show" co-anchor Hoda Kotb in 2022 during an interview (via Harper's Bazaar Magazine). The Ripley's Believe It or Not! Museum backed up Kardashian's statements, adding that no damage had been done to the garment. Since its controversial time on the red carpet, the dress has been returned to its display in the museum's Orlando, Florida, location.
While Anna's evening out is a less-than-ideal experience, at least people are more focused on her precarious health — and mental state — than a couple of missing crystals.