Critical Role: What Happened To Scanlan Shorthalt After The Campaign?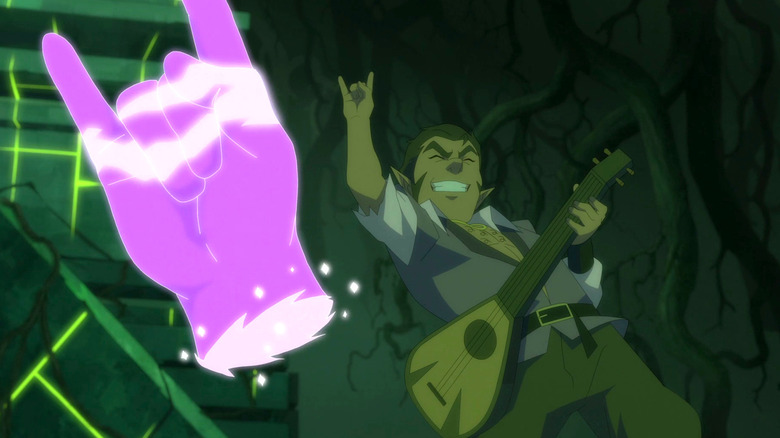 Amazon Studios
The main "Critical Role" campaigns have featured more than their fair share of memorable characters. From Grog (Travis Willingham) and Jester (Laura Bailey) to Fearne (Ashley Johnson) and Laudna (Marisha Ray), Campaigns 1-3 of "Critical Role" have given fans plenty of fantasy heroes and anti-heroes to add to their list of favorites. However, few "Critical Role" characters have made quite as lasting of an impact as Scanlan Shorthalt (Sam Riegel).
Initially introduced as nothing more than a humorous, vulgar bard, Scanlan is now considered one of the most nuanced members of Vox Machina, the central adventuring party of the first "Critical Role" campaign. Scanlan is, in fact, at the center of not only many of Vox Machina's funniest moments but also some of the team's darkest and most emotionally turbulent. While not every member of the group ultimately makes it out of their adventures alive, either, Scanlan ends up finding more love and wholesome happiness than many, including him, likely ever thought he would.
Indeed, the epilogue of "Critical Role" Campaign 1 sees Scanlan leave his criminal ways behind, find a way for his daughter, Kaylie, to complete her education, and fully commit to a romantic relationship with fellow Vox Machina member, Pike Trickfoot (Johnson). Scanlan then goes on to spend many years with both Pike and Grog and even finds time to write down Vox Machina's story in a book titled, "In the Belly of Dragons: The Legend of Scanlan Shorthalt and Vox Machina." Just because Scanlan gets a happily-ever-after-esque ending doesn't, however, mean that his life remains static in the years after Vox Machina disbands.
Scanlan and Pike's relationship takes a few unexpected turns after Campaign 1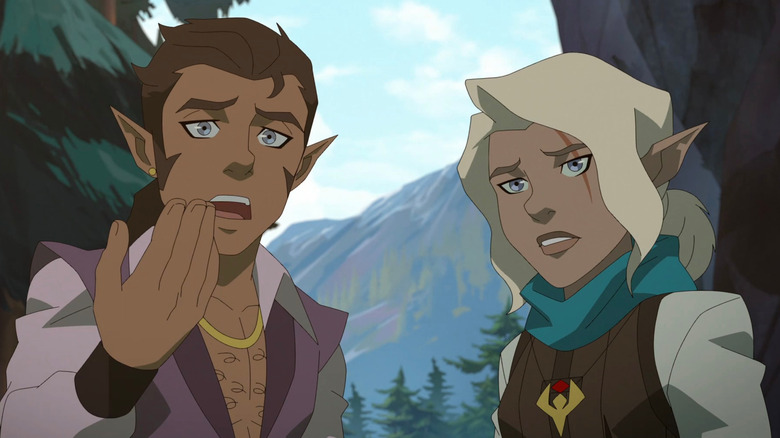 Amazon Studios
For the first few years of Scanlan and Pike's romance, it's said that everything goes fairly well. Pike even asks Scanlan to marry her at one point, to which he agrees. Grog, of course, carries Scanlan down the aisle, and the latter subsequently moves in with Pike and her best friend. While Scanlan and Pike eventually have two children together, Juniper and Wilhand'ildan, as well, they mutually decide to get divorced after their kids grow up and move out. Despite their separation, Pike and Scanlan remain close friends and sometimes even hook up when they find themselves together again.
Mostly, though, Scanlan goes back to living a life of travel and song. It's said that he spends his winters running a trading business with Kaylie and his summers in Whitestone with Pike and their friends and family members. The rest of his days, meanwhile, are spent traveling across Exandria, the fictional fantasy world of "Critical Role," spreading the word about Vox Machina and the group's adventures. In "Critical Role" Campaign 3, it's revealed that Scanlan even puts on a theatrical production in Marquet at one point, titled, "To Kill a God: The Scanlan Shorthalt One-Man Show."
All this is to say that Scanlan, who is one of the most powerful members of Vox Machina, gets an ending that is as complex, outrageous, and surprisingly earnest as him. Indeed, his life turns out to be pretty full and varied, which is undeniably impressive, especially considering his creator, Sam Riegel, famously put in very little effort when he was originally creating the fan-favorite bard.
Scanlan's origin story was inspired by a famous rapper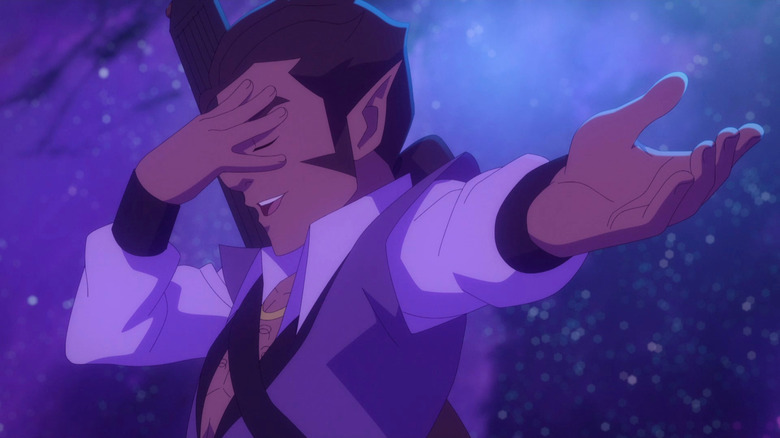 Amazon Studios
Scanlan Shorthalt was originally raised by his impoverished single mother and it's said that he had little-to-no relationship with his father. Prior to the events of "Critical Role" Campaign 1, he joined up with a nomadic musical group known as Dr. Dranzel's Spectacular Traveling Troupe. It was through his travels with Dr. Dranzel that Scanlan honed his musical skills, and it was at some point during his pre-Vox Machina days that he also unknowingly fathered his daughter, Kaylie.
Little of this will likely be news to longtime "Critical Role" fans. However, what some viewers might not know is that Scanlan's backstory was directly inspired by the life of Marshall Mathers, a.k.a. Eminem. Sam Riegel confirmed as much during a "Legend of Vox Machina" Season 2 Q&A and even went so far as to reveal that Scanlan's relationship with Dr. Dranzel was inspired by Dr. Dre's real-life mentorship of Eminem.
"[Dr. Dranzel] was part of Scanlan's backstory because I think [when] I made Scanlan's backstory... it was Eminem's backstory," Riegel admitted. "And then, you know, Eminem has a kid named Hailie." When several of the Q&A's other participants expressed surprise at his admission, Riegel responded, "You didn't know this!?! He's Eminem! He's Marshall Mathers!"
Taking all of this into account, it seems fair to say that few could have predicted that Scanlan would eventually grow from a one-note, joke of a character into one of the most beloved heroes in "Critical Role" history. While his story has seemingly been completed, too, "Critical Role" Campaign 3 has opened the door for Scanlan to potentially help save the world yet again. Fans will, however, have to wait to see whether or not that opportunity actually comes his way.