Who Plays The 'It's Not Going To Fit' Lady In The New Allstate Commercial?
A good advertisement does more than sell a product. It also pinpoints something inherent in the customer — not just as a consumer, but at the core of their character. That's the crux of Allstate's "Not Going to Fit" ad campaign, in which the protagonist, played by Dot-Marie Jones, serves as a stand-in for the company's customers. "Some people just know that's not going to fit," says the narrator in voiceover. "Those are the people who know to choose Allstate." It may not be as recognizable a campaign as the Allstate "Mayhem" guy, but it points to the coveted characteristics of someone who chose Allstate as their insurance provider: competent, confident, and decisive.
In the 30-second TV spot, Jones' character always knows when something is going to fit. She's spatial reasoning incarnate, never overcome by hubris or second-guessing. An oversized box in a car trunk? Couldn't be her. A turkey too big for the oven? Not on her watch. An ill-fitting article of clothing? She would never.
As the narrator puts it, "She's a human measuring tape and she knows Allstate is the right fit for her." Moreover, she applauds others for their own ability to know when something is going to fit. At the end of the ad, she marvels over a driver maneuvering confidently into a garage, even with a kayak affixed to the roof.
Jones brings no-nonsense swagger to the performance. It's the sort of role Jones has played elsewhere, including as Coach Kelly in "Lizzy Maguire" and Billy Eichner's colleague, Cherry, in 2022's "Bros."
Dot-Marie Jones played Coach Beiste on Glee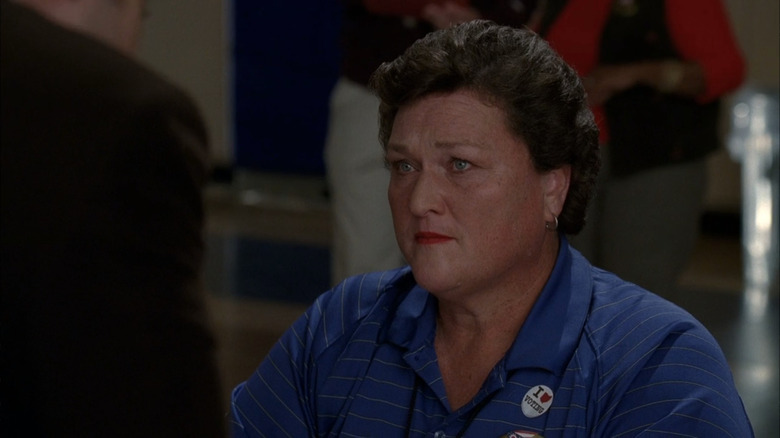 Fox
Dot-Marie Jones is tough and uncompromising in her Allstate ad, and she has the real-life experience to back it up. Before pivoting to acting, Jones was an athlete, having competed as a shot putter in college and world title-holding professional arm wrestler.
Her first acting roles showed off her athletic prowess, including a spot on the competition show "Knights and Warriors" as Lady Battleaxe. She began to book other jobs, and she secured her first recurring role in 1994 on "Married...with Children." She has since appeared on countless television shows and in movies like "The Boondock Saints" and "Weird: The Al Yankovic Story."
Jones is perhaps best known for her role as Coach Beiste on "Glee," making her debut in the Season 2 premiere. Jones nabbed the role thanks to co-creator Brad Falchuk, with whom she had collaborated on "Nip/Tuck." "I ran into ['Glee' co-creator] Brad Falchuk at Whole Foods," Jones recalled to Entertainment Weekly. "I said, 'Oh my god, I love ['Glee']!' I said, 'Please, you guys, write me something!'" She heard back about a part two months later.
Jones played Beiste through Season 6, appearing in 47 episodes of "Glee." In the final season, her character came out as a transgender man. In retrospect, the role was one of several problematic examples of LGBTQ+ representation on "Glee," and today a cis woman might not play Beiste. But, in 2015, fans largely supported the decision. Jones told People, "Members of the transgender community were saying, 'I never thought I'd see myself on TV. You have no idea what this means to me. Now, maybe people will get it.'"