Gilmore Girls: How Many Episodes Are There?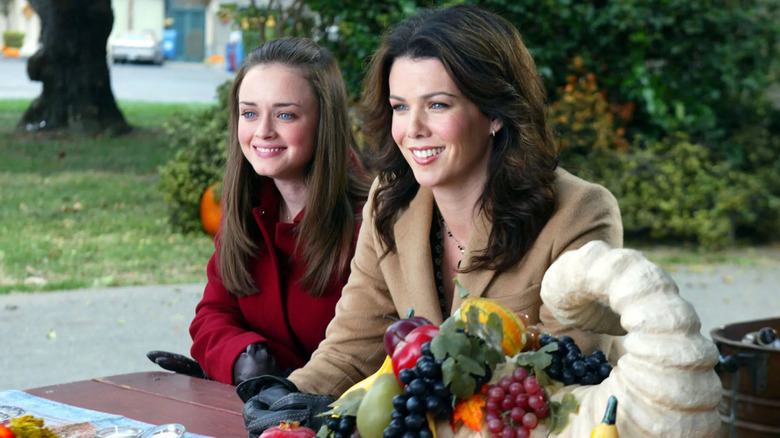 The WB
As each summer winds to a close, fans of the classic teen series "Gilmore Girls" queue up the lengthy series and start it from the beginning, returning to the fictional hamlet of Stars Hollow to hang out with Lorelai and Rory Gilmore (Lauren Graham and Alexis Bledel). The mother-daughter duo, who chatter in rapid-fire pop culture references and are rarely seen apart, are one of the most iconic family units in television history, and there's no question that the series has earned its place as one of the most popular shows not just of its time, but of all time.
So how many episodes aired during the show's original run on The WB (which later became the CW toward the end of the series' run)? The answer is a little tricky, only because you have to split it into two parts. Throughout seven seasons, the original run of "Gilmore Girls" ran for 153 episodes, but the series also got the reboot treatment back in 2016. That revival, "Gilmore Girls: A Year in the Life," ran for four super-sized episodes on Netflix. So what happens during the series' initial run, and where were the characters years later when they reunited in "A Year in the Life?"
What happens during the original seven seasons of Gilmore Girls?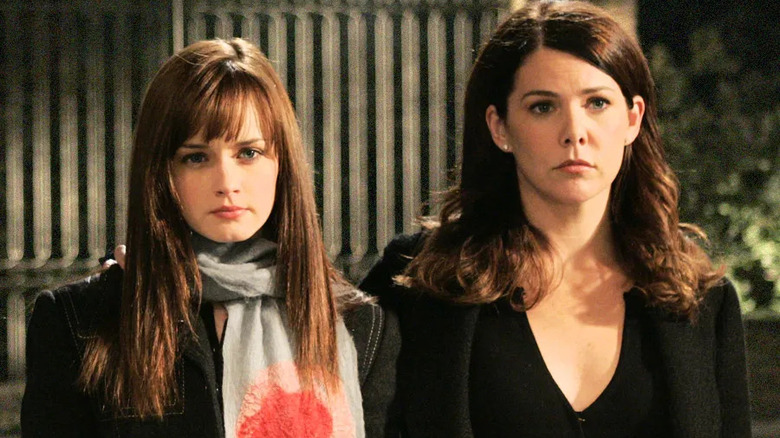 The WB
When the series opens, Rory, an uncommonly bright and well-read young woman, has high ambitions for her future: she wants to go to Harvard and become a world-renowned journalist. Her mother, Lorelai — who is also her best friend and biggest champion — doesn't have the money to send her daughter to the prestigious and highly-ranked Chilton Academy, but her parents Richard and Emily (Edward Hermann and Kelly Bishop) do, so she reunites with them and agrees to work on their relationship at weekly Friday night dinners so they'll pay for Rory to receive a top-notch education.
Throughout the series, Rory graduates from high school, ends up attending Yale instead of Harvard, and dates a few different boyfriends (and which of those boyfriends is best remains a huge sticking point amongst "Gilmore Girls" fans). As for Lorelai, she goes from managing a local inn to opening an inn of her own alongside her best friend, talented chef Sookie St. James (a pre-fame Melissa McCarthy), sticking by Rory's side along the way. She also mends — and sometimes unravels — her contentious relationship with her parents; Lorelai and Rory are both reasonably close with Richard, but Emily is a tough nut to crack, and though she loves her granddaughter dearly, Lorelai and Emily constantly butt heads. As the original series ends, Lorelai ends up with her longtime love Luke Danes (Scott Patterson), and Rory boards a bus to go work for then-Senator Barack Obama.
Gilmore Girls returned to the small screen with A Year in the Life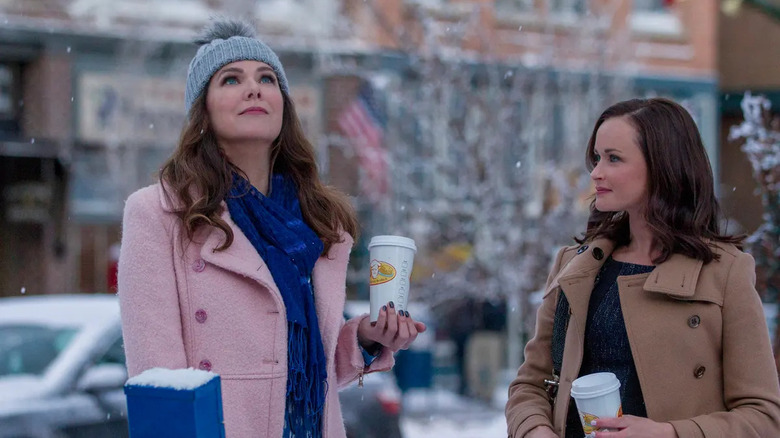 Netflix
"Gilmore Girls" wrapped up its original run in 2007, and nearly a decade later, its characters returned to the small screen for a revival subtitled "A Year in the Life." A Netflix original series, the four-part revival is split into each season of the year, and sees Rory and Lorelai years later as they navigate their adult lives — or, in Rory's case, struggle to navigate said adult life. Rory is, bluntly, a mess; she's thirty-two but lives a nomadic lifestyle as a journalist and is still carrying on a clandestine relationship with her college boyfriend Logan Huntzberger (Matt Czuchry), who's engaged to someone else. Lorelai and Luke are engaged at this point and still living happily, but once again, Emily and Lorelai are at odds because of Richard's funeral — after Edward Hermann passed away in 2014, his death was written into the show, giving all three Gilmore girls space to grieve both Hermann himself and Richard.
The reboot was divisive, to say the least, but at least creator Amy Sherman-Palladino got her original ending. As "A Year in the Life" hits its 365th day, Rory turns to her mother and reveals that she's pregnant, bringing everything full circle — Lorelai was thirty-two when "Gilmore Girls" first started. All in all, the reboot is a charming return to "Stars Hollow," that weird musical subplot notwithstanding.
"Gilmore Girls" and "A Year in the Life" are both available to stream on Netflix now.