5 Best And 5 Worst TV Moments Of 2018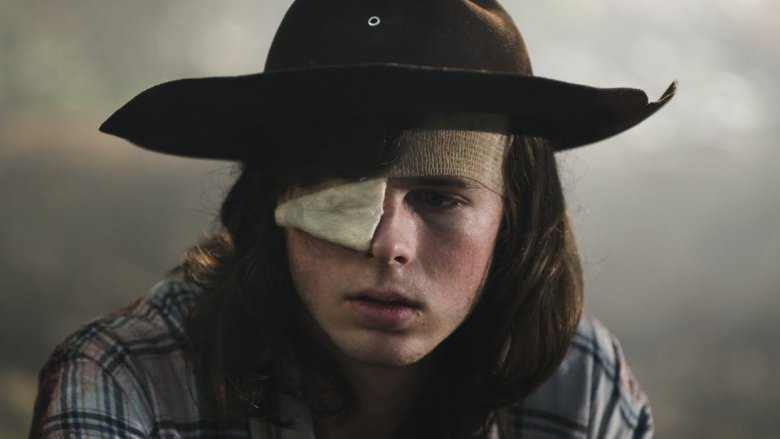 There probably hasn't been a bigger or more dynamic year in recent television history than 2018. We're fortunate enough to be living in the era of "peak TV," and the past 12 months have made for a competitive battlefield of televised entertainment demanding viewers' time and attention. New shows including 9-1-1, Black Lightning, Killing Eve, Manifest, and Who is America? made waves with audiences and critics, while millions tuned in to reboots of old chestnuts like Roseanne and Charmed. Long-running series including Scandal, The Americans, and Portlandia wrapped up, while awards shows and sporting events delivered plenty of viral live TV moments... and let's not forget all the milestone deaths.
Among all that great TV across major networks, cable channels, and streaming services, certain moments proved unforgettable. These are events that, for better or for worse, fans will be discussing for years. Here are the ten biggest television moments of 2018, the good ones and the bad ones.
Best: Fonzie wins an Emmy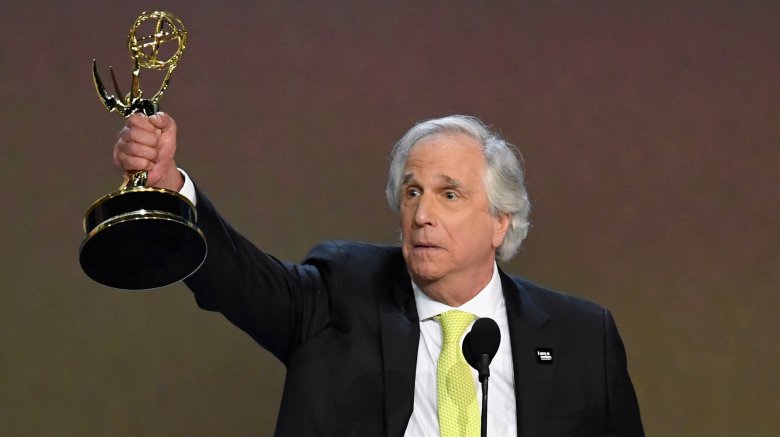 Getty Images
Henry Winkler has been a TV legend for more than 40 years. In the 1970s, he was probably the most popular cultural figure in America for his work on Happy Days portraying leather-wearing, jukebox-smacking ladies' man Arthur Fonzarelli, a.k.a. Fonzie. He received his first of six Emmy nominations way back in 1976 for playing the Fonz, but it took until 2018 for Winkler, widely regarded as one of the nicest guys in Hollywood, to finally take home that prized statue for television excellence. 
For his role as acting coach Gene Cosineau on HBO's dark comedy Barry, Winkler won the first trophy of the night at the 2018 Emmy Awards, and an audience of the actor's peers leapt to their feet as the former Fonzie exuberantly made his way to the stage and delivered his speech — the one he'd written in 1976 in the event that he won. "Jed, Zoe, and Max, you can go to bed now, Daddy won!" Winkler quipped, saying hi to his kids, all of whom are now well into adulthood.
Worst: Bill Maher criticizes everyone who likes comics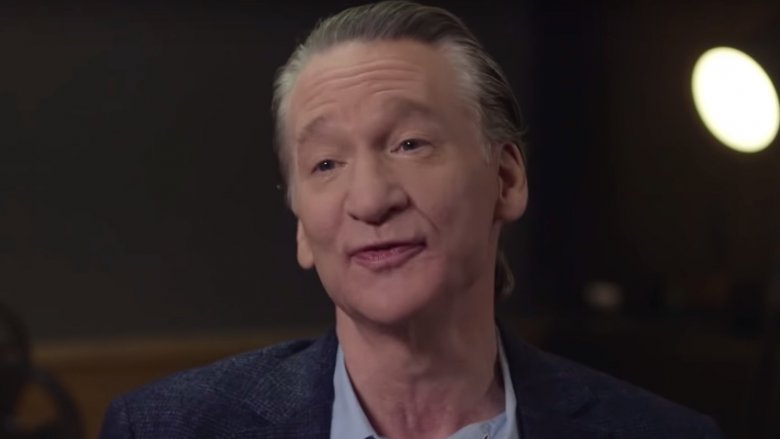 Speaking of beloved pop culture figures, prolific comic book writer and Marvel chief Stan Lee passed away in November 2018. Accolades, praise, and tributes dominated the internet for the better part of the week. And then Real Time host Bill Maher weighed in on his show blog. Maher wrote a piece called "Adulting," a disrespectful dismissal of comics and, by extension, Lee.
"The guy who created Spider-Man and the Hulk has died, and America is in mourning. Deep, deep mourning for a man who inspired millions to, I don't know, watch a movie, I guess," Maher wrote. "Now, I have nothing against comic books — I read them now and then when I was a kid," he added. "But the assumption everyone had back then, both the adults and the kids, was that comics were for kids, and when you grew up you moved on to big-boy books without the pictures."
Maher dealt with the fallout of his remarks on Hulu's Larry King Now. He didn't apologize, claiming that he wasn't even aware he'd caused a hubbub, as he "doesn't follow every stupid thing people lose their s*** about." Maher clarified that he'd meant that "a culture that thinks that comic books and comic book movies are profound meditations on the human condition is a dumb f****** culture. And for people to get mad at that just proves my point."
Best: Donald Glover hosts Saturday Night Live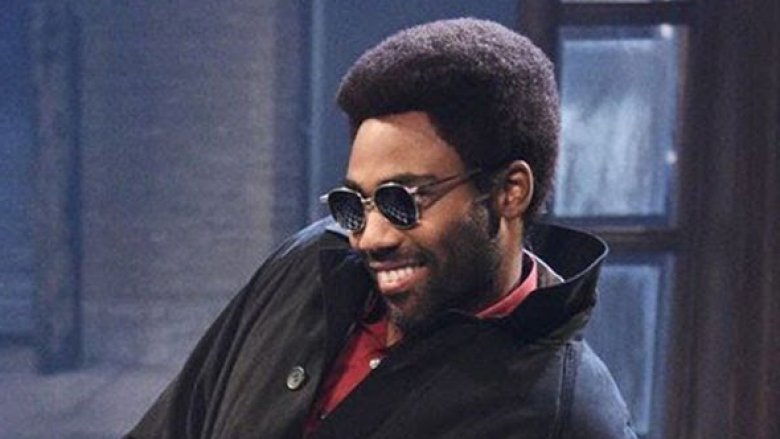 Donald Glover's first time hosting Saturday Night Live in May 2018 was timed to promote his role as young Lando Calrissian in Solo: A Star Wars Story. Glover was probably the best part of that somewhat ill-fated film, and it's still the least memorable thing the actor did all year. That's in part because he absolutely killed it on NBC's late-night institution. 
Glover did everything well. He worked broad, playing a sleazy lawyer defending Jurassic World over the many violent dinosaur-related deaths for which it was certainly liable. He did musical comedy in a high-concept sketch as Razz P. Berry, a scorned man who steps out of an '80s music video to exact revenge on who he (very wrongly) thinks is a cheating girlfriend. Glover also served as the musical guest under his stage name, Childish Gambino, debuting the single "This is America," which went on to be one of the biggest and most controversial songs of the year.
Worst: Robin isn't so keen on Batman anymore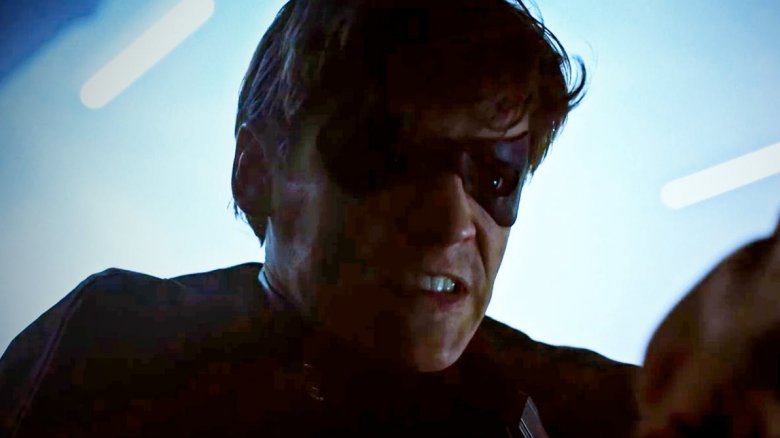 Titans is the flagship show of DC Universe, the comic conglomerate's new video streaming service. Unlike the sensitive characterizations and dramatic action of Teen Titans or the wacky comic stylings of Teen Titans Go!, this latest televised iteration of the Justice League-adjacent team up of young superheroes aims to be as dark, unsettling, and nihilistic as Christopher Nolan's Dark Knight trilogy. 
One notable difference between that DC-based property and this one: the complete and total lack of Batman. It does, however, feature Robin as a main character, portrayed by Brenton Thwaites. He sets the tone for the series in a moment so significant that it made its way into the series' trailer. As the Caped Crusader's famous charge and sidekick Robin beats up a bunch of street toughs, the subject of the Boy Wonder's presumed boss is broached. Robin responds, "F*** Batman." Holy eye-rolling at a show trying way too hard to prove how edgy it is, Batman!
Best: Katt Williams heads south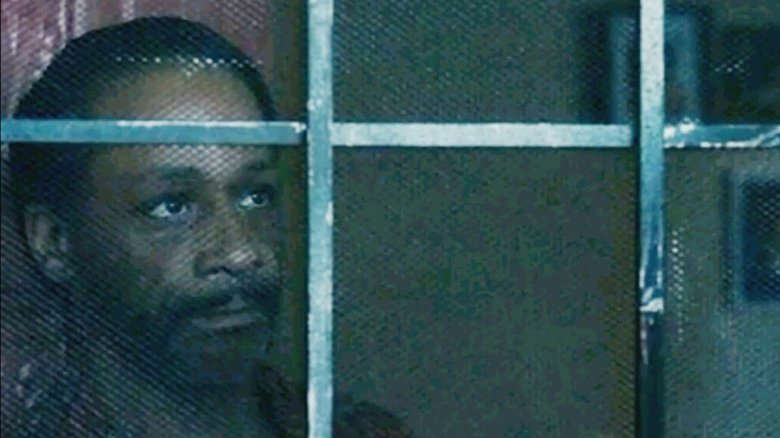 Donald Glover's Atlanta is an ambitious, genre-bending show about African-American life in its titular southern metropolis. Viewers never quite know what's going to happen in any given episode. Case in point: the surprise appearance of boisterous stand-up comedian Katt Williams, who, nearly unrecognizable without his signature flashy stage clothes or routines about "pimpin'," turns in a compelling dramatic performance. 
In the episode in question, main characters Earn (Glover) and Darius (Lakeith Stanfield) find themselves in the home of Earn's sketchy uncle, Willie (Williams), otherwise known as the Alligator Man due to the legend that he keeps a live alligator on the premises. That becomes a pressing concern after Willie's girlfriend calls the police over a dispute involving a missing $50. The ensuing standoff reveals Willie does indeed have that gator, which emerges as the man suffers a breakdown that's alternately funny and tragic.
Williams won an Emmy for Guest Performer with this amazing one-shot, beating out both Glover and Bill Hader's SNL hosting stints and Bryan Cranston's appearance on Curb Your Enthusiasm.
Worst: Justin Timberlake at the Super Bowl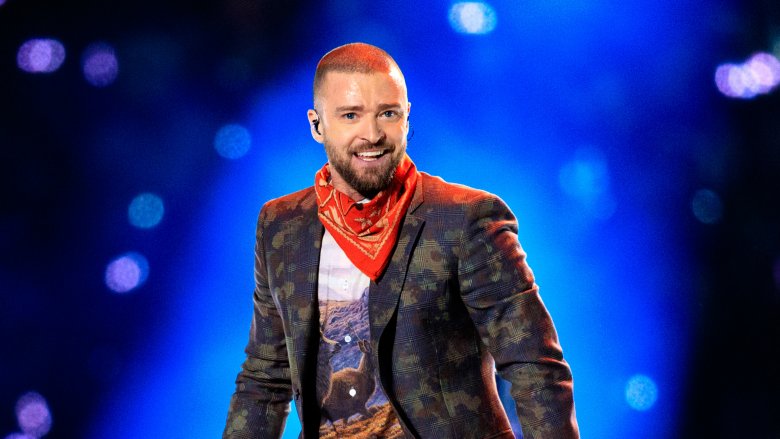 Getty Images
A musician performing at the Super Bowl halftime show is going to get criticized and scrutinized simply because of the magnitude of the gig. More than 100 million people tune in to watch the game, and those singers better bring their A-material. In 2018, Justin Timberlake headlined the mid-game spectacular for the first time since 2004, when he notoriously tore off a piece of Janet Jackson's costume, exposing part of her breast to the massive TV audience.
While dressed in a camouflage outfit that made him hard to see and a red bandana that made him look like a golden retriever, Timberlake pushed his way through a medley of hits like "Rock Your Body" and "SexyBack." He had reportedly planned to employ a Prince hologram in his set (the Super Bowl was to be played in the Purple One's hometown of Minneapolis), but canceled it after objections from, among others, Prince collaborator Sheila E. and even Prince himself, who once remarked that a technological re-creation of a dead musician would be "the most demonic thing imaginable."
But Timberlake didn't back off the Prince issue entirely. He covered the musician's hit "I Would Die 4 U" alongside an image of Minnesota's finest projected onto a sheet. It only served as a reminder of the controversy, not to mention that time Prince gave a far superior performance at the halftime show of the 2007 Super Bowl.
Best: Carl Grimes dies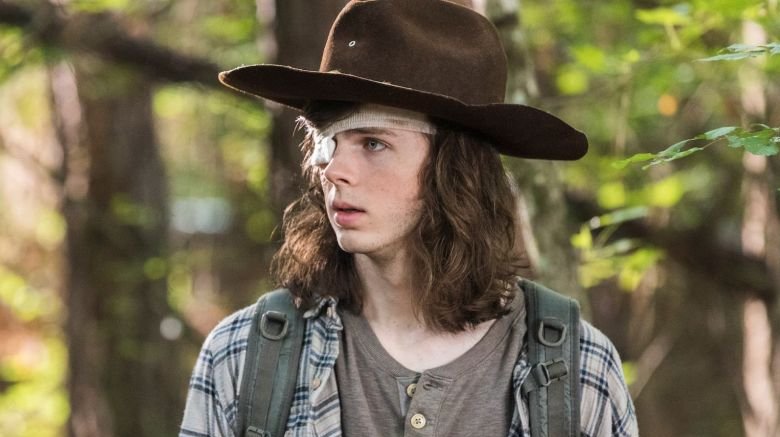 Death is a major part of The Walking Dead, of course. It's set in a world in which vast populations of humans have become zombies, eager to claim long-running characters into their dark army. One of the show's toughest deaths ever went down in 2018. Why was it so excruciating yet heartbreakingly beautiful? Because it was the death of Carl Grimes (Chandler Riggs), a character who'd been with the show from the beginning, who represented hope for the future, and who was still basically a child. 
Carl endured so many tragedies on The Walking Dead, particularly the death of his mother while giving birth and the violent loss of his own right eye. Almost all the while, he remained strong, confident, and brave, standing tall in his father's old sheriff's hat. He and his little sister Judith were literally the only reason why Rick (Andrew Lincoln) never completely fell apart. 
In the end, Carl grows terminal — and ends it all — in ways that reveal his inner decency. After leaving Alexandria to help Siddiq (Avi Nash) mercy kill zombies in order to free their souls, Carl endures a fatal walker bite. That gives him time to put his affairs in order — bonding with Judith and writing poignant letters to his loved ones — before shooting himself off-screen to spare the others from having to take him down.
Worst: Rick Grimes doesn't die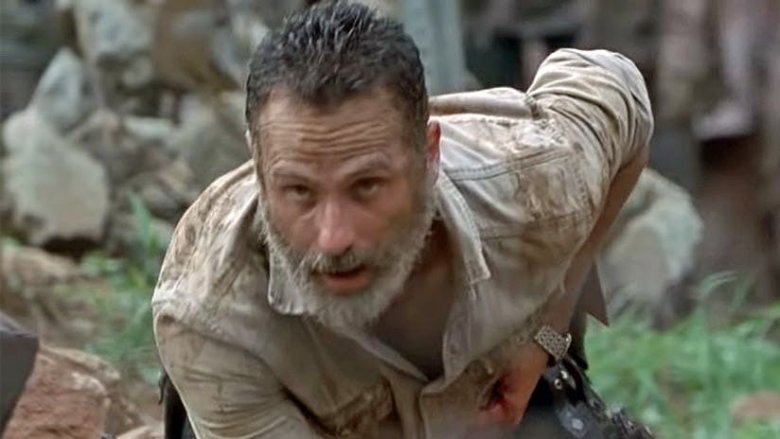 Once a ratings blockbuster, The Walking Dead gradually shed millions of viewers who were tired of being manipulated by narrative stunts. In 2015, the show killed off Glenn Rhee (Steven Yuen) when he fell off a garbage bin into a horde of Walkers. Yuen's name was even removed from the credits, but then, surprise! Glenn didn't die — against all logic, he hid under that trash receptacle and survived. A few months later, the show ended its sixth season on a cliffhanger. Despite advertising that ultimate villain Negan would definitely kill a main character, the episode cut to black before the victim's fate was revealed.
In late 2018, The Walking Dead once again messed with fans. Earlier in the year, star Andrew Lincoln announced that he'd leave the show in a few months time. AMC heavily promoted the last episodes featuring Rick Grimes. Most viewers assumed he'd die, and it looked like he would, too — he blows up a bridge to kill some zombies, and gets impaled on metal. That's when he's airlifted to safety. Nope, Rick didn't actually die, and right after this episode aired, AMC announced that Lincoln would go on to star in three Rick Grimes movies. It wasn't a sendoff at all... just a set-up for a spin-off.
Best: Adventure Time runs out of time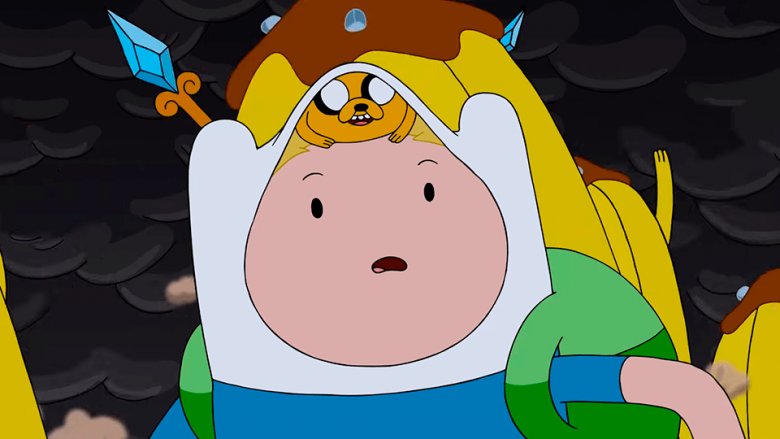 It's strange and uncomfortable to consider a world without Adventure Time. Pendleton Ward's wildly imaginative, funny, tragic, and strange Cartoon Network series changed the game for TV animation upon its debut back in 2010. Over nearly 300 episodes, it created an elaborate post-apocalyptic land called Ooo, filled with all kinds of memorable characters, from Jake the Dog and Finn the Human to the Ice King, from Marceline the Vampire Queen and Princess Bubblegum to BMO and Lady Rainicorn.
In the one-hour final episode, the Great Gum War ends not with the horrific violence of the Great Mushroom War (which led to the Land of Ooo's formation), but with peace, as the leaders of the two factions agree to rule in tandem. But then GOLB, the most evil thing in existence, sees that calm as an opening to return, and does all kinds of awful things, including absorb Betty and strip the Ice King of his powers. In the end, goodness wins out, and viewers see the future ruler of Ooo — BMO! — tell the story of the war to two young adventurers named Shermy and Beth, who bear a striking resemblance to Finn and Jake. It was a thrilling (if bittersweet) finish to a show that already ranks among modern classics.
Worst: Queer Eye for the terrified guy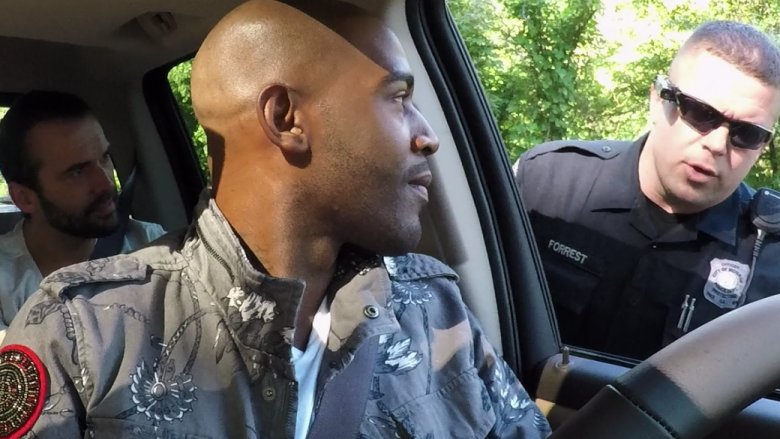 Reboots were huge in 2018, including the return to TV (or to Netflix, rather) of the 2000s pop culture sensation Queer Eye for the Straight Guy. Both then and now, the show sends five gay-identifying lifestyle experts to help slovenly hetero dudes clean up their acts and their lives. The 2018 version turned down the camp and turned up the emotion, as a brand new "Fab Five" helped individuals get their lives on track, making connections across race, religion, and economic status, demonstrating that healing was possible in a divided culture.
But one moment rang totally flat, reminding viewers that this particular reality show is very real. On the third episode of the Queer Eye reboot, the gang piles into a car to go help out a Georgia police officer named Cory. Before they get there, a cop pulls them over. Cast member Karamo Brown, an African-American man, is behind the wheel, and viewers can see his face fall flat as he faces a situation with the potential to get tense at best. The officer sternly approaches the vehicle and asks Brown to get out, which Brown's co-stars firmly protest. But hey, don't worry, it's all a joke! This cop is just Henry, the one who nominated his friend, and someone who really doesn't understand that making marginalized people feel threatened isn't all that funny.