Better Call Saul Actor Admits To Cutting Off His Own Hand, Lying About War Veteran Identity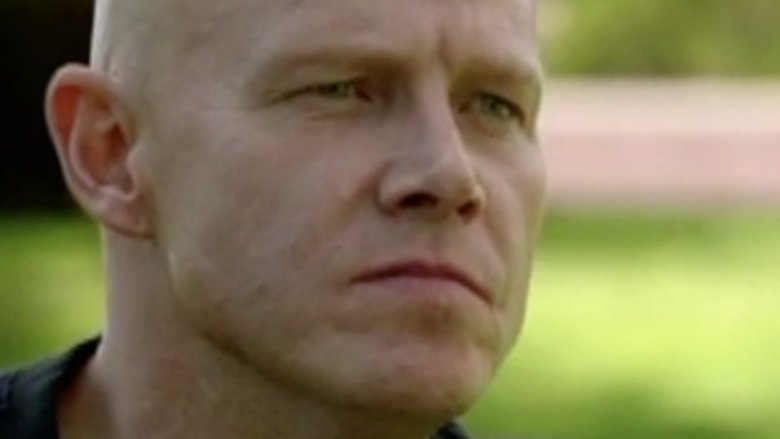 This Better Call Saul actor has some explaining to do. 
Actor Todd Lawson LaTourrette's status as a war veteran and his missing hand has helped him carve out a decent career in Hollywood. It's a somewhat unconventional angle from which an actor can sell themselves to television producers and movie casting agents, but it worked for LaTourrette, who scored parts in the romantic drama A Bird of the Air, the war comedy The Men Who Stare at Goats, and the crime comedy Beer for My Horses, as well as on series like Manhattan, Longmire, The Messengers, and, most recently, the critically acclaimed Better Call Saul. 
Fans of the Breaking Bad spin-off series will recognize LaTourrette as the one-handed man described as a "Skell" in the show's credits. Jimmy McGill (Bob Odenkirk) meets up with LaTourette's character during the season 4 episode entitled "Quite a Ride," which aired on AMC on September 3. LaTourrette scored the gig due in part to his missing appendage, which he previously claimed was the unfortunate outcome of an injury he sustained while serving in a war overseas.
But, as it bizarrely happens, that was a total lie. 
Speaking with NBC-affiliated television station KOB4 based in Albuquerque, New Mexico, LaTourrette revealed that he isn't really a war veteran and that he didn't lose his hand and part of his arm during active duty. In reality, he cut off and subsequently cauterized his own limb and then lied about his identity as a military vet in the hopes of landing roles in film and on television. LaTourrette's falsified claims and fabricated identity worked in helping him achieve his goal, but the guilt his fibbing left him with far outweighs the benefits he's reaped. 
"I severed my hand with a skill saw [sic]," said LaTourette, explaining that the incident took place 17 years ago, in 2001, during a period of time in which he wasn't taking prescribed medications meant to help manage his bipolar disorder. "The state of my mind was a psychotic episode."
He added that the "film industry obviously took a different angle" to him being an amputee, believing him to be unique and never questioning the actual sequence of events that led to LaTourette losing his hand and part of his arm. Everyone simply took his word at face value. According to LaTourrette, industry executives even "liked" that he only had one hand and thought he was "different." 
That attention and praise may have felt good in the moment, but it didn't last forever, and left LaTourrette with a huge level of moral culpability.
"I was dishonorable. I'm killing my career by doing this. If anyone thinks this was for personal edification, that's not the case," he said. "I'm ousting myself from the New Mexico Film Industry. And gladly so, just to say what I've said."
LaTourette, who is reportedly back on his bipolar disorder medication as of this writing, noted that he's fully aware of the consequences and fallout that will result from his confession, but felt it was crucial to come clean. He was also candid in stating that he doesn't expect anyone to forgive him for his wrongdoings, but he remains hopeful that him opening up about his struggles with mental illness and the extremes his bipolar disorder drove him to will motivate others to seek help if they need it.
"The power is in your hands to take your medication in the morning, or at night. So that, this, this discourse of my life doesn't need to necessarily be yours. Because, it happens quick... it happens quick," LaTourette said.
Surprisingly enough, this is hardly the first time an actor has lied in efforts to land a part. Actress Laura Fraser fibbed to Breaking Bad producers when auditioning for the role of Madrigal Electromotive GmbH Head of Logistics Lydia Rodarte-Quayle, answering with an unmistakable "Ja!" when they asked her whether she spoke German. While Fraser knew the basics of the language, she definitely wasn't fluent in the "corporate-speak German" Lydia spoke on the show.
Likewise, Academy Award-winning actor Eddie Redmayne told a lie when trying to score a part on the television series Elizabeth I. Redmayne gave director Tom Hooper a piece of misinformation that wound up biting him in the butt later, telling him that he had ridden a horse before when he actually hadn't. 
These are, of course, far tamer mistruths than the ones LaTourette told, but they all prove the same thing: if you want to make it in Hollywood, it's best not to lie your way in. 
If you or someone that you know is struggling with mental illness, call the Substance Abuse and Mental Health Services Administration's national helpline at 1-800-662-HELP (4357), visit the National Institute of Mental Health online at nimh.nih.gov, or call the National Suicide Prevention Lifeline at 1-800-273-8255.