Netflix Renews Castlevania For Season 3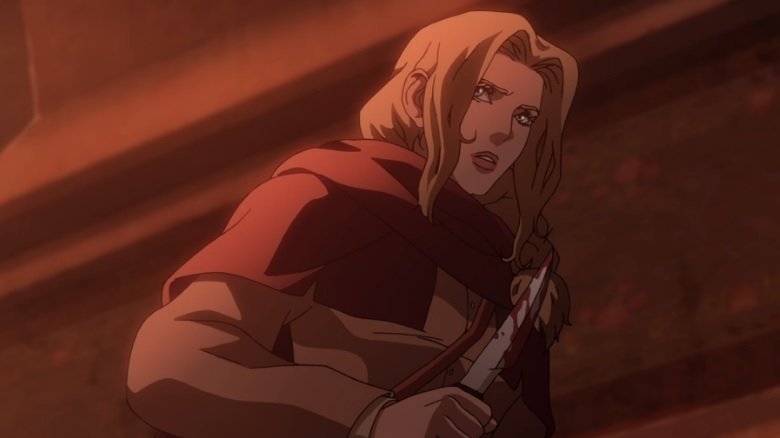 A vampire hunter's work is never done.
Deadline has reported that Netflix ordered a third season of their animated dark fantasy series Castlevania mere days after the second season's premiere. Lead voice actor Richard Armitage spilled the beans to Digital Spy on the eventuality of a third season back in June, but nothing was official until today.
The series follows Trevor Belmont (Armitage), the last surviving member of the disgraced Belmont clan, as he attempts to rid the region of Wallachia of the threat posed by Dracula, who has vowed revenge on all of humanity following the death of his beloved wife. In addition to Armitage, the series stars James Callis (Battlestar Galactica), Tony Amendola (Once Upon a Time), Matt Frewer (Orphan Black), Emily Swallow (Supernatural), and Graham McTavish (the Hobbit trilogy) as Dracula.
Netflix continues to demonstrate its faith in the series, as the third season will consist of ten episodes — up from eight in the second season and only four in the first. The second season ended (spoilers) on an interesting note, as Trevor and Adrian Tepes, also known as Alucard — son of Dracula, and also a vampire — teamed up to foil Dracula's invading army. The two then went their separate ways, but according to Armitage — who apparently is as fond of egregious spoilers as Tom Holland —  they haven't seen the last of each other. In his gabfest with Digital Spy, he said, "The son of Dracula and my character [will] get much more collaborative. I think that's one of the most exciting things, they start to really work together."
Well, now that we have some idea what to expect, let the waiting game begin. If history is any indication, we can expect to see Castlevania season 3 hit the small screen around this time next year — a pretty long wait for fans, but a small price to pay for a continuation of one of the best video game adaptations we've ever seen.