October 2018 Trailers That'll Get You Excited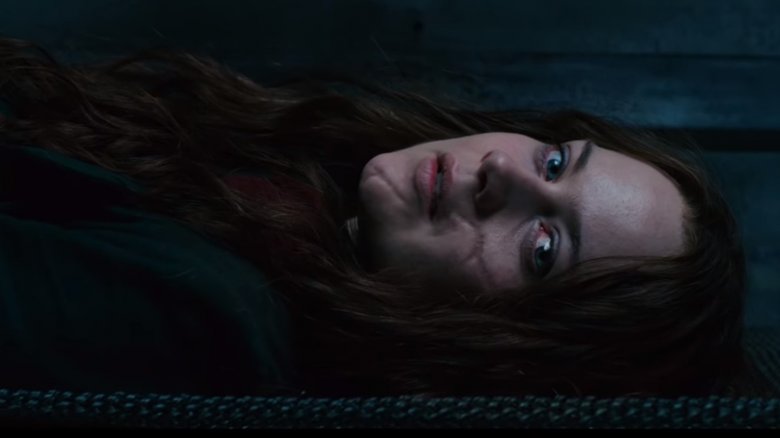 October saw the release of several great new movies. From Venom to Halloween to Bad Times at the El Royale, it's been a packed month for filmgoers, there's no doubt about that. But for all the new films that hit theaters this month, October also brought about a ton of new trailers for even more movies on the horizon. We got another action-packed look at Peter Jackson's Mortal Engines, saw an extended trailer for Aquaman, and witnessed our first glimpse at 2019's chilling Pet Sematary reboot.
As a matter of fact, we're seeing trailers for movies being released well into 2019, offering a glimpse at what looks to be another amazing year at the movies. It's going to be filled with everything from superhero epics to gritty dramas, and all genres in between. So buckle up — here are all the best October trailers for upcoming movies that will blow you away.
The Possession of Hannah Grace — November 30
"The Possession of..." is one of those horror formulas that will probably never go away. The general idea is usually the same: someone has a name, and then they get possessed. That's about what we can probably expect from The Possession of Hannah Grace, but with an interesting twist. This film focuses on a morgue worker who receives the body of a girl who died in the middle of her exorcism.
Since all the boring priestly exorcism parts have already happened, the movie can get right down to the horror of a demonic cadaver stalking people through a creepy underground morgue. The trailer promises a movie filled with fun horror effects, like an unnaturally twisted body that crawls around on the floor and blurred shapes climbing the walls in the background. None of it breaks new ground, but The Possession of Hannah Grace might just be creepy enough to pull it all off one more time. Check it out on November 30.
The Mule — December 14
It's a fact: nobody can direct Clint Eastwood like Clint Eastwood, and he's setting out to prove it once again with The Mule. The film revolves around an elderly man named Earl (Eastwood) who's down on his luck, so he agrees to a simple job that involves driving a package from one place to another. Easy enough, until he realizes that the package is a big bag of drugs, and he's just been roped into being a mule for a violent cartel.
The trailer sets up a gritty yet heartbreaking drama that puts Eastwood front and center as a normal guy who gets in way over his head, and has to deal with the consequences. As someone who's known for playing tough guys in total control, this is definitely a different type of role for Eastwood. Bradley Cooper co-stars as a DEA agent who begins to suspect that there might be more to this kindly old man than meets the eye. Check out The Mule in theaters on December 14.
Mortal Engines — December 14
December is shaping up to be an epic month for cinemas. Aquaman, Bumblebee, and Mary Poppins Returns are all vying for top spots at the box office that month, and all those franchise titles will be joined by a brand new movie property: Mortal Engines. Produced by Peter Jackson and based on the bestselling book series, this is clearly a movie that begs to be seen on the big screen.
Centuries into the future, the world has devolved into a wasteland where mobile cities roam the landscape, preying on smaller cities and consuming them for resources. London is the biggest behemoth of them all, and it's up to a young woman named Hester Shaw to stop the roving city before it can do...really bad things. Honestly, we're not entirely sure why London is so evil, but it probably has something to do with Hugo Weaving.
Mortal Engines rolls into theaters on December 14.
Spider-Man: Into the Spider-Verse — December 14
Whatever Sony's trying to do with Spider-Man: Into the Spider-Verse, we love it. This animated film brings Miles Morales to the big screen as an alternate reality Spider-Man who discovers that there's a multiverse out there filled with different versions of the web-slinging hero. From Peter Parker to Gwen Stacey to the one and only Spider-Ham, Miles' world just got a whole lot bigger and a whole lot weirder. The various spider-people all so different from each other, but they'll have to learn to work together to save the world from the devious schemes of Kingpin.
From a fresh, comic-inspired animation style to an all-star voice cast that includes Liev Schreiber, Hailee Steinfeld, and Nicolas Cage, there are plenty of reasons to get excited about this unconventional entry in the Sony Spider-series. Check it out when Spider-Man: Into the Spider-Verse swings into theaters on December 14.
Aquaman — December 21
Aquaman hype is building to tidal proportions, due in no small part to the extended trailer that Warner Bros. released at the beginning of October. The five-minute-plus video includes an extended clip showing Aquaman and Mera discovering Atlantis — in the Sahara, of all places — and learning about the mystical trident that can unite the lost city.
Then, there's a few more quick action shots before we're treated to another extended look at Aquaman and Mera's rooftop battle and Black Manta, a clip which showcases some serious cinematography via a lengthy tracking shot filled with glorious action. Also, you may notice that this trailer has a lot of color and bright lights, which is a bold new direction for DC. It's clear that director James Wan is striving to bring something fresh to the DCEU, and Aquaman is bound to make a splash when it swims into theaters on December 21.
Bird Box — December 21
There's something strange happening to the world in the first trailer for Bird Box, an upcoming Netflix original starring Sandra Bullock, John Malkovich, Sarah Paulson, and Trevante Rhodes. When people start losing their minds en masse, it appears that an evil entity is roaming around and making people see their worst nightmares, driving them to take their own lives. The only way to stay sane is to...well, not look at the thing, whatever it is.
The trailer starts with Sandra Bullock's character, Malorie, in a hospital, witnessing the brutal beginnings of this strange apocalypse. We then see her taking shelter in a house with a small band of survivors. After that, Malorie has to embark on a perilous journey with her two kids, and she has to do it completely blindfolded. It sounds like a unique premise that could definitely pay off, and you can check out Bird Box when it hits Netflix on December 21.
Escape Room — January 4, 2019
If you aren't up on the fads of the past few years, escape room games are simple: you're locked in a room, and you have to search for clues that will help you get out of that room. They started as little point-and-click computer games, and became so popular that real-life escape rooms have been popping up everywhere. You get together with a bunch of friends and try to escape before the time runs out. It's a unique way to spend an evening, kind of like a modern day murder mystery dinner party. 
Anyway, people love this stuff, so of course it was only a matter of time before a studio decided to turn this minor phenomenon into a horror movie. In Escape Room, a bunch of strangers all show up to play a mysterious new version of the game. The prize: a million dollars. The twist: if they don't solve each room's puzzle, they die a horrible death. Fun! You'll get your chance to escape the room when the movie hits theaters on January 4, 2019.
Glass — January 18, 2019
The second trailer for Glass has dropped, revealing more of M. Night Shyamalan's upcoming crossover. The movie is a bold step for Shyamalan, and we've been excited about it ever since Split revealed itself as a surprise sequel to Unbreakable. This new preview just gives us more reasons to get hyped.
It appears that since we saw him last, Samuel L. Jackson's Mr. Glass has been stowed away in a psychiatric research facility and locked up with the only sort of "prison" that could hold him: heavily sedating drugs. In fact, it looks like the facility has managed to round up all the superhumans — Glass, Bruce Willis' David Dunn, and James McAvoy's Kevin Crumb — and put them in one place. In a situation like that, it's only a matter of time before the villains get together and hatch a scheme to break out.
If the trailers are anything to go on, Glass could continue the Shyamalan comeback that began with 2017's Split. Take a look when Glass breaks into theaters on January 18, 2019.
The Prodigy — February 8, 2019
The teaser trailer for The Prodigy opens on a young boy listening to a therapist trying to put him under hypnosis while a metronome ticks ominously in the background. It all seems fairly normal at first, as the therapist tells him to go back deeper and deeper into his memories...until he finally tells the boy to go "back to the time before this body."
Uh-oh! There's definitely something supernatural going on here. After that, the trailer switches gears to the boy's mom waking up in the middle of the night to see her creepy son standing in the darkness, leading to an admittedly unique jump scare that ends the trailer with a bang. What's the movie about? We have no idea, but that boy sure isn't normal. Taylor Schilling of Orange is the New Black headlines The Prodigy, costarring with Jackson Robert Scott, who you may recognize as the little boy who got his arm eaten by a clown in It. Prepare for the scares when The Prodigy lands in theaters on February 8, 2019.
Pet Sematary — April 2019
It looks like the 21st century Stephen King renaissance is still grinding along, as Paramount Pictures just released the first trailer for Pet Sematary. This will be the second adaptation of King's book, following in the footsteps of the 1989 version. It's a story as old as time: when a doctor's son dies, he brings the boy back to life with the help of evil forces in an old pet cemetery.
Whether or not the movie brings anything new to the story, it's at least an opportunity to give the tale a long overdue visual update. The trailer builds on the tension with quick cuts and a lot of shots of kids in creepy masks, and all in all it looks like a fun horror movie. Jason Clarke and John Lithgow star, and the reboot is being directed by Kevin Kosch and Dennis Widmyer, who previously co-directed 2014's psychological thriller Starry Eyes. Look for Pet Sematary's theatrical resurrection in April 2019.
The Curse of La Llorona — April 2019
What is La Llorona? She comes from an old Mexican legend, which says that she was once a woman who drowned her children in a river. Now, she's a ghost, and she cries all the time because of what she did to her kids. Supposedly, anyone who hears her sobbing will get into an accident and probably die. That's basically the premise of Warner Bros.' upcoming horror film The Curse of La Llorona: a bunch of people are haunted by a crying ghost woman. The trailer spends a lot of time making sure you know what the ghost is, then offers a few creepy moments and some jump scares.
It's produced by James Wan, who seems to be slowly taking over Warner Bros. like an Australian jungle vine. Hopefully that means we can expect good things from this creepy-looking horror movie. On the other hand, Wan also produced The Nun, and that scared about as many people as its name suggests: none. We'll see. Look for The Curse of La Llorona in April 2019.
Rocketman — May 2019
It's an interesting time for music biopics. The story of Freddie Mercury had a long road to the screen, but if Bohemian Rhapsody doesn't rock you this fall, there's a good chance Rocketman will next summer. October's brief teaser for this Elton John biopic bills it as a film "based on a true fantasy," and the trailer seems to support that claim, showing off a movie that blends a good dose of imagination into the story of the legendary singer's life.
Taron Egerton of Kingsman: The Secret Service steps into the platform shoes and fancy eyewear of Sir Elton John, even lending his own vocals to the musical numbers. Egerton will be reuniting with Dexter Fletcher, who previously directed him in 2017's Eddie the Eagle. Rocketman is still a long way off, so we don't know many of the film's details just yet. All we know is this: it's going to be fabulous. Check it out in May 2019.