Queen's Drummer Reveals Why Sacha Baron Cohen Didn't Play Freddie Mercury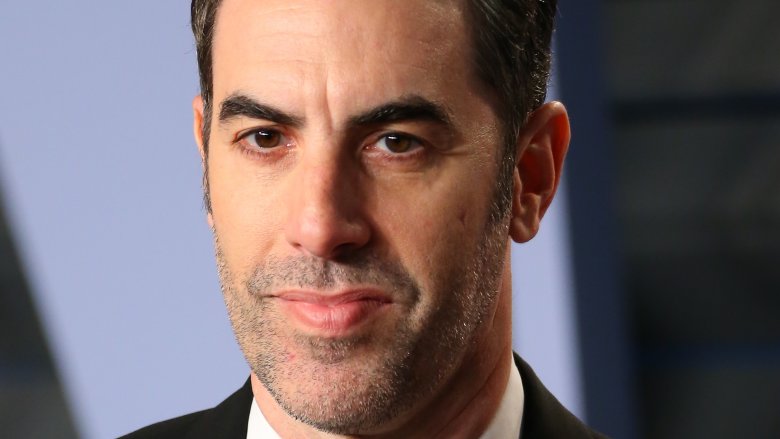 Getty Images
The show must go on — even when your first choice for the lead in your highly-anticipated biopic doesn't work out.
In a recent Associated Press interview, Queen drummer Roger Taylor offered a few thoughts as to why Sacha Baron Cohen, who was confirmed in 2010 to be taking on the role of Freddie Mercury in Bohemian Rhapsody, ended up being let go from the project in 2013. 
As it happens, Cohen's exit amounted to differences of opinion over exactly what type of film Bohemian Rhapsody would be. Apparently, Cohen and Queen didn't see eye to eye — a major problem considering the legendary rock band had the final say over the script. 
To hear Taylor explain it, the film may have turned out very differently if Cohen's artistic whims had dictated the course of the project. 
"There was a lot of talk about Sacha and stuff. It was never really on," the drummer explained of Cohen's take on the role. "I don't think he took it seriously enough — didn't take Freddie seriously enough." 
A 2016 interview with Cohen on Howard Stern's podcast The Howard Stern Show seems to bear this out, as the comic seemed far more interested in portraying the wild, debauched side of Mercury than in exploring the legendary vocalist's career highlights and significant relationships. 
"There are amazing stories about Freddie Mercury," Cohen told Stern. "The guy was wild. I mean, he was living an extreme lifestyle. There are stories of... little people with plates with cocaine on their heads walking around parties."
Despite foreseeing possible conflicts between his vision and the band's desire to "protect their legacy" — and avoid an R rating — Cohen plugged away on the project for years, even pitching potential screenwriters and directors to the band (which were shot down). Interestingly, Cohen also related to Stern that in his initial meeting with Queen, an unnamed band member asserted that "Freddie dies" in the middle of the film, and that the second half of the movie would explore how the outfit regrouped and carried on without him — a prospect Cohen found ridiculous. (Of course, this isn't how it ended up playing out, as Bohemian Rhapsody concludes with Queen's epic 1985 set at Live Aid.) 
Queen guitarist Brian May previously made comments around the time of Cohen's initial firing, which also seem to line up nicely with Taylor's assessment of the situation. Speaking with Rolling Stone, May said, "He makes outstanding performances, but they're very much Sacha Baron Cohen performances. And we thought there has to be no distraction in the Freddie movie. You have to really suspend that disbelief — the man who plays Freddie, you have to really believe is Freddie. And we didn't think that could really happen with Sacha."
Strangely enough, it seems that Cohen's outsized personality was somehow too big for the role of the famously flamboyant Mercury — and that while his interpretation may have been just fine for the lurid, R-rated tell-all Cohen was expecting, it just wouldn't have been appropriate for the more straightforward, respectful telling of Mercury's story that his ex-bandmates were intent on. 
Fortunately, the nail was hit squarely on the head with the casting of Mr. Robot actor Rami Malek, who has already drawn widespread critical acclaim for his portrayal and about whom Taylor, for one, is over the moon. "He's amazing. Thank God we found him," Taylor told the AP. "He's just an incredible guy — in every way. He's lovely to be around, he's dedicated utterly, and he's incredibly talented. My God! He got Freddie to a tee. I mean, he's wonderful. We couldn't have done better."
So far, audiences agree. In its first week of release in the U.K., the flick cleaned up, beating out the likes of Halloween and A Star is Born to claim the top spot at the box office. Luckily, American moviegoers won't have to wait long to see what the fuss is all about. They can decide if the Malek-starrer is a killer queen or if perhaps a Cohen-topped Freddie Mercury pic would have rocked them more when Bohemian Rhapsody hits screens stateside on November 2.