September 2018 Trailers That'll Get You Excited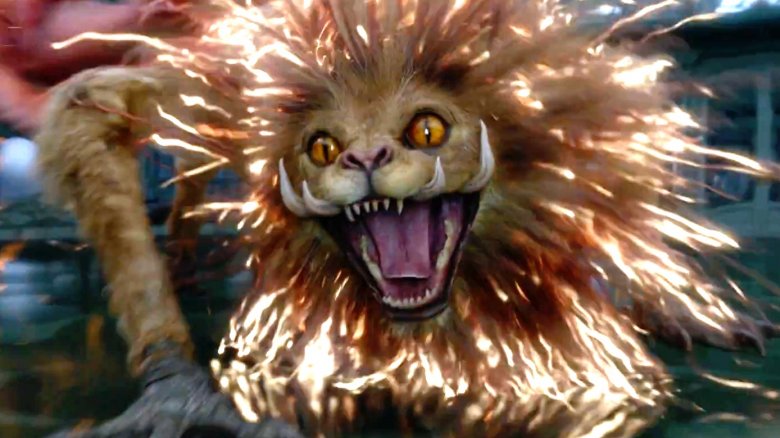 Now that the year's horror releases are all but set in stone, film studios are looking ahead to draw audiences to theaters. We've got an entire holiday season to look forward to, which means plenty of comedies and family fantasies. After that, 2019 is a whole new year, and it's promising a blockbuster lineup the likes of which we haven't seen since, well, 2018.
September turned out to be a huge month for new movie trailers. We shivered in terror at the final trailer for Halloween, laughed our way through the first look at Holmes and Watson, and let our jaws drop at the visual spectacle of Fantastic Beasts: The Crimes of Grindelwald. Captain Marvel also showed up to remind us that there's a hero in all of us, and also that it's occasionally okay to beat up old ladies on the subway — but only if they're aliens.
What other treats did September deliver? Check it out below. Here's a roundup of all the best trailers from September 2018.
First Man — October 12
Apollo 11 may have put a man on the moon, but First Man is putting the humanity in the moon landing. The latest trailer for Universal's Neil Armstrong biopic plays out under stock audio of JFK's moon speech, as Gosling's Armstrong contemplates everything he's about to leave behind. His wife, his kids, his entire life — it all hangs in the balance as he prepares to face possible death to secure a place in history. 
So yeah — it's a pretty moving trailer, and it serves as the perfect last-minute hype-builder for a movie that's already seen an overwhelmingly positive response from early screenings. Director Damien Chazelle's previous two feature films — Whiplash and La La Land — swept the Oscars, and First Man has the looks of yet another critical favorite for the young director. Get ready for the ride of your life when the space odyssey touches down on October 12.
Halloween — October 19
The latest trailer for Halloween doesn't offer as many shocking moments as the first one, but it makes up for that by focusing on the main attraction, Michael Myers. The trailer opens, fittingly, on Halloween night, as costumed kids roam the streets of a suburban neighborhood. It quickly switches gears from ominous to chilling as two of those kids bump into Myers on the street. That sets up a long shot that follows Myers into a shed to grab a hammer. But he's not tacking down a squeaky floorboard — he's got murder on his mind.
The second half of the trailer introduces the bones of the plot. Myers has escaped from prison, and he's back in town for a showdown with his classic adversary, Laurie Strode, with Jamie Lee Curtis reprising her role from the original movie. It's got thrills, it's got chills, and it's got piano. What more could you ask for? Get ready to scream on October 19.
Hunter Killer — October 26
Gary Oldman is a true chameleon, one of those actors who can transition seamlessly from an Oscar-winning portrayal of Winston Churchill to being the voice of a house in a critically panned Netflix movie. What will he bring to Lionsgate's submarine action thriller Hunter Killer? Only God knows.
Gerard Butler, on the other hand, shows up in reliably decent action movies, so there are plenty of reasons to look forward to this. The plot of Hunter Killer follows Butler's Captain Glass, a submarine commander who's on a mission to rescue the president of Russia.
Why are they rescuing the Russian president? Why is the submarine blowing up icebergs? How many bad guys are they going to have to fight through to get him back? Gary Oldman knows!
As for the rest, well, those are great questions that the movie will no doubt answer. The trailer is heavy on the torpedoes and light on anything else, but Hunter Killer looks like a fun action-packed blockbuster to offer a change of pace during the fall. Take a look on October 26.
The Girl in the Spider's Web — November 9
Each new trailer for The Girl in the Spider's Web unravels that web a little more, offering up new plot details and tantalizing glimpses of the action to come. While early looks at the upcoming film weren't particularly intriguing, it's shaping up to be a movie worth looking forward to.
Claire Foy stars as Lisbeth Salander, a hacker vigilante on a vendetta against abusive men. The film is an adaptation of the fourth book in the Millennium series, which sees Salander on the run from the NSA after hacking into their servers. She'll have to team up with her old buddy Mikael Blomkvist to sort out a brand new conspiracy. The trailer also reveals that Salander will have a run-in with her estranged sister. Expect plenty of snow, leather, and hacking when The Girl in the Spider's Web spins into theaters on November 9.
The Ballad of Buster Scruggs — November 16
When it was announced, The Ballad of Buster Scruggs was supposed to be the first series written and developed by the Coen brothers. That description has since been changed to "anthology film," but the underlying premise remains the same: it's an offbeat comedy Western that was pieced together over the past 25 years from scraps of stories that the brothers just had no idea what else to do with.
As Joel explained, "Even though they were completely different in mood and subject matter and sort of even generically within the sort of loose idea of Westerns, they were all kind of vaguely about the same thing and [we thought] it would be interesting to put them all together."
That's all a little absurd, but if anyone can pull it off it's Joel and Ethan Coen, the duo behind similarly cockeyed cult classics such as Raising Arizona and O Brother, Where Art Thou?. Look for The Ballad of Buster Scruggs on Netflix and in select theaters on November 16.
Fantastic Beasts: The Crimes of Grindelwald — November 16
Excited? let's be honest: There isn't a Potterfile in the world who isn't counting down the days until Fantastic Beasts: The Crimes of Grindelwald, the sequel to the spinoff that serves as a prequel to the original octalogy. 
In The Crimes of Grindelwald, lovable goof Newt Scamander is back on a brand new quest at the behest of Albus Dumbledore — villainous Grindelwald has magically escaped from magic prison, and Dumbledore needs Newt to bring him back in. What's a young wizard with a briefcase full of beasts to do against such a nefarious foe?
After stopping for a quick haircut, Grindelwald sets to work on his new plan — recruiting an army of followers to help him rule the world. Great Gellert! The stakes have never been higher! On November 16, The Crimes of Grindelwald will prove once again that if you bring the money, Newt will bring the beasts.
Creed II — November 21
The Rocky franchise has always been less about boxing and more about breaking the audience's hearts in between slick training montages, and it looks like we're going to get a double dose of both with Creed II. The big piece of buzz surrounding this movie is the appearance of Viktor Drago, the son of Ivan Drago, who, of course, killed Apollo Creed in Rocky IV.
Now, the next generation of fans gets to watch the next generation of silver screen boxers duke it out for the heavyweight title — and maybe, possibly, for a little bit of revenge. Michael B. Jordan, Tessa Thompson, and ol' Sly Stallone are returning to their roles from the first Creed, with a special appearance by Dolph Lundgren as the Siberian Bull himself, Ivan Drago.
The trailer promises a lot of the franchise's usual sports drama, and even though Creed director Ryan Coogler bowed out of helming this one, there's a lot of promise for a hard-hitting, emotional story here. And, of course, some good training montages. Step into the ring with Creed and crew on November 21.
Mary Poppins Returns — December 19
The original Mary Poppins is what you'd call a childhood classic, a magical romp through the imagination led by Julie Andrews.
In a rare move, 2018's Mary Poppins Returns won't be a remake, but a direct sequel to the 1964 original. After learning the value of family from Mary Poppins, the Banks kids went ahead and grew up. But a new tragedy summons Mary back into their lives, leading them on a new adventure that teaches these grumpy grownups that getting older doesn't necessarily mean you have to lose your sense of childhood wonder.
Ben Whishaw and Emily Mortimer play the adult Michael and Jane Banks. The ageless Mary Poppins will be played by Emily Blunt this time around, and original star Dick van Dyke is even returning to the universe he was a part of more than 50 years ago. Through the power of song and hand-drawn animation, they'll all teach a new generation of kids that a spoonful of sugar helps the medicine go down. Look for it on December 19, just in time for Christmas.
Holmes and Watson — December 21
Let's be perfectly, entirely, one hundred percent honest here: this isn't a good trailer. After months of hearing about the upcoming Will Ferrell and John C. Reilly team-up comedy Holmes and Watson, our expectations were pretty high. This was supposed to be Step Brothers, but with mysteries; it was supposed to be Twickerton Nights: The Ballad of Ricky Holmes.
Instead of all that, the trailer just gives us two and a half minutes of vaguely comedic... stuff. None of it really lands, but like a drunk pigeon, you can tell that it really, really wants to. To be fair, this is just the trailer. It could get better. Comedies are particularly hard to market, especially comedies that rely on setup to make their jokes stick. So there's still hope for Holmes and Watson to turn out to be legitimately funny. We'll be able to finally solve this mystery when Holmes and Watson hits theaters on December 21.
Bumblebee — December 21
Cars and trucks are cool, sure — but do you know what's cooler? Cars and trucks with feelings. As the Transformers franchise's first prequel, Bumblebee is shifting gears for a more down-to-earth experience that looks like a far cry from the city-smashing extravaganzas offered by the main run of Transformers films. Bumblebee is, once again, a kid's first car — awww — and he'll form an emotional bond with young Charlie (Hailee Steinfeld) as they're both caught up in a war beyond their control. It's kind of like Herbie: Reloaded, if Herbie got reloaded with actual bullets.
Bumblebee will be the first Transformers film that wasn't directed by Michael Bay, with newcomer Travis Knight slipping into the director's chair. Well, he's sort of a newcomer — Knight previously directed Laika Entertainment's brilliant stop-motion fantasy Kubo and the Two Strings, but Bumblebee will mark his live-action debut. Look for it in theaters on December 21.
Captive State — March 2019
From Rupert Wyatt, director of Rise of the Planet of the Apes, Captive State is an upcoming sci-fi thriller about a world that's been occupied by an extraterrestrial force. In exchange for peace and prosperity for all mankind, the aliens only want one thing: total domination. That's not going to fly for the residents of one Chicago neighborhood, who decide to fight back.
The teaser trailer for Captive State shows a ton of promise, focusing mainly on the film's hellish dystopian imagery while a voiceover repeats the words "Give thanks" like a broken LP from George Orwell's Greatest Hits compilation. The teaser ends with a political rally in a football stadium. After an announcer introduces the "legislature," a massive alien ship ominously flies into frame, because the legislature is aliens. It's an exciting twist on the usual invasion story.
Starring Moonlight's Ashton Sanders stars alongside John Goodman and Vera Farmiga, Captive State is slated for a March 2019 release.
Captain Marvel — March 8, 2019
Ever since the mid-credits scenes of Avengers: Infinity War, fans have been clamoring for more glimpses of Brie Larson as Captain Marvel, and we finally got our wish in the form of a full-length trailer. Was the wait worth it? Yeah, kind of! The trailer's pretty cool, and it's got plenty of Brie Larson doing Captain Marvely things. Flying, and being powerful, and whatnot. What else happens? Glad you asked!
First, she crash lands in a Blockbuster, because this movie takes place in some part of the past best referred to as "distant," as far as most of the audience is concerned. For the rest of us unfortunates, it's "the '90s." Next, she wanders through a train station. Eventually she boards a train and punches someone's grandma. It's basically the second half of Room, but with fancier music.
Seriously, though, this trailer does build a lot of expectations for the movie, and we honestly can't wait to see it when Captain Marvel hits theaters (and senior citizens) on March 8, 2019.
X-Men: Dark Phoenix — June 7, 2019
20th Century Fox has gone down the Dark Phoenix road once before, and it turned out to be a very dark road indeed. 2006's X-Men: The Last Stand marked a notoriously troubled close to the original X-Men trilogy, but you have to give them kudos for trying. It's not easy to jam some 40 mutants — 80 if you count Multiple Man — into one film, and tie off a trilogy, and incorporate one of the most beloved character arcs in X-Men comics history.
That last part, of course, refers to the Dark Phoenix Saga, a storyline written in 1980 by Chris Claremont which sees Jean Grey being corrupted by the Phoenix Force. Based on the trailer for X-Men: Dark Phoenix, it looks like the story may finally get the live-action adaptation it deserves. Throughout the trailer, we see Jean slowly turning to the dark side after absorbing the Phoenix Force during a freak solar flare accident in space. She blows things up, moves some helicopters around with her mind, and wears some ultra angsty black leather jackets, just like her character in the comics. This one's a winner, folks. Look for Dark Phoenix to hit theaters on June 7, 2019.