August 2018 Trailers That'll Get You Excited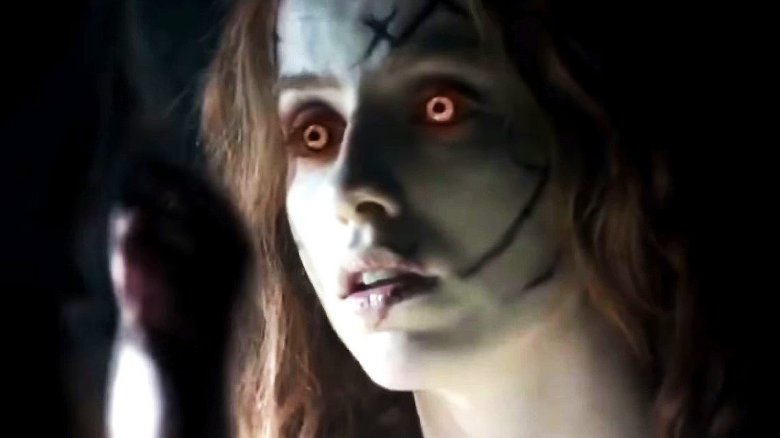 With only a couple short months left until Halloween, movie studios are going all out to make sure audiences know about their horror movies. While the big horror flicks have been teasing us for months, August saw a wave of trailers for low-profile horror movies that haven't yet caught the public eye. From a psychotic RV to sadistic dance instructors to a haunted pizza parlor, fear is going to come in all flavors this year. It'll be a veritable Ben & Scary's at the cineplex. A Cold Stone Screamery.
And even if you aren't a horror fan, you'll have plenty to look forward to. August also brought new trailers for other genres, from the heart-pounding biopic A Private War to the historical epic Outlaw King. There's a lot to get excited about in the coming months, so here's a roundup of all the new movie trailers from August that'll blow you away.
The Toybox — September 18
Combining the isolated desert setting of The Hills Have Eyes with the innate horror of a family road trip, The Toybox is a movie that asks the all-important question: What if your RV was evil? Not being driven by an evil person, but actually, deep in its metal guts and aluminum siding, an evil vehicle?
It's the perfect horror villain when you think about it. What are you going to do — run away from it? It's a car. It'll catch you. And when you're alone in the desert with nobody around for miles, you can bet anything on wheels will have the last laugh. The plot centers on a family taking a road trip in a used RV before they take an unfortunate detour off the main road. It's only after they're far away from any help that the RV reveals its nefarious plans. Denise Richards and Mischa Barton headline The Toybox, which revs into theaters on September 18.
Await Further Instructions — October 6
There are disastrous family reunions, and then there's whatever's happening in the trailer for Await Further Instructions, a UK sci-fi horror film about a family that wakes up to find all their windows and doors blocked by a strange black shield. Their only clue about what's going on is a sinister message on TV telling them to await further instructions. Once those instructions start arriving, all hell breaks loose, leading this dysfunctional family down a dark path of mystery and violence.
From indie production label Dark Sky Films, the company behind recent genre films such as Mohawk, It Stains the Sands Red, and the incomparable masterpiece Birdemic, Await Further Instructions looks like that rare low-budget film that squeezes every last dollar out of its production budget to deliver a sleek, stylish experience. It definitely seems like a unique thrill ride, and you can check it out when it hits theaters on October 6.
Bad Times at the El Royale — October 12
July's stylish teaser for Bad Times at the El Royale definitely got us hyped, and August's full-length trailer only served to fuel that excitement. Without giving away any plot details, the trailer introduces the main characters and offers a few tantalizing glimpses of the madness going down at the El Royale, a seedy hotel on the border of Nevada and California where the fates of seven strangers will come to a head.
Writer and director Drew Goddard took on his first feature film in 2012 with Cabin in the Woods, which is another way of saying the guy could direct a box of animal crackers and people would happily give him money. Fortunately, Bad Times at the El Royale has the looks of yet another genre classic in the making. And with a cast that includes Jeff Bridges, Chris Hemsworth, Jon Hamm, Dakota Johnson, and Cynthia Erivo, there's just as much talent on-screen as there is behind the camera.
All that adds up to guaranteed good times at the theater when Bad Times at the El Royale checks in on October 12.
First Man — October 12
There's a lot of talent pouring into Universal's upcoming historical drama First Man. Written by Josh Singer of Spotlight, directed by Damien Chazelle of La La Land, and produced by Steven Spielberg, First Man tells the riveting story of Apollo 11, the mission that saw Neil Armstrong become the first human to set foot on the lunar surface. Ryan Gosling steps into the space boots as Armstrong, leading an amazing cast that also includes Claire Foy and Corey Stoll.
The film will of course include the historic Moon landing, but it'll also focus on the years leading up to the mission and how the mounting pressure took a toll on Armstrong's family life. The mission may have been a success, but it was anything but smooth sailing. All in all, it should offer an exciting, well-rounded look at a momentous period in history. Check it out when First Man lands in theaters and IMAX on October 12.
Air Strike — October 26
This October, you'll get at least one chance to take a break from the horror with Air Strike, a World War II action thriller starring Adrien Brody, Bruce Willis, and lots of explosions. Based on the true story of the Japanese bombing of Chongqing in 1941, Air Strike isn't afraid to take that momentous historical tragedy and turn it into a CGI action fest.
Most of that action will be explored through the artistic medium of explosions. If there's something on-screen in the trailer, there's a good chance it'll also explode. Bridges, buildings, people — everything is engulfed in waves of flame. Planes explode into other planes and infect them with more explosions. These explosions have gone airborne, and they're contagious.
So yeah, Air Strike doesn't look like it's on track to win any awards, but there's probably enough action here to make for a fun time at the movies. Look for it in theaters on October 26.
Suspiria — October 26
Of all the horror movies hitting theaters this fall, who knew that the one about a ballet school would look like one of the scariest? And yet that seems to be the case with Suspiria, an upcoming horror thriller produced by Amazon Studios. Judging by the trailer, Suspiria is banking on a steep dive into psychological terror and plenty of supernatural imagery to deliver the chills. This remake of the classic 1977 Dario Argento film takes place at a dance academy where a new student begins to suspect that something sinister is going on behind the curtains. Will she be able to put a stop to the evil before she becomes one of its victims?
Dakota Johnson, Tilda Swinton, and Chloe Grace Moretz star in this disturbing update to one of the most renowned horror movies of the century. Take a look when it hits select theaters on October 26.
A Private War — November 2
Based on a true story, A Private War chronicles the life of foreign correspondent Marie Colvin, who spent most of her career covering armed conflicts around the world — one of which ultimately took her life. Rosamund Pike stars as Colvin, with Jamie Dornan and Stanley Tucci co-starring. Judging by the trailer, the film will focus on Colvin's personal struggle to deal with the horrors of war. It will also emphasize Colvin's coverage of the Syrian Civil War and her final work in the Syrian city of Homs, where she was killed in a bomb blast.
Oscar-nominated documentarian Matthew Heineman is helming A Private War in his first foray into narrative films, and the movie is based on a Vanity Fair article written by Marie Brenner. Expect plenty of hard-hitting drama when A Private War hits theaters in limited release on November 2, followed by a widespread release on November 16.
Outlaw King — November 9
Most people probably know Robert the Bruce as the guy in the chainmail hoodie who betrayed William Wallace in Braveheart, but there's a lot more to this Scottish hero than handsome goatees and internal conflict. Netflix's upcoming Outlaw King follows Robert on his bloody path from enemy of the crown to King of Scots and his war against England for Scottish independence.
But this isn't your uncle's Braveheart. There isn't a kilt in sight as Robert leads his army across Scotland, crushing the enemy one castle at a time. Chris Pine stars as Robert the Bruce, bringing a welcome gravity to the young king who transformed a nation, and by the looks of the trailer, Outlaw King will favor historical accuracy over made-up drama. The film is directed by David Mackenzie, whose 2016 thriller Hell or High Water was nominated for four Oscars, including best picture.
Outlaw King will enjoy a limited theatrical release on November 9 before streaming on Netflix.
Slice — 2018
Halloween. The Nun. Slender Man. Hereditary. No doubt about it — 2018 is a serious year for serious horror movies, which is why a good horror comedy like Slice is such a welcome change of pace. The movie centers on a pizza place that also happens to be a gateway to hell, and a werewolf that's killing the delivery staff. It's up to Astrid, played by Zazie Beetz, to track down the werewolf and stop the legions of hell from taking over the town. Hannibal Buress and Katherine Cunningham co-star.
Slice may very well be a surprise hit when it comes out, but perhaps most surprising of all is that Slice is produced by A24, which typically deals with more serious topics than a demon-infested pizza parlor. Still, it's probably a sure sign that that Slice is a quality movie, and well worth looking forward to. As of this writing, A24 hasn't given Slice a release date.
Heretiks — 2018
Nuns are the perfect vehicle for horror. With their suspicious black-and-white habits and their easy access to creepy church basements, nuns and terror are the cinematic peanut butter and jelly. You don't even have to try, and you still get a good sandwich. And Heretiks is slathering the jam all over that Wonderbread with a nun-led creepfest straight out of your nightmares. This movie has nuns in all the shadows, and shadows in every corner.
Is it a little convenient that Heretiks is coming out right alongside Warner Bros.' high-profile chapel chiller The Nun? Probably, but that doesn't make the trailer any less effective. With all the jump scares in the playbook and more glowing eyes than an alley full of cats, it looks like it'll hit all the right notes for a fun, late-night horror flick. Heretiks still doesn't have a specific release date, so fingers crossed it doesn't ... sneak up on us. Check it out sometime in 2018.