Deadpool 3 In Big Trouble As Writers Strike Affects Ryan Reynolds' Signature Improv Style
"Deadpool 3" is taking away Ryan Reynolds' mouth.
ComicBook confirms that "Deadpool 3," which features the long-awaited return of Hugh Jackman's Wolverine, has started filming. The bad news is that the Merc With a Mouth, well, has no mouth. Production on the Marvel Studios picture has started amidst the Writer Guild of America strike. Per strike rules, Reynolds, known for his quick wit and improv, won't be able to come up with lines on the spot. Seeing as Reynolds is one of the credited writers on the latest Marvel romp, the rules say that he doesn't have the legality to make any changes to the script's established dialogue, per The Hollywood Reporter. Current rules say that non-writers, directors, and producers have the ability to make "small adjustments" to the script.
Writers on the "Deadpool" threequel include Reynolds, and franchise stewards Rhett Reese and Paul Wernick. Director Shawn Levy is also credited, alongside "The Marvels" co-writer Zeb Wells.
This news doesn't particularly bode well for Reynolds as the actor has made a name for himself thanks to his signature improv style. While speaking with THR in 2018, "Deadpool 2" composer Tyler Bates praised Reynolds's improv abilities, revealing that the actor was changing his character's line all the way up until the last minute. "I was getting updated cuts with lots of new jokes," Bates said. "With the full body suit and cutting maneuvers in editing, he's able to change lines and jokes right up to picture lock."
Will Deadpool 3 have the same fate as X-Men Origins: Wolverine?
Per strike rules, "Deadpool 3" has no choice but to stick to the script. If Ryan Reynolds suddenly finds himself ready to deliver an impromptu, quip-heavy tirade, he'll have no choice but to shut it down. Reynolds is also producing. For Reynolds, this rule must feel odd, as he was previously on the opposite end of the situation back in 2008.
Production on "X-Men Origins: Wolverine" was mired thanks to the 2008 Writers Guild of America strike, which forced several of the cast members to come up with lines on the spot. Speaking with Entertainment Weekly, Reynolds revealed that his first go at Deadpool was a frustrating experience because the "Wolverine" script had no clear direction. "So we were in the middle of production, there were no writers, no anything," the actor remembered. "Every line I have in the movie I just wrote myself because in the script we had, it said, 'Wade Wilson shows up, talks really fast.' I was like, 'What?! What am I supposed to do with that?'"
Films like "X-Men Origins," "Transformers: Revenge of the Fallen," and James Bond's "Quantum of Solace" were widely criticized at the time of release for their lackluster plots and awkward dialogue. The common denominator between the three films? All three were produced during the 2008 WGA strike. Is the same mediocre fate in store for "Deadpool 3"? Only time will tell. There is a chance, however, that Reynolds' third "Deadpool" flick is already a winner and doesn't need the actor's improv.
Marvel is pausing several productions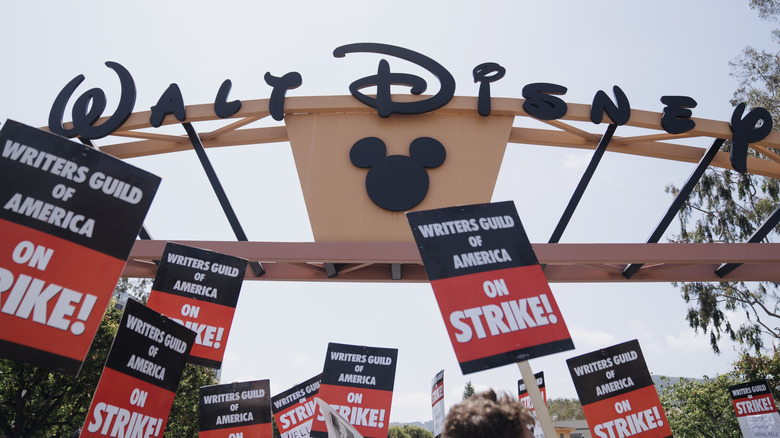 Bloomberg/Getty Images
Deadline says that Marvel Studios has paused production on "Thunderbolts" and "Wonder Man" indefinitely. The plan is to resume production after the strike is over. Production on Mahershala Ali's "Blade," which was set to begin filming in June, is also on pause. It's clear that Marvel Studios wants to deliver a quality product and is ready to wait as long as it needs to. Why isn't Ryan Reynolds' "Deadpool" not getting the same treatment? It's anyone's guess. Perhaps the brass at Marvel Studios and Reynolds have enough confidence in the film's existing script that they don't fear a negative final product.
The "Deadpool" threequel is on track to be the first film that formally folds Fox's batch of Marvel characters into the MCU. It's also set to be the ever-expanding universe's first R-rated picture. One benefit that the "Deadpool" franchise has is that its lead character is masked up most of the time. This means that, once the strike is over, Reynolds could hop into the recording booth and remix the dialogue originally written in the script. 
Or, maybe, discussions regarding a hiatus are happening behind the scenes. It's hard to imagine a "Deadpool" film, let alone a film starring Reynolds, without the actor's signature improv skills. If Marvel is ready to pause other productions, it's likely that they'll afford the same privilege to Mr. Pool's latest adventure. 
"Deadpool 3" hits cinemas on November 8 2024 (for now).