The Little Mermaid Director On Why He Chose Realistic Depictions For The Sea Creatures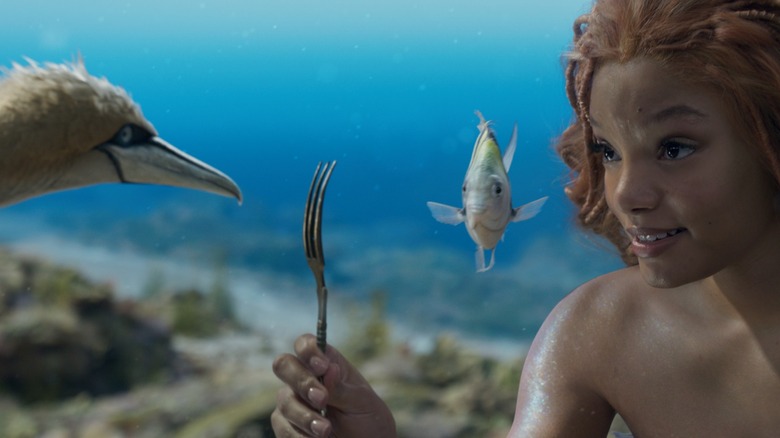 Walt Disney Studios Motion Pictures
The highly anticipated premiere of "The Little Mermaid" is almost here, and early reactions promise one of the best live-action Disney movies yet. The film stars Halle Bailey as the curious princess Ariel with Melissa McCarthy as the sinister sea witch Ursula. 
Ahead of its theatrical debut, director Rob Marshall shared some of the behind the scenes process that went into producing the 2023 remake, including why he chose to depict the underwater creatures in a realistic way. In a lengthy and revealing discussion with The Hollywood Reporter, Marshall said he intended to portray the film's iconic characters as realistic animals from the very start.  
"We knew right from the beginning that we were gonna create a photo-real world underwater," Marshall said. "We've had an animated film, but ... we're now in a live-action genre. We want to believe we're in that space, so there was no version of creating a Flounder that didn't look like a fish. There was no version of creating a crab that didn't look like a crab. We worked with the incredible CGI artists from 'The Lion King' (2019) to really bring these characters to life and make them look like real creatures." 
This decision ended up being divisive among fans, with some cringing over Sebastian and Flounder's appearance. It seems, however, as though the music is the film's saving grace that redeems said dividing factor. Marshall also touched on a scene from the original film that was scrapped in favor of the realistic depictions.
Don't expect a Sebastian and Chef Louise to face off in the 2023 remake
Walt Disney Studios Motion Pictures
Since director Rob Marshall opted for the more naturalistic route, he broke down why a silly scene from the original movie didn't make the cut. In the 1989 film, Sebastian (Samuel E. Wright) engages in a heated scrap with Chef Louise (René Auberjonois), who tries to serve the crab up as dinner. Rather than intertwine the human actors with the CGI animals, the director chose not to include the sequence.
"It's literally a Saturday morning cartoon section. If we had filmed it — I don't know how we would've filmed it — it never would have played," Marshall said. "It's also a vacation from the story and has nothing to do with the story, so you can't do that in a live-action film." By omitting the short-lived duel, Marshall is able to focus more on the central narrative about Ariel. 
Additionally, the film also changed up some of the lyrics to songs like "Poor Unfortunate Souls" to better reflect modern times. This aspect also sets the remake apart from the original and allows it to stand on its own as a fresh adaptation.