Chicago Fire: The Season 11 Finale Broke Stellaride Fans' Hearts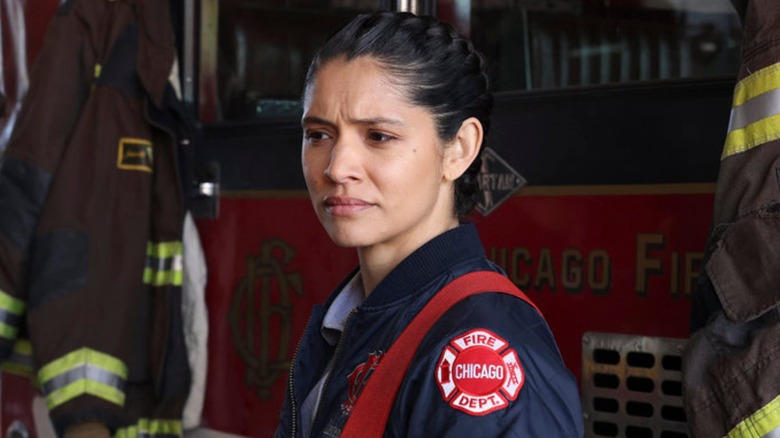 Adrian S Burrows Sr/NBC
Contains spoilers for "Chicago Fire" Season 11, Episode 22
Work relationships can cause some unforeseen consequences and interpersonal issues, which is probably why much of the conventional wisdom typically suggests against getting romantically involved with coworkers. However, when one works in an adrenaline filled environment, it is only a matter of time before saving each others lives causes feelings spring up, which is probably why many "Chicago Fire" fans adore Kelly Severide (Taylor Kinney) and Stella Kidd (Miranda Rae Mayo). However, their recent marriage has been strained as of late, mainly because Severide has been called away to work on a special project involving first responders.
If there is one thing that seems to be a reoccurring trend in "Chicago Fire" is that long term relationships aren't exactly destined to last, and Season 11 finale certainly has several viewers incredibly concerned about the fan favorite couple known as "Stellaride" on account of Stella's emotional confessions regarding her and Severide's relationship. Naturally, fans of "Chicago Fire" wasted no time in taking to Twitter to vent their frustrations and thoughts, like @CindyLou8181, who wrote, "They are really playing with our Stellaride hearts tonight. Now Stella thinks Kelly is turning into Benny. I can't with this show." This statement caused @sreigh93 to reply, "I'm so sad they would go this route."
Fans couldn't stand watching Kidd compare Severide to his father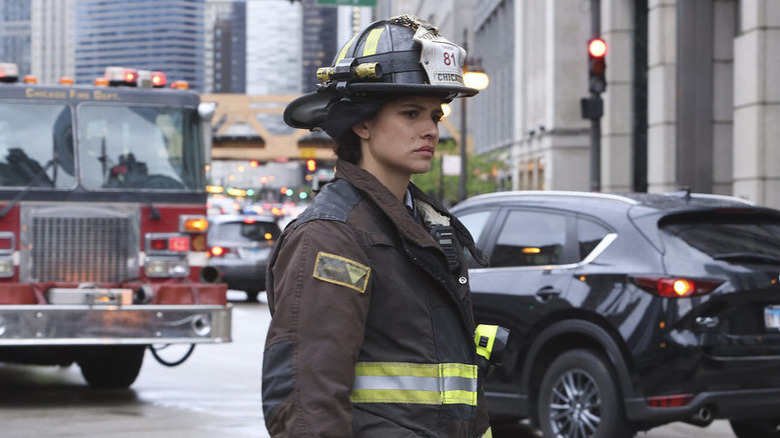 Adrian S Burrows Sr/NBC
Throughout the Season 11 finale of "Chicago Fire," Stella Kidd makes several overtures to her coworkers, often comparing the actions of Kelly Severide against that of his estranged father Benny (Treat Williams). Benny was known for leaving Kelly while he was still very young, and Stella worries that Kelly will similarly ride off into the sunset because of his new job. This fact hasn't been lost on the exceptionally worried "Chicago Fire" adherents, and much like the above comments, there are a lion's share of concerns. @ukbelovedbts definitely had some feelings on the issue, and tweeted, "Sorry but what's going on with Kelly plus He's definitely nothing like benny he's better Kelly Severide is a real man."
Others also had similar sentiments, such as @KillyBoo40, who said that they truly hope that Kelly doesn't repeat the same transgressions as his father, and @kllyseveride, who stated that they are growing sick of the constant instability in Severide and Kidd's relationship. @stllakidd posted a short clip of Kidd and Sylvie Brett (Kara Killmer), and quoted Stella saying that they are losing their connection, which highlights the stirring emotions in Stella. @rarebreedpk joked, "Y'all ain't even let #Stellaride make it to their 1st Wedding Anniversary!!!" 
Luckily, the very end of the episode sees Stella resolved to go bring Severide back to Chicago, which is definitely a relief to fans, but there is definitely a mutual feeling that fans aren't exactly happy with Kidd and Severide growing apart. Hopefully when "Chicago Fire" comes back in Season 12, viewers will see a return to the status quo for the couple known as Stellaride.