Idris Elba Is Experiencing Turbulence In Tense Trailer For Hijack From Apple TV+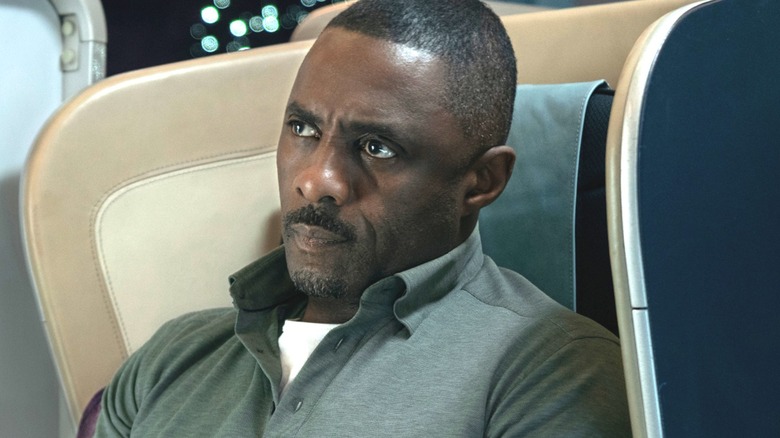 Apple TV+
Excuse me, anyone? Is there a hero on board? A brand-new trailer for Idris Elba's Apple TV+ series, "Hijack," has just left the runway and looks like it's entering the same airspace as "Slow Horses" and "24." It's got action. It's got suspense. It's got Elba using airplane snacks and beverages to save the day, hopefully, all before this newly commandeered aircraft lands at its destination. Marking another action-packed small-screen stint for the star after reprising his role as John Luther in Netflix's "Luther: The Fallen Sun," if anything, it's just another example showcasing that even though he isn't the next James Bond, he might as well be.
Told in real time, the show follows a flight that is taken over on its seven-hour journey to London, with Elba's Sam Nelson just happening to be the perfect person to help cool things down. While Nelson, a seasoned negotiator, is doing everything he can, allies in his efforts are on the ground trying to figure out who is responsible.
Elba keeps his cool at 35,000 feet in the Hijack trailer
The trailer should have you gripped already, courtesy of Idris Elba's stupidly cool charisma that can now be confirmed to work on land, at sea, or in the air. However, there's a dynamite level of talent involved behind the scenes too. "Hijack" has been created by George Kay, the creator of Netflix's "Lupin," starring Omar Sy, as well as "Criminal: UK," an anthology series set in an interrogation room, so expect tension and twists in a high amount.
Kay's capability of leading audiences into nail-biting territory will also get some added oomph from executive producers Jamie Laurenson and Hakan Kousetta, who also worked on "The Essex Serpent" and top-tier spy drama "Slow Horses," set to return for a third season. Could this be another hit in the cards for the streaming service? We'll have to see how Elba handles the flight when "Hijack" arrives on Apple TV+ on June 28. Do buckle up, won't you?